Whether you just established your roofing business or have been operating for decades, generating leads requires active and deliberate marketing efforts. Social media is a great tool for attracting highly targeted leads for your roofing business, as it can significantly boost sales with a smaller price tag.
Social media is an effective way for small and medium enterprises to improve brand awareness and affinity, leading to new customers and better retention of current customers. Roofing businesses, in particular, have several built-in advantages when it comes to using social media platforms for brand-building purposes.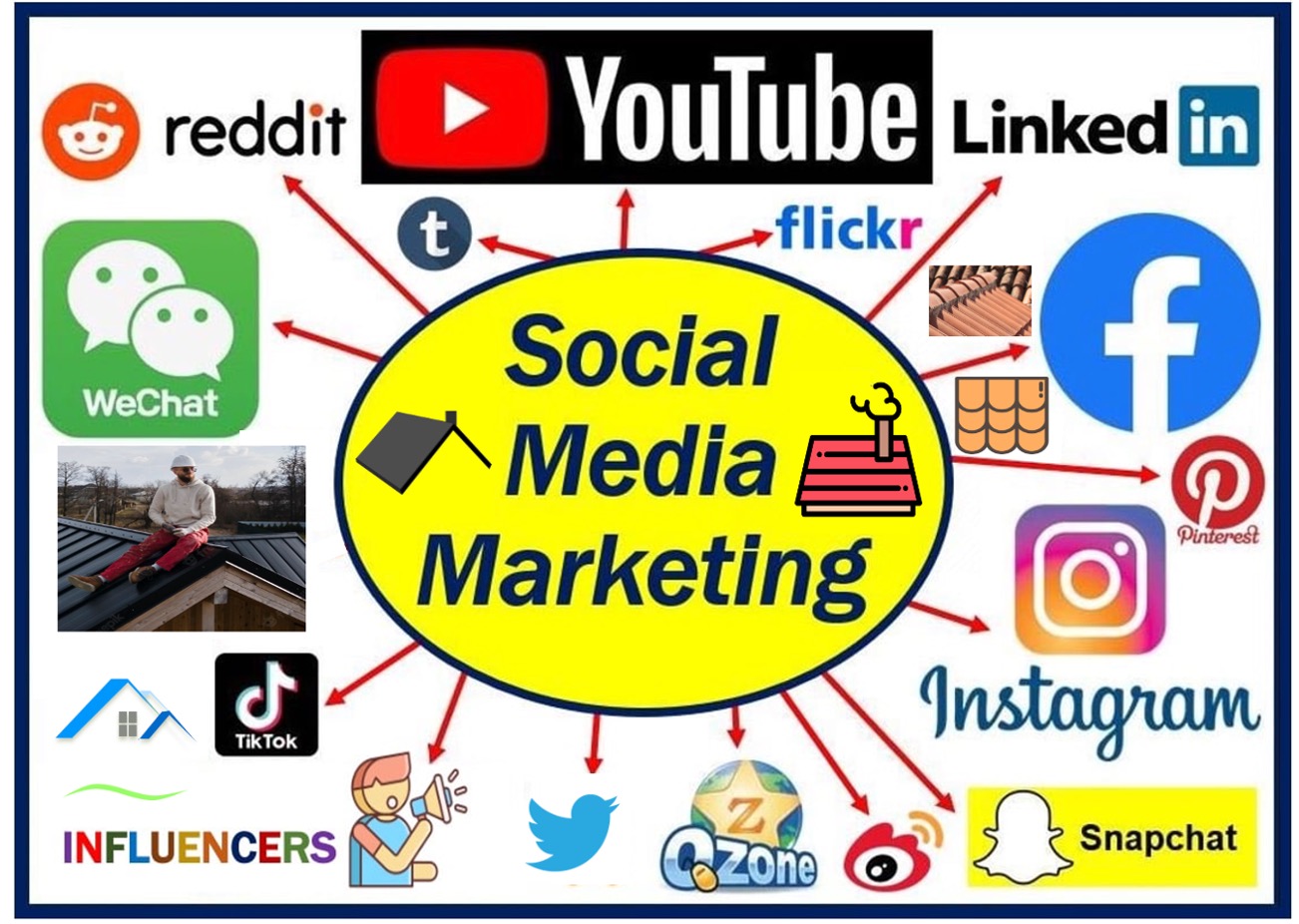 Why Social Media is Important to Your Roofing Company
As a roofer, you have an excellent opportunity to generate fresh visual content regularly, which you can use to build your social media presence and generate more leads.
Here are four reasons why social media should be a significant part of your roofing company marketing campaign:
Since social media users love consuming and sharing visual content, roofers can produce visually stimulating photos and videos to showcase their services.
Social media users enjoy learning about new products and services. Roofers can share videos and photos of new roofing technologies such as solar shingles, DIY roof maintenance tips for homeowners, and the best roofing underlayments.
Social media users love special deals. Roofing marketers can easily create platform-specific discounts and promotions to get followers excited. It is a powerful strategy for lead generation for roofers when appropriately implemented.
Since social media users love to engage with brands, roofers can boost their brands by engaging with customers on social media. You can invite people to share comments and photos relating to roof cleaning challenges, successful DIY roofing work, and other related issues. You will be able to get prospective customers talking and help establish you as an industry expert eager to share ideas and solutions.
Are you just starting out or simply going through a quiet period? Social media can be an excellent tool for marketing your roofing services and bringing in more customers. Utilizing the power of social media is key to building a loyal, engaged customer base – and a thriving social community will set you apart from competitors.
How to Use Social Media to Market Your Roofing Company
As your one-stop social media agency in California, GoMarketing knows what it takes to generate new roofing leads. Here are some of our best tips and shortcuts for propelling your roofing business forward and turning those leads into successful roofing jobs:
Reviews and Recommendations
Set yourself apart from your competition with positive, tangible reviews.
Did you know that clients who have a terrible experience are two to three times more likely to write a bad review than clients who have a great experience to post a good review?
You shouldn't be the only one praising yourself, as up to 88% of people trust online reviews as much as they trust referrals and recommendations from their best friends. Reviews are precious for acquiring new customers because real-life testimonials sell you as a reliable and trustworthy tradesman. These assurances are what will make you more appealing than less reputable businesses. Make sure customers tag you in photos of your work, and use custom hashtags if you have them.
The number of reviews also matters as several positive reviews can make a few negative ones seem insignificant. Would you consider buying from an eBay seller with 4.8 stars rating after 2000 reviews or an eBay seller with a five-star rating after only three reviews? Most people would trust the seller with more reviews despite having a lower rating. Be sure to politely ask every customer you have or person you've worked with to leave you a Google and Facebook review.
Develop a Professional Website
Websites vs. Social Media: What's best for your roofing business?
It would be best to use both, as a combination of the two has yielded the best results for all businesses.
Social media strategies are great for generating roofing leads. However, you can channel those leads down the marketing funnel through the website, allowing you complete control over your brand and your audience's experience.
Your website has to be mobile responsive and should contain all the necessary information. This information includes your hours, location, contact information, and an estimate form. Most potential roofing leads will pass you by if they can't get a general idea of the cost. Many leads will be more willing to contact you if you offer free estimates and consultation services.
You should also include a gallery of your actual work and testimonials. Testimonials can sway many potential leads, so ensure that the information is persuasive and positive.
Most critically, provide a solid call to action by having several methods of reaching you (an email button, estimate form, phone number, etc.). Let your potential customers know you are the best and most accessible person for the job.
A brand is more than your color palette and logo, and it's so much more than the tangible elements that create a visual identity.
Your roofing brand is a message that guides consumer expectations and attitudes through its distinctive personality. A brand is how you make your clients feel, and you can create a strong brand identity for your roofing business by taking a consistent approach across every interaction people have with your brand.
Social media can be a powerful and cost-effective way to improve your roofing brand. Here's how you can ensure a consistent brand across multiple social media networks:
Cover your basics: Ensure that you have a consistent visual brand across your company's social media accounts. Your profiles should have a common thread that people recognize as your brand.
Extend your visual branding: Over time, your clients will see the consistency in your posts and begin to identify when a post is from you even without seeing your brand's logo or social media handle. Brand recognition should be the ultimate goal for your roofing social media branding efforts.
Develop your marketing personas: Once you identify your target company's customer base, map them to the different social media networks you use and create suitable content to match the personas. For example, you could use Twitter to target millennial parents and Instagram for small business owners.
Establish your brand voice and tone: Besides the visuals, the captions and related copy play a huge role in branding your social media posts.
Building a sizable roofing social media audience is a big challenge for small and midsize companies. Advertise your roofing social media account widely and link to it wherever possible. The presence of a social media platform — Facebook, Instagram, YouTube, Twitter, etc. — is usually enough for people to understand that they can find your company page there. Include the logos on your email signature, letterhead, invoices, uniforms, trucks, advertising, etc.
One of the holy grails for any roofing social media marketing strategy is to make a highly likable and shareable video. Infographics that feature interesting statistics are likely to be popular on any platform as content that represents data visually resonates more with the audience.
Infographics give you something visual and exciting to share with your followers.
Besides engaging them, it also makes them more likely to share your posts with their networks, which significantly boosts your reach and social media presence.
As a roofer, you need to create an infographic relevant to the roofing field.
Think about your target audience—what do they want to know? Also, what is going to sell them on your product or service? You can create infographics about roofing materials, protection, cleaning, and other relevant topics.
Did you know that over 60% of customers think solving an issue fast is the most critical part of good support?
Your roofing company should have a strategy for handling customer service issues through social media. It serves as an alternative and more convenient way to get in touch with customers in comparison to direct contact channels such as phone calls and emails. By handling client queries on social media, you'll show other clients how dedicated you are to keeping them satisfied.
Some of the ways you can have good customer service on social media include:
Always respond
Set up a dedicated handle for roofing social media support
Build authentic customer relationships
Find and monitor conversations relevant to roofing
Establish social media guidelines
Manage customer expectations
Be proactive
Use chatbots for common service requests
Key takeaway: Social tools such as messaging apps, live chat, and chatbots can massively aid your social customer service efforts.
Develop an Excellent Informational/Promotional Balance
When you're selling something, it's tempting to promote your services continually, right?
While there is a time and place for promotional content, you shouldn't do it all the time. You probably understand how annoying those pushy sales types can be. As a marketer, you should know that most people searching the internet are looking for solutions to help them solve a problem rather than for a product or service to purchase. The goal of informational content is to help answer their questions and provide solutions to the issues they're experiencing.
People aren't looking to buy services scrolling on Facebook or Instagram. So, how should you promote your roofing business? Here are a few handy tips:
Show your knowledge and authority through well-thought-out, well-researched articles.
Don't give sales pitches.
Avoid using persuasive tactics.
Explain, but don't lecture.
Think Like a Marketer: 30/60/10
30% of the content you share on your social media should be content you own, such as blog content, photos, and videos.
60% should be content you've curated (other people's content, news, and articles)
10% should be self-promotion. You can share about your company, your services, or bottom of the funnel offers (like a consultation request)
Once you've proven you're an industry expert — a trusted source to turn to when people have queries or experience a problem — you can provide answers and solutions via your roofing services. Be sure to perfect your estimate process to close the deals quickly and accurately.
Did you know that you can use social media to track what your competition is doing?
Social media analytics are beneficial for gathering intelligence directly from social networks. Start by determining who your competition is and conducting a competitive analysis on social media.
You can find a lot of information by clicking around your competition's social profiles. Keep an eye out for the following:
What social networks are they using?
How large is their following
How fast is their following growing?
Who are their top followers?
How often do they post?
What is their engagement rate?
What is their social share of voice?
What hashtags do they use mostly?
How many hashtags do they use?
After gathering data, you can then do a SWOT analysis to identify your company's strengths and weaknesses (S-W) and the opportunities and threats (O-T). The SWOT analysis will help you identify what gives you an edge over your competition and the potential issues you need to recognize and address.
Establish Some Measurements of Success
While engaging with customers on social media could be fun, there should always be a clear business purpose. Good metrics for evaluating the performance of your brand awareness and affinity campaigns include:
Growth in followers
Comments
Number of shares
The number of new customers you can trace to social media engagements
Social media is fantastic for engaging with new and existing clients. Keep it light and breezy but always include a call to action. Your channel can be entertaining while still serving the overall purpose of acquiring roofing leads. If you do this and keep all your information relevant, you should start scoring sales in no time.
Don't be discouraged if your roofing social media statistics are modest in the early stages of a campaign. What matters most is whether the key metrics are growing over a 6-to-12-month period.
Conclusion
Lead generation for roofers on social media takes concerted time and effort. It would be best if you leveraged every channel at your disposal. Do you need help with that?
As the leading digital marketing agency in Southern California, GoMarketing offers the latest social media trends, strategies, and relevant creative assets. We are a full-service digital agency that delivers results across paid media, owned media, and earned media. We can help you empower your roofing business with the right digital strategy. Give us a call at 805-413-7893 or contact us online.
---
Interesting related article: