With the hustles and bustles of our lives, nothing quite beats the experience of chilling outdoors on your patio. There you could invite some friends over, dine with the family, or even unwind in the cool, natural breeze blowing over.
Unfortunately, like the rest of the house, patios do get old, too. Like your porch, garden, and the likes, patios demand regular updating, too, to look their best.
In this post, we're going to talk about a few things you can do to improve the overall outlook of your patio.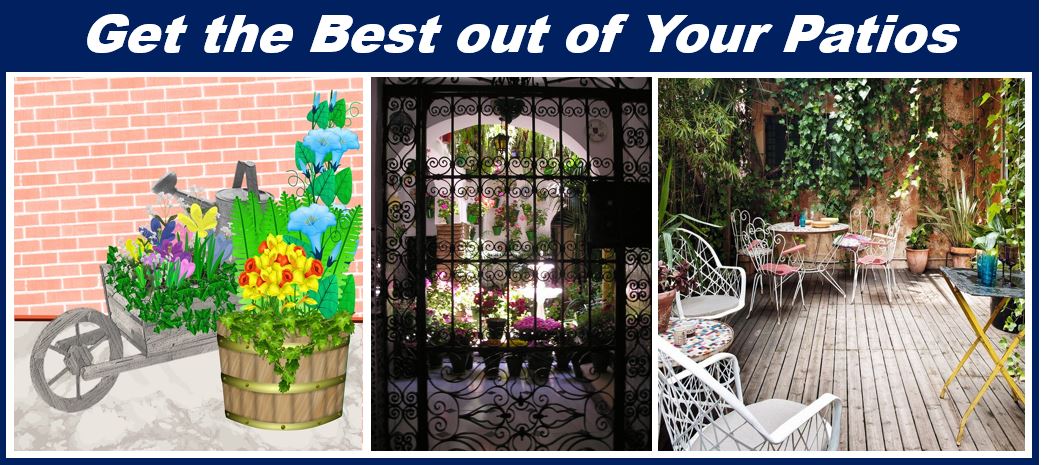 6 ways to improve and get the best out of your patios
Install the right patio shades
I'm always shocked to the core when I walk into people's patios and find the entire structure looking bare. No coverage. No protection. No privacy. Nothing!
How do y'all cope when it starts to rain or snow? You run into the house, I guess. Well, to get the best out of your patios, you need to install the right patio shades.
Patio shades help you get more out of your patio by cutting out unwanted glare, providing better privacy, and improving overall comfort. Plus, it also protects the structure from the environmental impacts of the sun, rain, etc.
Check this site right here to get the best patio covers Los Angeles.
Invest in repairs from time to time
While shades and blinds will, no doubt, protect you and your patio from harsh environmental conditions, you need to invest in certain repairs to give your patio the look and feel you truly desire.
It's not uncommon to find patios developing cracks, chips, or even fading away. All these happen as a result of aging.  One thing you can do to restore lost beauty is to make repairs as soon as you notice it's needed. For instance, if you have concrete patios, you want to fix that small crack you see opening on the side before it grows into something large.
Cut out the appearance of weeds
There are two reasons why weeds are bad to have in your patios. One is that they lower the overall appeal of the patio, making it look like a garden rather than a paved outdoor space. And the second is that they actually cause cracks and chips in the structure over time.
Luckily, you can resolve the issue of weed growth by simply investing your time or money in weeding. If you can DIY, you simply have to get your hands dirty and start pulling them out of the patio. But if you can't, then you'll need to hire someone to help out.
Pressure wash the structure
Due to the environmental impacts of sun and rain, most patios look a shadow of themselves after a while. What once appeared to be a glowing floor now looks so drab and horrible that you can't even dare to bring your friends over.
Well, the good news is you can restore a patio's beauty by simply pressure washing the structure. All you have to do is get an acid stain, and the whole thing will look new again.
Or, if you have a pressure washer at home, you might want to use that.
Invest in the right patio furniture
Most people simply get a chair and table from inside the house and then place them on their patios. Well, you could do better by investing in the best patio furniture.
A patio is only as beautiful as the set of furniture you have on it. Plus, you won't even fancy the idea of spending much time on your patio if you don't have a comfy seating arrangement on it.
Moreover, you need good furniture if you ever plan to have your friends over or dine with the family on the patio from time to time.
So, a good furniture investment is one of the things you must do to get the best out of your patio.
Introduce potted plants
Just the way your living and dining rooms require interior décor, your patio demands attractive exterior decors, too. It is what brings out the beauty in it. Unfortunately, this often means you have to spend extra bucks.
But not if you embrace the idea of potted plants. Potted plants are a way to beautify a patio without necessarily spending too much. You simply have to find plants whose color shades blend superbly with your patio lighting.