Improving customer experience and building strong relationships should be a top priority in all your marketing efforts. Giving personalised gifts does exactly that. They'll make your customers feel valued and encourage them to continue doing business with you. 
Kick off a new business relationship or say "thank you" to your existing customers with creative branded gifts. Turn your happy customers into brand ambassadors with great products people will actually be excited to get. You can use trusted corporate gifting companies such as Camaloon.com/en to make personalised gifts for your customers hassle-free. You can even create your own stickers and attach them to any item you would like to give out to raise awareness about your business and boost loyalty.
Here are some gift ideas to help you improve your customer experience in 2022.
Coffee mugs
Mugs are a classic when it comes to corporate gifts. They are useful to your customers and keep your brand on display. Everyone has their favourite mug to drink hot beverages from in the office or at home. The more exclusive the mug, the better. With so many people drinking tea or coffee on the go, you also can't go wrong with handing out personalised travel mugs.
Water bottles
Staying hydrated is essential for our health, yet most people do not drink enough water. By handing out personalised water bottles, you are helping them stay hydrated and promoting your brand at the same time. Choose water bottles that are insulated, durable and easy to clean. Stainless steel water bottles are perfect for laser engraving. It gives them a timeless, stylish finish and makes them more high-class gifts.
Luggage tags
Now that people are beginning to travel again, you can provide your customers with branded luggage tags. Waiting for luggage at the carousel can be stressful and even the most seasoned travellers get anxious at the thought they might not see their bag. Luggage tags help your consumers identify their bags and provide free advertising for your business while they are travelling. 
Power banks
We rely so heavily on smartphones that a dead battery is a source of significant frustration. Customers can charge their batteries anywhere with power banks, and you can be sure they will be used for many years and increase brand exposure. They make excellent promotional items if you jazz them up to catch people's attention.
Wireless earphones
Wireless earphones are quickly becoming an indispensable part of modern living. It is easy to see why they are always in high demand. There's no annoying wire that gets tangled up or snagged by an object, so you can enjoy your favourite tunes no matter what you're doing. That's why your customers will love them! You can have them personalised to be a constant reminder of your business.
Wireless speakers
Wireless speakers are one of the nicest corporate gifts you can give. There's a wide array of wallet-friendly portable speakers available to personalise for your next promotional campaign. Making everyone's daily routine a little more interesting is bound to be appreciated. It shows that you run a modern, forward-thinking company. 
USB sticks
USB sticks are super practical for transferring files and everybody needs at least one. They used to be a luxury and a lot of people still can't shake that feeling. Your customers will be delighted with complimentary USB sticks! You can also upload and share any digital promotional material with them.
T-shirts
Add some flair to a classic t-shirt and your customers will love it! Choose a T-shirt that is made of high-quality material, such as responsibly sourced cotton. Select the best design-transfer technology to make sure your design doesn't crack, peel away or fade. A fabulous design on a top-notch t-shirt will make your brand stand out among the masses!
Hoodies
Hoodies are warm, comfortable, worn by both men and women and always in high demand. Cold-weather garments can be pricey, but this is not the case with hoodies. They are still reasonably priced to give away. With or without a pouch pocket, they have a huge print area front and back for you to put your name, logo or even the most detailed, intricate designs. 
Aprons
If your customers are foodies or like to get messy in the kitchen, give them personalised aprons. They are a lovely gift for both experts and aspiring chefs, bakers or grill masters out there. Associate your brand with talent and give them as much support as you can!
Wine
A great bottle of wine in a personalised wine bag can be a simple yet elegant gesture for your most loyal customers. You can make your gift even more special by including a handwritten message saying how much you value doing business with them.
Coasters
One can never have enough coasters. They prevent stains on our tables and are ideal for family dinners, get-togethers, meetings and other social gatherings. In addition to circular, coasters can be made in a variety of unique shapes to spark people's interest. If made from quality material, they can be quite sturdy, last a long time and provide your brand with repeated exposure. 
Hand fans
Hand fans make an excellent giveaway during the summer months when people are looking for ways to keep cool outdoors. They provide plenty of room for your logo and are an awesome tool for keeping it in front of wide audiences. Give your customers hand fans when it is scorching hot outside, and you will be their hero of the day!
Tote bags
Tote bags are trendy, useful and used by both men and women of all ages. They are a beautiful promotional item with plenty of space for your logo. Add your own flair to them and hand them out as gifts with purchase or as part of gift bags. Your brand is sure to get noticed by a lot of people.
Stationery
Treat your customers to some gorgeous, personalised stationery. There are so many devoted stationery lovers among us who get excited whenever they get some new pens, pencils, notebooks, etc. Besides being functional, stationery can also look high-end if customised with the right printing technique or engraving. Some people even perceive their stationery as fashion accessories and will appreciate a sleek journal or an engraved stainless-steel pen.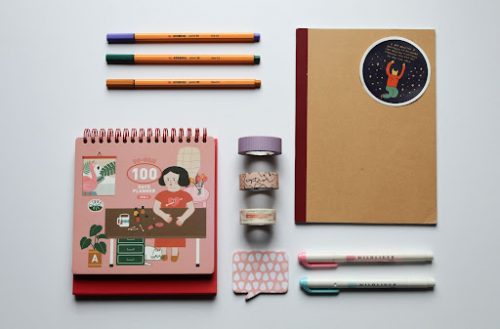 Keyrings
Most of us have multiple sets of keys but never enough keyrings. Keyrings come in many shapes and materials and go beyond simple key portability. They can also be dog bag holders, trolley tokens, bottle openers and many other helpful tools. If well-designed, they can be a cool accessory too. They won't make you break the bank, but your clients will carry them every day, keeping your company top-of-mind.
Card holders
Card holders keep all your cards together in one spot without bending corners or fading the print. They range from the most basic to the most luxurious. Sophisticated card holders are essential business accessories. If you distribute them to your customers, they will generate brand exposure in various situations on a day-to-day basis.
Lip balms
Chapped lips are a common issue, and many people use lip balm regularly. Lip balm is an essential lip care product, and this makes it an excellent giveaway option any time of the year. They come in a stick or tin, can be personalised with your design and promote your company with every use.
Scented candles
Imprint your logo on scented candles to connect pleasant fragrances with your brand. Candles come in various scents, shapes and sizes and provide a stylish focal point. They add warmth and ambience to any room, stimulate memory and relieve tension. There are so many wonderful aspects of candles to associate your company with!
Anti-stress balls
Stress is part of any job, especially in times of uncertainty. Anti-stress balls are a quirky stress reliever and a fantastic way to build brand awareness. Give your customers anti-stress balls and get one for yourself as well! This will show them you genuinely care about them and emphasise the human side of your business.
Gift boxes
Fill a gift box with matching branded items and make a lasting impression on your customers. Pair a hoodie with a wireless speaker, an anti-stress ball with some stationery, a bottle of wine with coasters and so on. Combine whatever seems right to you in an appealing box and surprise your customers. 

To sum up
Client appreciation is more important than ever. There are so many brands selling or doing what you do and your business depends on what people say about you. If your customers have a wonderful experience, they'll spread the word about your company and be more likely to spend money with you again. A terrific, personalised gift could be what keeps your customers loyal instead of exploring other options. Everybody loves free stuff, especially if it's practical. A small treat here and there will go a long way toward keeping your clients coming back to you. You now have some fantastic gift suggestions to show your consumers how much you care. In the long run, well-chosen personalised gifts will bring in revenue. How great is that?
---
Interesting Related Article: "Are promotional products a worthwhile marketing strategy?"