Global industrial production grew by 4% (annualized) during the 3rd quarter of 2013, according to a new report by DESA (United Nations Department of Economic and Social Affairs), the fastest quarter in two-and-a-half years and reflects "an ongoing positive trend in industrial production and trade."
Faster global industrial production growth has occurred across all regions, but is most prominent in the emerging economies, which reported a nearly 8% increase during the third quarter.
Advanced economies have seen more moderate increases. The US registered 2% growth, while the Euro area's industrial production "has been more volatile".
However, Europe registered a 1% increase in industrial production in August compared to July, suggesting that the region may be recovering from many years of recession. The authors of the report point out that Europe's August rebound was concentrated mainly in Germany.
According to information gathered from purchasing managers' indices in several economies, DESA expects the fourth quarter to see even greater global industrial production growth.
Several factors have fueled this latest expansion in emerging economies. Stronger demand for imports in the Eurozone was driven by strong activity in central Europe.
Some Asian economies, including South Korea and China saw industrial production grow mainly because of stronger construction and facilities investment which responded to fiscal stimulus measures.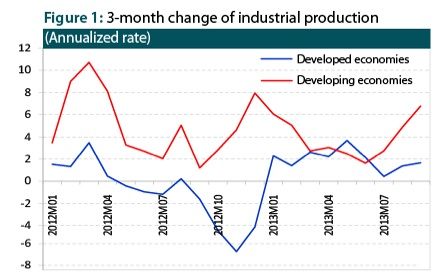 Source: UN/DESA, based on data from CPB Netherlands Bureau for Economic Policy Analysis.
Global industrial production driven by imports
Imports from the major advanced economies increased in Q3 2013 at their fastest rate in three years.
DESA wrote "The improvement in the trade sector had some spillover effects on several emerging European economies. In Central Europe for instance, industrial production and exports accelerated strongly in the Czech Republic and Poland, benefiting from their strong ties with the euro area."
The big question is whether industrial output and import demand from the advanced economies can be sustained. Some signs indicate that economic activity may be back on track in the developed nations.
Consumer spending and private investment has helped the American economy gather some impetus.
After six consecutive quarters of shrinking GDP, the Eurozone appears to have emerged from recession during the second quarter of this year.
Government spending has helped Japan perform better, and business confidence in the country is at a comparatively high level. Yesterday, however, Japan reported an economic slowdown for Q3 2013.
DESA wrote "Thus, world trade is expected to grow at a faster pace in the next few quarters, but in the long term it may not be as dynamic as in previous decades.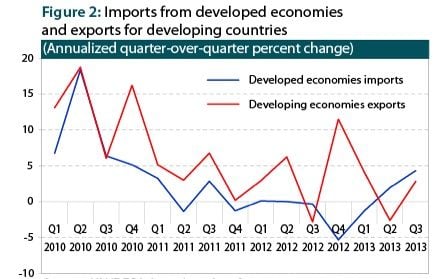 Source: UN/DESA, based on data from CPB Netherlands Bureau for Economic Policy Analysis.