The global lupus drugs market is growing rapidly, especially in North America. In North America, lupus is more common among Native Americans, Asians, and Hispanics, says the CDC (Centers for Disease Control and Prevention).
We can either refer to the disease as systemic lupus erythematosus, LSE, or simply lupus.
In the global lupus drugs market, North America has the fastest compound annual growth rate (CAGR) in the world.
Europe is the second fastest-growing lupus drugs market. According to Future Market Insights, the European lupus drugs market is set to reach almost $550 million.
European vs. North American markets
Europe is a larger lupus drugs market than North America because the autoimmune disease is more prevalent in the old continent. Experts estimate that the European market is about to register double-digit CAGR.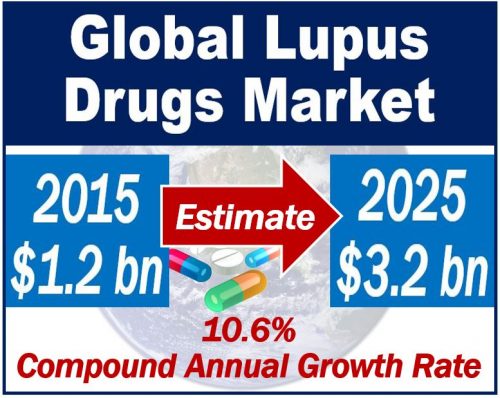 Why is lupus drug market big?
Lupus is a long-term autoimmune disease that causes inflammation of the joints and other organs. Experts believe that a combination of environmental, hormonal, and genetic factors cause the disease. As it can affect many parts of the body, several different signs and symptoms are possible.
For this reason, doctors prescribe several different medications for lupus treatment. Therefore, the lupus market includes many different drugs.
Sunlight and air pollution, for example, are environmental factors that can exacerbate lupus symptoms.
Global lupus drugs market growth
Analysts predict that the global lupus market will nearly triple by 2025, from $1.2 billion in 2015 to $3.2 billion. This represents a CAGR of 10.6%, says GlobalData, a research and consulting firm.
In other words, over the 10-year period, annual growth will have averaged 10.6%.
Lupus drugs market in 7 economies
Market analysts say that the lupus drugs market in the UK, Spain, Italy, Germany, and France will grow significantly. They say it will also grow rapidly in Japan and the US.
The launch of new and better lupus drugs will be the principal drivers of growth.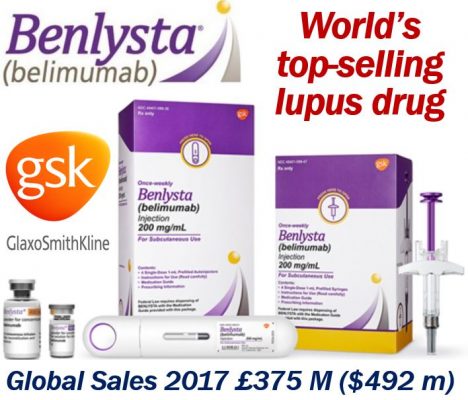 The drugs driving growth are:
– Anifrolumab: MedImmune, LLC. developed this drug. It is a monoclonal antibody specifically for the treatment of lupus. MedImmune is a subsidiary of British pharmaceutical multinational AstraZeneca plc.
– Abatacept: multinational US pharma company Bristol-Myers Squibb developed this drug. Doctors prescribe it to treat autoimmune diseases. Lupus, for example, is an autoimmune disease.
The drug interferes with the immune activity of T cells. However, it is extremely expensive. In the US, for example, treatment costs up to $3,800 per month.
– Lupuzor: British pharma company ImmuPharma plc. created this polypeptide. For severe lupus, Phase IIb trial results were encouraging.
– Atacicept: German pharma company Merck KGaA. created this recombinant fusion protein. It inhibits B cells, thus suppressing autoimmune disease.
– Blisibimod: American biopharmaceutical company Anthera Pharmaceuticals, Inc. created this selective antagonist of B-cell activating factor (BAFF). It is currently undergoing clinical trials. Clinical trials are experiments involving humans rather than non-human animals.
– Voclosporin: Canadian pharma company Aurinia Pharmaceuticals Inc. developed this experimental immunossupressant drug. It is currently undergoing studies for the treatment of lupus nephritis and uveitis.
Technavio, a major technology research advisory company, said the following regarding the lupus drugs market:
"The global lupus therapeutics market is expected to benefit from a strong pipeline of various newer therapeutics, including regenerative therapy."
"Although GlaxoSmithKline's BENLYSTA is the only drug approved for lupus, the off-label use of various drug therapies as per symptoms is substantiating the market growth."
In a Phase 2 trial, lupus patients receiving baricitinib 4mg experienced significant benefits compared to those on a placebo.
Black Swan Analysis has completed an interesting Lupus Study which covers eight major markets.