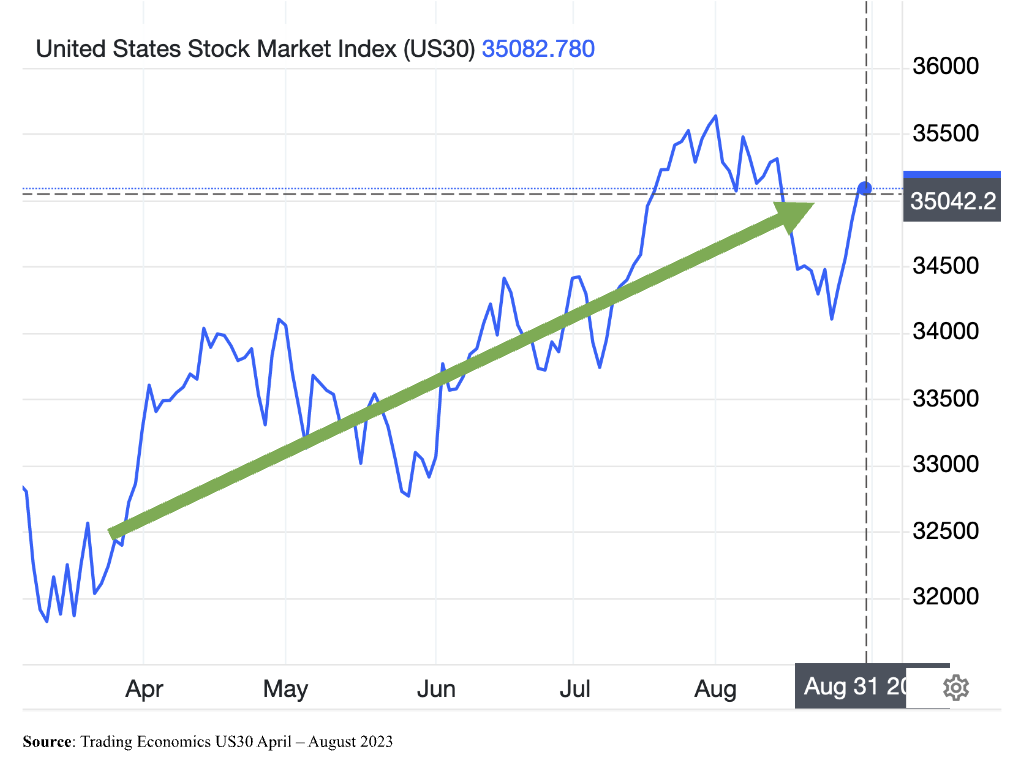 As financial markets across North America navigate through tumultuous macroeconomic variables, investors are turning to fundamental and technical analyses to make sense of the current landscape. These analysis methods, enhanced by charts and graphs, are often the preferred tools of many retail traders, providing an in-depth view of stocks, commodities, indices, and forex markets.
U.S. stock futures seemed to be on a steady path, maintaining their momentum after consecutive advancements observed in the major averages during recent trading sessions. The Dow, which saw a modest surge of 0.11% and the S&P 500, which posted a gain of 0.38%, aligned with the Nasdaq Composite's upward movement of 0.54%. 
Interestingly, nine of the 11 S&P sectors experienced uplifts, with technology, energy, and industrials taking the lead. These movements can be attributed to the weaker-than-projected U.S. data, which indicates a possible end to the Federal Reserve's policy tightening phase. This speculation has proven beneficial for equities. 
Recent GDP revisions have highlighted a less robust U.S. economy in the second quarter than previously estimated. Additionally, ADP's data indicated a slowdown in August job creation, more than originally anticipated.
Furthermore, an astute analysis of Salesforce's performance reveals the strength and potential of software firms in the current market. After reporting an impressive second quarter and optimistic forecasts for the third, Salesforce saw a spike of about 6% in extended trading. 
Q4 Promises More Surprises
As we approach the close of August, there's a heightened focus on key inflation data. The PCE price index, the Federal Reserve's inflation metric of choice, has been thrust into the limelight. Concurrently, retail magnate Dollar General dived due to underwhelming earnings results.
Investors and online traders also await the Labor Department's release on personal income and outlays. Expectations are set for personal income to witness a 0.3% monthly increment, while personal consumption expenditures will likely show a 0.6% uptick.
Preliminary indicators, such as the PCE price index, suggest a 0.2% monthly rise, resulting in a 3.3% annual surge. Wall Street, not factoring in energy and food, predicts the core PCE price index to grow by 0.2% for the month, amounting to a yearly gain of 4.2%.
However, it's not just the U.S. market dynamics under the scanner. Canada, a major trading partner of the U.S., is witnessing its own economic tremors. Recent data indicates a surge in Canada's annual inflation rate, exceeding expectations and hitting 3.3% in July. The heart of this inflation can be traced back to a base-year effect on gasoline prices. With Canada's inflationary pressures mounting, there's growing speculation about another potential interest rate hike.
Given the interconnectedness of global economies, and with Canada being an integral trading partner of the U.S., analysts and traders must understand the underlying macroeconomic currents. Such knowledge helps in making informed decisions, particularly in volatile market conditions.
Broader Market Context and Implications
In the macroeconomic realm, preliminary eurozone CPI figures and U.S. personal consumption data, central to fundamental analysis, have put financial analysts and online traders on high alert. Recent reports highlight that inflation has decelerated at a rather gradual pace in Germany and Spain. Such unfolding scenarios have ignited discussions, hinting that the European Central Bank (ECB) might be compelled to reassess rates in September.
The pan-European STOXX 600 index depicted a subdued mood, with the euro gaining traction after the data revelations. As August draws to a close, financial experts, especially traders leveraging indicators for technical analysis on MetaTrader, eagerly await the euro zone's preliminary CPI data. Preliminary estimations forecast an easing of the inflation rate, suggesting an annualized figure hovering around 5.1%.
Meanwhile, France, grappling with surging prices, is strategizing to offer some respite to its citizens. The French government aims to double the number of products subject to price reductions this fiscal year. A suite of data, including the final GDP figures for Q2, is anticipated to offer deeper insights into the economic pulse of France.
Transatlantic trends also warrant mention. After being dissected and analyzed through both technical and fundamental lenses, the U.S. economic landscape suggests that the Federal Reserve might adopt a more cautious stance. Speculations abound that it might momentarily halt its rate hikes, at least in its upcoming September policy congregation. 
The core PCE, a metric avidly followed by retail traders, is slated to exhibit a modest 0.2% ascent from June, with annual core projections pegged at 4.2%, a marginal increment from the prior 4.1%.
Markets in Asia 
Pivoting to Asia, Chinese equities exhibit a bearish sentiment following revelations from an official survey indicating that manufacturing activity has been on a downturn for five consecutive months. Such macroeconomic variables significantly impact global commodities, stocks, indices, and forex markets.
In the corporate ecosystem, UBS is poised to unveil its Q2 financial health, marking its maiden earnings announcement post its acquisition of Credit Suisse. A separate dossier detailing Credit Suisse AG's financials will shed light on the extent of the dent experienced by the bank's wealth management division. Furthermore, the bank's rapport with its clientele in the aftermath of the rescue will be under the scanner.
As global markets steer into the next trading session, several pivotal developments loom on the horizon that could potentially reshape the trading paradigms:
The U.S. is set to 

release its July PCE report

 and the weekly jobless claims data.

Germany, Italy, and the eurozone will disclose their unemployment metrics.

Retail sales figures for Germany and Switzerland for July are awaited.

Central bank events, including the release of minutes from the ECB's July 21 meeting and speeches from key Fed representatives, are slated to occur.
Conclusively, in this intricate tapestry of global financial happenings, it's pivotal for investors, whether they're commodities traders or online traders dabbling in forex, to be astutely informed. 
Given its symbiotic trade relationship with the USA, Canada's economic dynamics further underscores these global markets' interconnectedness. 
As inflation continues to be a dominant narrative across borders, it remains to be seen how central banks and governments will navigate these uncharted waters to ensure economic stability.