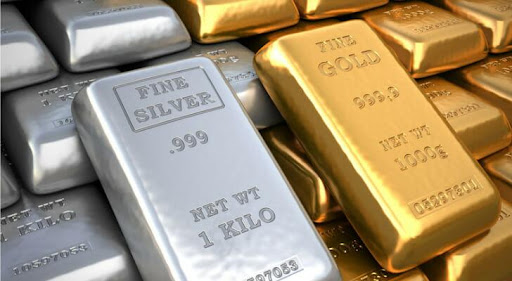 Navigating the world of precious metals can be a daunting task, especially with the myriad of investment options available today. In an era where high inflation and banking crises are legitimate concerns, diversifying one's investment portfolio to include tangible assets such as gold and silver has never been more crucial. 
This is where GoldBroker comes into play, emerging as a comprehensive resource for those keen on investing in precious metals as a hedge against such financial uncertainties. GoldBroker not only provides an accessible platform to engage in precious metals trading but also seeks to educate investors about the merits of owning physical assets in turbulent economic times. 
This review will delve into the unique features GoldBroker offers, its advantages over conventional investment platforms, and ultimately, whether this platform aligns with your investment objectives and strategies for mitigating financial risks.
What is GoldBroker?
GoldBroker is an online platform that allows investors to buy, sell, and store physical gold and other precious metals. Founded by Fabrice Drouin Ristori, it provides a fully allocated ownership model, meaning that investors have direct ownership of their precious metals.
Company Background: A Trailblazer in the Precious Metals Market
GoldBroker is a leading online platform dedicated to the purchase, sale, and storage of physical precious metals. It was founded by Fabrice Drouin Ristori, a seasoned entrepreneur with extensive experience in asset management and precious metals trading. He identified a gap in the market for a service that enables investors to hold physical gold and other precious metals without any intermediation.
Since its inception, GoldBroker has been a game-changer in the precious metals investment market. The company's operations are centered around its core philosophy of direct and transparent access to precious metals. This vision led to the creation of a platform that allows investors to buy and store precious metals in their name, with no middleman involved.
Headquartered in Malta, GoldBroker has positioned itself as a global player, providing its services to clients in over 50 countries worldwide. It has formed strategic partnerships with secure storage facilities around the globe, allowing clients to safely store their precious metals in various geopolitical locations. This feature is a testament to the company's commitment to providing flexible and secure investment solutions.
With an innovative business model and a customer-centric approach, GoldBroker has quickly built a strong reputation in the industry. It continues to maintain its stance as a trailblazer, striving to provide investors with transparent, secure, and convenient options for investing in precious metals.
GoldBroker's Features: Empowering Precious Metal Investors
With GoldBroker, investors can engage in a marketplace for precious metals with confidence. The platform also offers a range of unique features that help to enhance the investment experience.
Direct Ownership
One distinguishing feature of GoldBroker is that it allows investors to have direct ownership of their precious metals. This gives investors peace of mind as it reduces the risk associated with third-party liabilities.
Global Storage Locations
GoldBroker facilitates secure storage of precious metals in high-security vaults located across the globe. This feature enhances flexibility and convenience for investors, especially those who are concerned about geopolitical risks.
Real-time Trading
Investors can buy and sell precious metals on the GoldBroker platform in real-time. This feature helps investors to respond quickly to market dynamics.
Security and Privacy: Keeping Your Investments Safe
GoldBroker places a high emphasis on security and privacy. The platform uses robust security measures to protect investors' assets and personal information.
Pricing: Transparent Fees for Clarity
GoldBroker operates on a transparent fee structure, allowing investors to fully understand the costs associated with their transactions.
In comparison to other platforms like BGASC, JM Bullion, and Augusta Precious Metals, GoldBroker offers competitive pricing, which is a plus for those looking to maximize their investment returns.
The Verdict: Is GoldBroker Worth It?
With its unique feature of allowing direct ownership of precious metals, global storage locations, real-time trading, and robust security, GoldBroker stands out as a valuable platform for investors. The transparent fee structure also makes it easy for investors to understand exactly what they're paying for.
If you're an investor looking to diversify your portfolio with precious metals, GoldBroker can provide you with the resources and tools you need to make informed decisions.
Final Thoughts
In the competitive market of precious metal investments, GoldBroker distinguishes itself with its commitment to transparency, security, and ease of use. Whether you're a novice or an experienced investor, GoldBroker offers a platform that can help you navigate the world of precious metals with confidence.
The option to own physical precious metals directly, coupled with the ability to store them in secure vaults around the world, makes GoldBroker a compelling choice for those who prioritize security and flexibility in their investments.
For those still uncertain, GoldBroker provides a free guide to investing in precious metals. This is an excellent resource for investors who are new to the realm of precious metals, providing insights into the market and strategies for investment.
With its focus on customer service and providing a comprehensive platform for precious metal investments, GoldBroker is an excellent choice for anyone looking to diversify their portfolio with precious metals.
Click here to get started.
Author Bio:
Craig Hawthorne is a financial veteran who effortlessly combines his profound understanding of finance with a flair for product reviewing. Recognized for his knack in untangling complex financial concepts and delivering reliable product critiques, his insights have earned spots in multiple esteemed publications such as Modest Money. His efforts also extend to producing educational content, helping a wider audience confidently navigate through financial complexities. 
Outside the professional sphere, Craig cherishes his downtime, hiking local trails or exploring new culinary experiences, enriching his life with a healthy balance of work and leisure.
---
Interesting Related Article: "How to Choose the Best Precious Metals Company to Avoid Bank Failure?"