The Goldman Sachs Group, Inc. is an American multinational banking and financial services firm, headquartered in Manhattan, New York City.
Its services include: investment banking, asset management, commercial banking, mutual funds, investment management, commodities, and prime brokerage.
The bank was founded in 1869 by the German-American Marcus Goldman. The firm became well known during the time of its inception for pioneering the use of commercial paper (IOUs that companies sell) for entrepreneurs.
In 1906 Goldman Sachs entered the IPO market by taking Sears, Roebuck and Company public.
The Goldman Sachs Group, Inc. is now one of the world's leading financial institutions and often regarded as being one of the "elite" investment banks in the world.
The group is divided into four businesses units:
Investment Banking: focuses on "strategic advisory assignments with respect to mergers and acquisitions, divestitures, corporate defense activities, risk management, restructuring and spin-offs, and debt and equity underwriting of public offerings and private placements."
Institutional Client Services: facilitates the transactions of fixed income, equity, currency and commodity products for institutional clients (such as corporations or investment funds).
Investing and Lending: provides loans to clients to help finance their projects.
Investment Management: offers investment products, in the form of mutual funds and private investment funds, etc.
Overview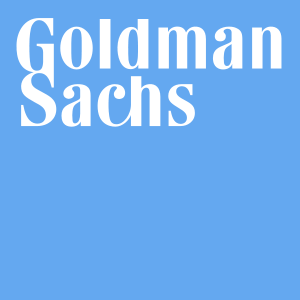 Chairman and CEO: Lloyd C. Blankfein
President: Gary D. Cohn
Industry: Banking, financial services
Type: Public
Listed on the New York Stock Exchange
NYSE stock symbol: GS
Dow Jones Industrial Average Component
Revenue: $32.974 billion USD (2013)
Earnings (loss) per share – diluted: $15.46 USD (2013)
Total assets: $911.507 billion USD (2013)
Founded: 1869
Founder:  Marcus Goldman
Headquarters: 200 West Street, New York, New York, USA
Employees: 32,600 (2013)
Website: http://www.goldmansachs.com/

Investor relations contact number: 1-212-902-0300
Investor relations email: 

[email protected]

  

---
Income statement data (in $ millions)
2013
2012
Non-interest revenues
$30,814
$30,283
Interest income
$10,060
$11,381
Interest expense
$6,668
$7,501
Net interest income
$3,392
$3,880
Net revenues, including net interest income
$34,206
$34,163
Pre-tax earnings
$11,737
$11,207
Total revenues net of interest expense
$32,974
$31,555
Balance sheet data (in $ millions)
Total assets
$911,507
$938,555
Other secured financings (long-term)
$7,524
$8,965
Unsecured long-term borrowings
$160,965
$167,305
Total liabilities
$833,040
$862,839
Total shareholders' equity
$78,467
$75,716
Common share data (in $)
Earnings per Common Share – Basic
$16.34
$14.63
Earnings per Common Share – Diluted
$15.46
$14.13
Source: "Goldman Sachs Group, Inc., Annual Report 2013 – Financial Section"
---
News
July 3, 2014: If a motion filed by two ex-employees is approved by a US District Judge in Manhattan, Goldman Sachs could face a gender-bias lawsuit involving thousands of women going back more than a decade. According to the complaint, the investment bank "perpetuates a gender biased culture that sexualizes women."
---