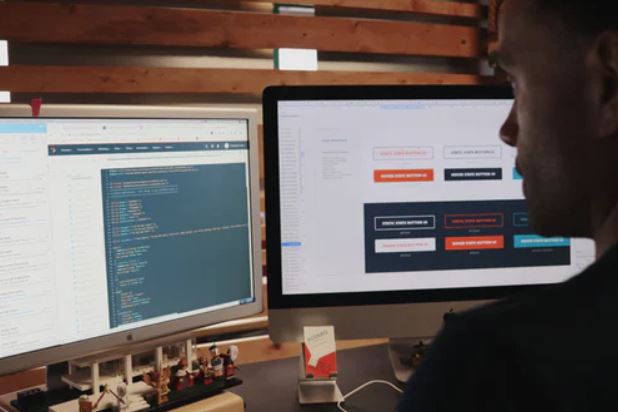 If you want your website to stand out like a digital peacock, then you need graphics.
Graphics that are carefully-crafted, carefully-placed, and those that convey the right message.
Do that right, and you are bound to capture your audiences' attention and evoke the right emotions from them — making it easier for you to convert them into paying customers.
To give you an even better idea of how graphic designs can turn your ecommerce website into a sales machine, allow us to share with you these crucial points.
1. Shift your website visitors' frame of mind.
Social media sites are some of the best places to promote your products.
The catch is, people don't go on Facebook or Twitter with the goal of buying something.
If you want your target audience to shift from thinking about fun and entertainment, into having a shopping mindset, then designing compelling social media ads is an excellent way to catch their attention and drive them to your ecommerce website.
For instance, you can post ads to your Facebook page as part of your social media campaigns.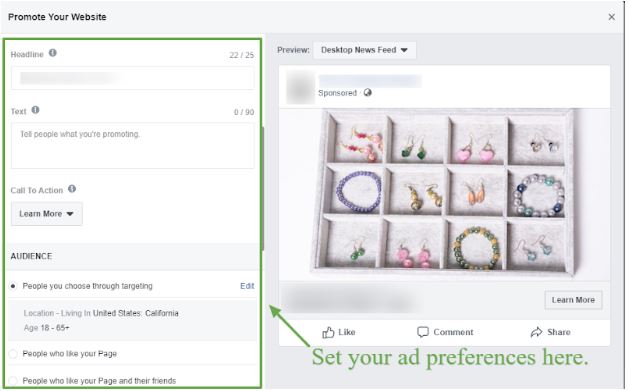 You can design high-quality and compelling images and create attention-grabbing headlines and call-to-action — and use them for the ads you run on social media platforms.
With the right design, you can present the value and benefits that your products offer and help your potential customers switch from entertainment to a purchasing mindset — increasing your chances of converting them into buyers.
2. Tell your story.
If you want your audience to resonate with your brand, tell them your brand story. If your story is highly-relatable to them, they will have a strong sense of connection with your brand.
This can bring you all sorts of opportunities.
It's worth pointing out, however, that telling your story doesn't need to be a long and boring narrative about how you started from the bottom.
You can use creative graphic design elements, such as photos to create compelling visuals that can help you connect with your audience and make a powerful impression before they even start knowing your story.
The best part is, having carefully and beautifully crafted graphic design doesn't have to be costly.
There are tried and tested photo retouching services on the internet that you can work with that produce exceptional results at such affordable rates.
With the help of these photo editing services, you can incorporate stunning images to your ecommerce site that can help complement your plain tests.
As you bring both your carefully-crafted images and your well-thought-out tets, you'd be able to create a memorable brand story and connect with your audience.
What's more, beautiful and compelling images can also help you establish an excellent first impression with your audience — which can help you generate more sales.
3. Direct your website visitors where to buy.
When applied correctly, graphic designs are great tools when it comes to directing your web visitors' attention and growing your sales.
In fact, if you're not using the right colors for your directional cues, your site visitors might not find your CTA buttons and other elements that you want to emphasize — which can lead to high bounce rates and lower your ecommerce sales.
To ensure that your potential customers are directed to the right web elements or pages, you can use eye-catching colors for your "Buy Now" buttons.
Remember that directional cues play a crucial role in the usability and navigation of your website, so designing them in a way that will lead your website visitors easily to act on your offer is one of the best approaches to raise your ecommerce sales.
4. Create a compelling visual experience.
If you want to stand out from your competitors, you'll need to provide a memorable and unique experience that your customers can only get from you.
The challenge is, how do you stand out from your competitors when they're also trying to offer distinctive customer experiences?
An excellent solution is to inject fun and relatable visual elements into your content by using popular culture references and the language of the modern-day internet: memes.
Using memes are great for putting your customers' guards down or putting them at ease.
What makes memes so effective is they are such fun and creative tools to get your message across.
You can use online generators like imgflip to create relatable but relevant memes for your target audience.
For instance, if you're selling products for pets, you can create and customize memes out of cat photos like the one below.
With memes, you can create content that your target audience can relate with and grab their attention — while getting your message across at the same time.
It's also a great way of standing out from your competitors since memes allow you to deliver a compelling visual experience that your audience can uniquely associate with your brand.
This helps you build relationships with your audience and, ultimately, improve your conversions and sales.
5. Merge your textual and visual content seamlessly.
Graphic design isn't just for establishing your digital storefront and other marketing efforts.
It can also help you create content that can merge your textual, visual design, and web elements seamlessly.
Keep in mind that although compelling in their own right, images or texts alone might not be enough to convince your website visitors to act on your conversion goals.
You need the synergistic kick of both elements to create an entirely new experience, one that can "Wow" your web visitors.
Creating remarkable designs, however, doesn't come easy.
It requires experience, a good grasp of graphic design principles, and the skills/tools to put the design together. If you're struggling with putting together your ecommerce site's graphic designs, there are companies like Cobwebs design that you can tap to help you come up with professional-looking designs.
With the right application of graphic design, you can create web content that is both visually interesting and informative — providing value to your site visitors in a way that doesn't overwhelm them but addresses their pain points.
Plus, excellent graphic design — one that mixes coherent, relevant, and captivating textual and visual elements effectively — will help you pull in your potential customers and grow your ecommerce sales.
Final Thoughts
Graphic design is more than just creating visual web elements and marketing materials for your business — it's also about establishing an effective way to communicate with your target audience.
Used the right way, graphic design can help you inform, entertain, build connections with your target audience, and, ultimately, compel them to act on your conversion goals.
What other graphic design tips do you know that can drive your ecommerce sales? Feel free to share them in the comment section below. Cheers!
__________________________________________________________
Interesting related article: "What is e-Commerce?"