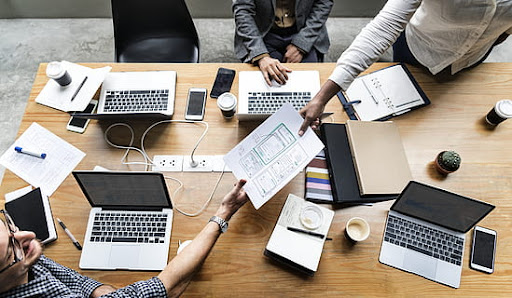 For businesses, time is money. In order to grow quickly and efficiently, you need to have the right tools and equipment in place. But purchasing new equipment can be expensive, which is why leasing is such a popular option. Leasing gives you the flexibility to upgrade your equipment as your business grows, without breaking the bank. But with so many vendors out there, it can be hard to know who to trust. In this blog post, we'll share some tips on how to find the right equipment leasing vendor program for your business. We'll also dispel some common myths about leasing so that you can make the best decision for your company's needs.
Vendor Equipment Leasing Company Online Capabilities.
A business equipment financing company should be able to submit lease applications through web access and show if the same application has been approved or not. An equipment leasing vendor program can be a great online capability for your business. Other information, important to a company or small business, such as payment and transaction information, should be accessed through the web.
You'll ideally want to look at these online capabilities with your equipment leasing vendor program.
Instant equipment leasing proposals customized to your customers' credit.

Instant approvals to instant e-docs.

A co-branded web landing page for your website that promotes business financing opportunities.

A co-branded application portal with an easy apply button to bring in more business.

Sales, maturity, application, and funded transaction reports all in one place with forecasting capabilities.
When it comes to vendor equipment leasing, experience and history are important.
An equipment  vendor leasing company with a good track record in the industry to which the company or small business belongs to has an edge over. Equipment vendors with a good track record in the industry, such as Trust Capital, have an advantage over those who have not.
They have extensive knowledge of this industry, which means they can relate to any concerns raised by acquiring firms regarding equipment lease agreements.
These investors have an in-depth knowledge of the industry, which gives them a better understanding of your equipment leasing agreements.
One of the best ways to see if you'll be a good fit with a financing company is to check their growth patterns in the industry that your company belongs to.
Check out their reviews, and see if they seem trustworthy. Ask for referrals or testimonials to help you decide if they're the right company or not. If they have been in this industry for a while, odds are that they will do a good job.
Starting an Equipment Leasing Vendor Program
In order to find the right vendor, make sure that they're well known in the industry and have great marketing potential. Instead of going it alone, you should market your business to find potential clients. It's best to offer monthly payments with every invoice so that you can manage your cash flow better.
We offer specialized materials to help your business get the finance they need. These include equipment financing, promotional materials and monthly payment term examples should be prepared.
Equipment Leasing Vendor Program Application.
Co branded forms can be quickly prepared and completed. Just follow the steps to prepare the equipment leasing company's application. Make sure the equipment leasing vendor program application is short and sweet. If you plan to do a private label business finance program, business loan contracts and other legal documents would need to be prepared and reviewed by a legal expert first.
Some documents are integral to the sales strategy for this program.
A Custom Designed Equipment Leasing Calculator
A company like Trust Capital offers vendor partners access to online tools that enable them to quickly generate proposals for customers. These proposals include up to twenty monthly payment options.
This monthly payment calculator will make it easier for your customers to figure out their payments. It will also help them to understand the potential tax benefits and ROI of this type of vendor leasing program.
Customized Marketing Paraphernalia
Customized marketing materials are a great idea for any business. Take the time to design and distribute brochures with appropriate content featuring your company's products. Make sure to include target market-specific information in these materials, as they will be important.
Trained Personnel Management
It is very important that personnel management teams are well trained in how to present vendor equipment leasing programs to clients. How well they treat customers. Answering the client's question during face to face presentation and when calls are made to the office is important.
These representatives should be familiar with the mechanics of this program and its benefits. They'll need to find a way to make it stand out from the purchase option.
Payment Plans for Customers
There are many different payment plans that equipment leasing vendors offer to their customers. Some vendors offer monthly payments, while others offer quarterly or yearly payments. There are also some vendors who offer a pay-as-you-go plan, where you only pay for the equipment when you use it.
Negotiate payment plans with equipment financing partners.
There are a few good custom equipment financing payment option programs you might want to line up when you're eager to sign new customers:
Payments starting at $99 for the first 12 months,
90-day Deferral: Offers payments of just $0 for the first three months, 
Seasonally Varied: Match plan with your business' uneven cash flow, and 
Leases with "0% Interest" as high as 60 months (depending on discounts from both equipment lessor and vendor).
Save some serious cash with "Stepped Down" Leases that reduce payments as the equipment's value decreases. Payments are lower than purchases, and we even offer terms of up to 84 months with no prepayment penalty! Plus, 90 days is the same as cash with a 1% monthly charge on all bills until you make the decision to pay cash or roll into a lease.
The best payment plan for your business will depend on a number of factors, including the type of equipment you need, the frequency with which you need it, and your budget.
Whatever payment plan you choose, be sure to shop around and compare different vendors before making a decision. You should also make sure that you understand all of the terms and conditions of the lease agreement before signing anything.
Wrapping Up
The right equipment leasing vendor can make a big difference in the speed of your business growth. When you're ready to lease equipment, be sure to shop around and compare vendors. Consider factors like cost, customer service, and turnaround time.
Leasing equipment is a great way to get the gear you need without breaking the bank. But not all leasing companies are created equal. It's important to do your research and choose a vendor that will best meet your needs.
Here are a few things to keep in mind when choosing an equipment leasing vendor:
Cost: Make sure you understand all the fees associated with leasing equipment. Compare prices between vendors to get the best deal and visit Trust Capital

. .

Customer service: Good customer service is essential when working with any type of vendor. Be sure to read reviews and ask around to see what others have experienced with different leasing companies.
Turnaround time: How quickly does the vendor deliver on their promises? If you're in a hurry to get your hands on some new equipment, you'll want to choose a vendor that can turn things around quickly.
I hope this article is very informative for you. If you want to know more about equipment leasing vendor programs, you can visit Trust Capital. Thanks for reading.
---
Interesting Related Article: "Tools to Help You Be More Productive with Leasing Accounting"