The role of medical assistants in health clinics continues to become more critical as people require more services. Several responsibilities come with the job, including checkups and patient records. They work in various areas, including paediatrics, family practice, physical therapy, pulmonary function testing, cardiac rehabilitation, podiatry, and others.
Medical assistants may also need to do specific tests like EKGs (electrocardiograms) or x-rays; take blood samples; set up patients for treatment; help physicians during exams; keep records; collect or prepare lab specimens; draw blood; prepare patients for x-rays; dress wounds, perform clerical duties like making appointments and maintaining records on each patient.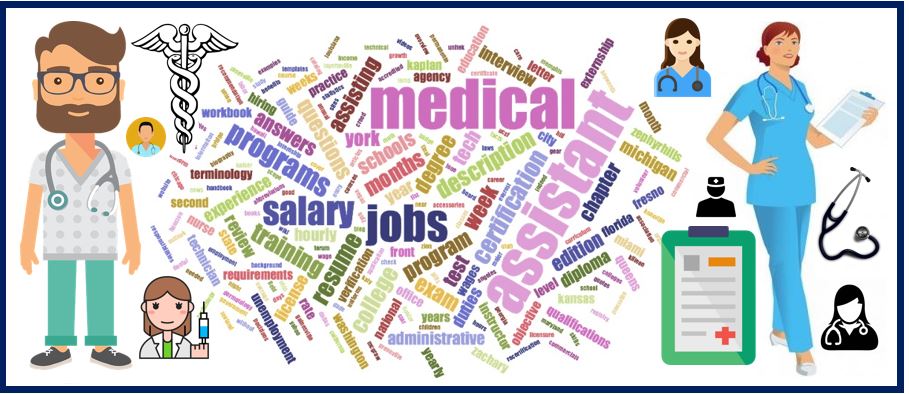 They may also help manage the administrative tasks of a medical office, such as scheduling appointments and billing insurance companies. And to know more about the profession, continue to read the article and jump onto MedAssistantEdu's website as well.
Requirements to become a medical assistant
To qualify for a job as a medical assistant, you must have at least an Associate degree in applied science from an accredited program. The programs are typically two-year associate degrees that include clinical coursework where students gain hands-on experience working with patients or clients under supervision. You can expect to spend 9 months to 1 year in an entry-level one certificate program if you want to be prepared for employment upon graduation.
In addition to earning your degree, it is also important to get certified by passing national boards. Many options are available when choosing a certification provider, but the American Association of Medical Assistants (AAMA) certification is the most common.
Most states also require medical assistants to be certified or registered, so check with your state's medical board for more information. The certification exam covers confidentiality and privacy, medical law and ethics, basic anatomy and physiology, office management and other skills needed to become a successful medical assistant. Certification typically requires that you pass an exam offered by the AAMA or another organization in your state.
If you choose to take the national certification exam through the AAMA instead of taking an exam through your state association, it will probably cost less than $100 to take the test.
Aspiring medical assistants should make sure they get plenty of hands-on experience while working on their degrees. Many schools require students to complete clinical rotations, which allow them to gain experience with patients under the supervision of professionals
An assistant or Associates degree (AAS) is required; however, an Associate degree in applied science (ADAS) is preferred; a high school diploma or equivalent is typically required; on-the-job training can also be helpful; state license boards may require certification.
Salary range: $30,000 – $50,000 per year
The median annual wage for medical assistants was $32,690 in May 2014. The lowest 10 percent earned less than $21,390, and the highest 10 percent earned more than $48,070. Median hourly wages were $15.52 for medical assistants and $17.44 for medical office assistants.
The employment of medical assistants is projected to grow 23 percent from 2014 to 2024, much faster than the average for all occupations. Population growth and an ageing population will lead to greater demand for preventive medical services, especially in outpatient care centres that provide standard procedures such as physical examinations or blood testing.
Medical assistants will also be needed to help doctors keep up with new diagnostic developments, which have resulted in more lab tests being available at lower costs.
As a result of the growing need for preventative medical services and treatment, many physicians will hire additional assistants. As a result, nearly all states are experiencing workforce shortages in the number of available medical assistants. Also, because of this increase in patient volume and the ageing population, the middle class is expected to see higher income levels than those made during 2013-2014.
Medical Assistant role and responsibilities
The primary responsibilities of a Medical Assistant come from their education requirements which usually entail assisting either an MD or NP with exams and procedures. Some Medical Assistants have the opportunity to specialize in a specific area of medicine such as labour and delivery, paediatrics, operating room or laboratory.
Daily, a medical assistant will record patient vitals signs, perform lab tests and basic diagnostic studies, collect and prepare samples for testing, administer medications as directed by a physician or nurse practitioner, maintain medical records and update charts, order prescriptions from the pharmacy when required by physician's orders. In addition to taking vital signs such as temperature, pulse rate, respiration rate etc., they may also measure height, weight and blood pressure. The skilled careers provide administrative support, which allows physicians almost complete autonomy about how to practice medicine.
They obtain consent from patients treatment, assist with examinations and diagnostic testing. Assistants are the ones who will help prepare patients for procedures by arranging instruments and equipment to assist the doctor. Some responsibilities may include but are not limited to taking out medical records and assisting with injections, which can be administering or drawing blood samples at the physician's order. They also provide support during clinical operations.
Medical assistants must have excellent interpersonal skills to work well with people, especially since they are not just working for one employer but multiple doctors who come into their practice daily. The medical assistant must show excellent multi-tasking skills as sometimes many activities need to be done at once because of the high volume of patients that visit their practices each day. Medical Assistants must be highly organized as they must keep track of the patients' medical history and provide the correct information to treat them properly.
For example, Medical Assistants are required to answer phone calls, greet patients with a smile on their face, record patients' chief complaints, and take vital signs such as temperature and blood pressure before seeing the physician or nurse practitioner. The duties of medical assistants will differ according to their employer, but they require additional training to handle specific responsibilities.
---
Interesting related article: "What is a Career?"