Grupo Bimbo, S.A.B. de C.V. is one of the world's largest baking companies, headquartered in Santa Fe, Mexico City.
The company was founded in 1945 by Lorenzo Servitje, Jose T. Mata, Jaime Sendra and Jaime Jorba.
It went public on the Mexican Stock Exchange in 1980.
By 2012 it was the world's leading bread manufacturing company.
Grupo Bimbo is present in 19 countries across America, Asia and Europe, has more than 10,000 products and over 103 brands of well-known prestige.
Its flagship brands include: Bimbo, Marinela, Sara Lee, Fargo, Lactal, Bimbo España, Silueta, Eagle, Barcel, Ricolino, Tia Rosa, Dulces Vero, Oroweat, Arnold, Mrs Baird's, Thomas', Brownberry, Entenmann's, Pullman, Plus Vita and Nutrella.
Grupo Bimbo products are sold in: Mexico, Brazil, Guatemala, El Salvador, Costa Rica, Colombia, Venezuela, Peru, Chile, Argentina, Uruguay, Honduras, Nicaragua, Panama, Paraguay, the United States, China, Spain and Portugal.
The company's mission is "to Nourish, delight and serve our world."
Grupo Bimbo, S.A.B. de C.V. – Company Overview
Chairman and CEO: Daniel Servitje
Industry: Food processing
Type: Public
Listed on the Mexican Stock Exchange (BMV)
BMV stock symbol: BIMBO
Net sales: $13.8 billion USD (2013)
Founded: 1945
Headquarters: Mexico City, Mexico
Employees: 125,000
Website: http://www.grupobimbo.com/
Grupo Bimbo, S.A.B. de C.V. – Global Presence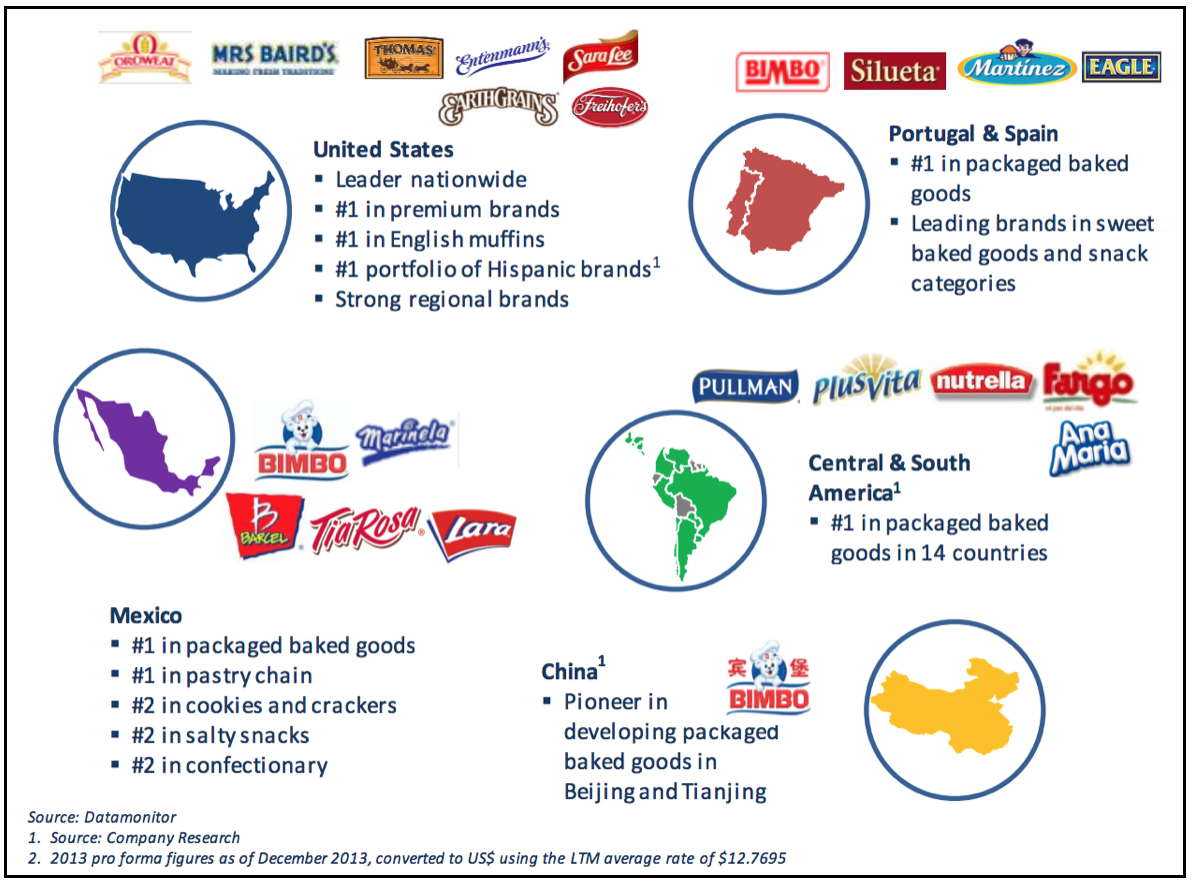 Grupo Bimbo, S.A.B. de C.V. – Financial Results
2013 Sales: $13.8 billion USD
2013 EBITDA: $1.4 billion USD
Market Capitalization of $12.7 billion USD