2018 is almost over and now all marketers, SEOs and internet entrepreneurs are looking forward to 2019.
They can't still predict with 100% accuracy whether guest posting would still be a good practice in 2019 or Google would take a tougher stance on this issue.
Heck:
There are chances that guest posting, minus all spammy and negative tricks of doing it, will be considered one of the most important off-page SEO tactics but the people who are playing safe, may not be affected.
In this blog post, we are trying to figure out as to how the guest posting will affect your website's traffic in 2019 and do you need to invest in any kind of white hat guest posting service or not?
We have to figure out whether guest posting will remain a reason for Google penalty or it will become a norm and it will adjust to the industry standards as well as Google's standards.
Here you go:
1. Networking
Imagine guest posts sites doing something much bigger than landing you high authority backlinks? I mean have a look at the process and you'll see that includes everything that you will find in every healthy business process – let alone SEO or marketing process.
In 2019:
Guest posts would not only be used to get high DA PA backlinks, but they will also be used, if not mainly, to land better position in bigger networks.
In a blog-sphere, it does not matter whether your blog has 20+ DA PA or 80+, at the end of the day, it is still a blog and it does not only need, but also deserves to get a proper seat.
In near future, guest posts will be used for networking and networking is the real promise behind back linking. It goes without saying how beneficial it will be to your brainchild.
2. Overall Better Content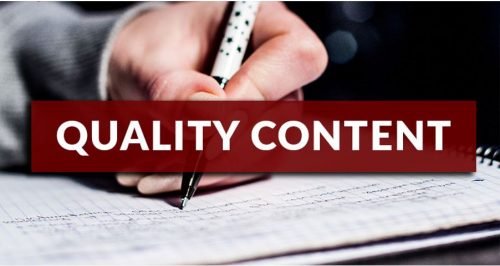 Ok:
The focus here is not individual but common good. Internet can be a better place if the content gets better.
Let's not yet jump to the content, have a look at websites that existed for many years and you would be surprised to see that from design to execution they are crap.
We still get to notice websites which are not even mobile responsive.
Let's talk about content again. Content is messed up, unimaginative, shows lack of research, formatted poorly, flow and expression? Don't get me talking about it.
So:
When every serious online business will get their hands dirty in guest posting (for link building), they will meet a lot of rejections: at least from editors of magazines like Forbes and this will definitely improve the content quality of all websites including yours.
3. Art of Conversion Copy
Do you love the idea of learning something in the course of learning or doing something else? I mean it is something that everyone likes.
When you are in the process of getting backlink via guest posts you achieve a lot more than a backlink.
You become member of a bigger and better network, which turns out to be fruitful for your website.
However:
Apart from general content, there is this different type of content that you need to score more and more sales and to reach out to prospects.
This is called conversion copy – copy written to get monetary or similar benefits. When you reach out to editors or owners of high DA PA websites, you just don't convince them easily.
But when you do convince them, you learn the art of convincing via writing letters and emails. This helps your website in getting more and more backlinks as well as your first few customers.
4. Bigger Role for No-Follow Link
A hyperlink is a hyperlink irrespective of whether it is do-follow or no-follow.
Yes, we know that no-follow does not pass link juice to your website, but still it is a reference to your website on a high DA PA website.
It means that not only a lot of people would come to your website from the link but Google bots would also read the link and associate your website with that niche authority website.
Since a lot of big shot online magazines have already opted for no-follow links and there is no way for anyone to get a do-follow link from them, the future is bright for no-follow link.
In 2019, websites will tend to have more no-follow and less do-follow links. It will be because of a general acceptance for no-follow links and scarcity of do-follow links.
Thus:
Your website and all other blogs and websites for that matter, will have more and more no-follow links in future and Google will pay bigger weightage to these links than before.
5. Less Spam – More Value
Alright:
This point is interesting. In 2019, guest posting will have a very positive effect on organic traffic of your website
It will only bring more and more organic traffic and it will help you convert the existing organic traffic into customers.
How?
Well, it is because of the exclusion of spamming from the whole guest posting game. Neither Google nor niche authority and high DA PA websites are willing to accept spammy guest posting.
This situation will lead to a more moral and organic guest posting. What is this? It is creating high value content and posting it on websites and in categories strictly related to the niche of that content.
This way, no one gets offend and you only get a traffic that is not only 100% interested in subject matter, but also, highly likely to buy your services or products.
So:
To conclude, I would say that the impact of guest posting on websites and their organic traffic, will only be very positive and productive.