ABOUT
TabTrader is a great tool for people who use several cryptocurrency exchanges on a daily basis since it allows you to connect to all of your accounts in one location and track and manage your whole portfolio. It will also assist you with stock performance, pricing, and data analysis. All of this information and research will undoubtedly help you become a more knowledgeable crypto investor. One of the most popular Cryptocurrency Portfolio Trackers is TabTrader.
You may even manage several accounts on the platform, and because it is mobile-friendly, you can manage your crypto assets on the go and stay up with current events for the benefit of your portfolio and to make prompt trading decisions.
Individuals may also purchase and sell cryptocurrencies, as well as examine pricing, statistics, and portfolio performance. It also works on Android and iOS, so you can not only watch your cryptocurrency develop but also trade while on the move.
More than 196 countries are served by TabTrader.
FEATURES
It connects with a variety of cryptocurrencies, including Coinbase, Kraken, Gemini, Bitstamp, and Poloniex, to name a few. Even on Android smartphone, you may use it to keep track of the rates of selected or chosen cryptocurrencies. It protects users' accounts with a PIN, allowing them to use exchanges without fear of third parties getting access to their accounts.
The fact that this crypto portfolio tracking tool has no costs, as well as the fact that it is an ad-free site, is another significant advantage. A number of changes are also made to the platform.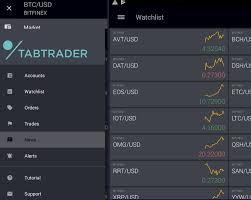 WORKING OF TABTRADER
The primary menu (located in the upper left corner of the Android app) displays a list of choices that includes "Accounts," "Watchlist," "Orders," "Tutorials," "Support," and "Alerts." You may add accounts from multiple exchanges where you hold crypto using the accounts button. This is accomplished by simply copying and pasting the API code from the exchange website into the space.
The orders page displays your request to purchase or sell cryptocurrencies, whereas the trades page displays your order history. Trading is as simple as selecting a pair from your wallet and then pressing the top right button.
You may buy and sell whatever currency you choose here. This bitcoin portfolio management application also lets you keep up with the latest cryptocurrency news. Simply choose "News" and you will be able to do so with ease. You may also use the "Alerts" feature to set up notifications on the charts and keep track of them.
Pairs and swaps are being added.
By clicking on the "+" on the main page, you can easily add a pair to our crypto portfolio tracking tool. This will bring up a list of possible exchanges, from which you may select one and add it to its chart. The pair to be shown on the Watchlist can then be selected. You may use the Watchlist to keep track of price changes and graphs for various pairings.
As previously said, adding the exchange is simple. If you already have an account with any exchange, click the "Start Trading" button on the app. If this is not the case, select no. Click yes to add an account, then look for the exchange API and secret key. Alternatively, you may utilise the Scan QR to add option to use the QR code with your account credentials. You may also manually insert information.
It's simple to add the exchange by scanning the QR code. Analyze the code, then double-check that the credentials are valid before saving. Manually adding an exchange includes selecting one from a list, inputting the API and Secret Key, and saving.
If you're having trouble using the app, you can always go to "Support" to get help.
---
You may be interested in: Forex Trading Basics for Beginners