Organizing an event for your company can be a daunting task. It's important to make sure your gathering is memorable and enjoyable for everyone who attends. This guide provides tips and advice on how to create a successful and unforgettable event for your next company gathering. From choosing a venue to crafting the perfect menu, this guide will help you plan an amazing occasion that all of your colleagues will enjoy! 
1. Mobile stage hire
A mobile stage hire is a great option when you're looking to create an unforgettable event for your next company gathering. With a mobile stage, you can set up a performance platform in any space, allowing your colleagues to enjoy the show or presentation from the comfort of their own seats.
Mobile stages come in different sizes and shapes, so it's important to research different models before selecting one for your event. According to Concept Events, a mobile stage can be constructed on the grounds of the event space and provide a platform for events ranging from small meetings to large conferences. It is also suitable for a variety of outdoor events such as festivals, fetes, and food/drink outings.
2. Virtual Events
Virtual events have emerged as a dynamic and accessible alternative to traditional in-person gatherings. These online gatherings, ranging from conferences and webinars to social events and workshops, enable individuals from across the globe to connect and engage seamlessly through digital platforms.
The growing popularity of virtual events is driven by their cost-effectiveness, allowing organizers to save on logistical expenses, and their ability to accommodate participants from various time zones. Moreover, virtual events foster interactivity, offering features like live chats, Q&A sessions, and networking opportunities to enhance attendee engagement.
With the advantage of gathering valuable data and analytics, organizers can continuously improve their events to meet the needs and expectations of their audience. As technology advances, virtual events are poised to become a prominent and impactful way for people to collaborate, learn, and interact in the digital age. You could delve into organizing a virtual event from a reputable company such as Mavrix.
3. Chose a Venue
Choosing the right venue is key when planning an unforgettable event for your company. Consider the size of your gathering, as well as its purpose and atmosphere. If you're looking for a more intimate gathering, consider an art gallery or restaurant. This type of setting allows for private conversations and added creativity to your event. Larger gatherings require bigger venues such as conference halls or ballrooms. Additionally, make sure to choose a venue that fits within your budget constraints. It's important to be mindful of hidden costs such as additional taxes or rental equipment. 
4. Catering services 
Catering services are an essential component of any event, no matter how small or large it may be. When selecting catering services for your next company gathering, it's important to consider the tastes and dietary preferences of your colleagues. Make sure to include vegetarian options as well as traditional cuisine. Additionally, pay attention to presentation when selecting catering services. You want something that will stand out and impress both visually and astronomically. It's also important to work with your caterer to create a menu that fits within your budget. 
5. Event decoration 
When planning an unforgettable event for your company, it's important to ensure the décor reflects the spirit and atmosphere of the occasion. Choose decorations that correspond with your event's color scheme and theme. Incorporate corporate colors as well as festive touches like balloons and streamers. Consider adding small touches like table confetti or place cards for a more personal touch. It's also important to consider how your decorations will be set up in advance so you can make sure everything is cohesive and aesthetically pleasing. 
6. Invites and RSVPs
Once you've chosen a venue and finalized the details of your event, it's time to send out invites. Make sure to provide ample notice when sending out invitations so that everyone has plenty of time to make arrangements and respond with their RSVP. Be clear on the invitation regarding which guests are expected to attend and include a deadline for responses. Additionally, remind guests about any necessary dress codes or other requirements prior to attending the event. 
7. Entertainment
The entertainment you choose for your event can make or break it. If you're looking to create a memorable and enjoyable experience for your colleagues, it's important to select the right type of entertainment. Depending on the atmosphere and purpose of the gathering, consider hiring a live band, DJ, comedian, magician, or other act. Alternatively, if you're hosting an award ceremony or formal dinner party, a piano player may be more appropriate. When selecting entertainment for your event, take into consideration the size of the venue and budget constraints. 
Is it hard to host a successful business event?
Organizing an event for your company can seem like an overwhelming task. However, with the right preparation and planning, it doesn't have to be. An unforgettable event requires attention to detail, careful budgeting, and a sense of creativity.  The most important aspect of any successful business event is preparation and planning. Before you begin making decisions about what type of event you'd like to host or where it will take place, consider the purpose of the occasion. Ask yourself questions such as: who are you trying to reach? What message do I wish to convey? How much money am I willing to spend? Doing this will help you create a roadmap to make the event successful.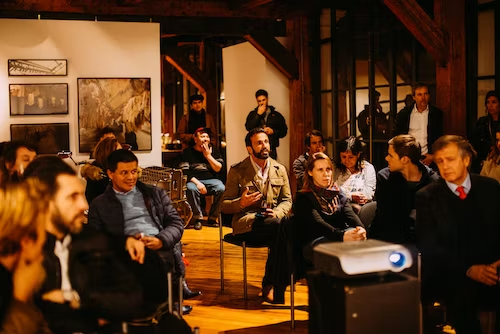 By following these tips and advice when creating an unforgettable event for your next company gathering, you can ensure that everyone who attends will have a great time! With careful planning and consideration, you can create a fun and successful gathering for your colleagues. Good luck!