Technology has been advancing at a rapidly increasing pace over the last couple of decades. The are several inventions that have the potential to change the world one day – one of them is cryptocurrency. When it comes to cryptocurrency, bitcoin definitely tops the list as it is the most famous and popular. Bitcoin was invented in 2008 by an unknown individual or group of people who used the name Satoshi Nakamoto. It entered the marketplace in 2009.
Bitcoin, like other cryptocurrencies, is based on blockchain technology, which offers users total anonymity and security in their transactions.
Today, there are several different ways to purchase bitcoins. You can use, for example, the eng.ambcrypto.com app.
Some options
Let's have a look at some of the most popular and straightforward ways to buy this popular cryptocurrency:
Bitcoin ATMs
One of the safest and most convenient ways to buy bitcoins is using a Bitcoin ATM. These ATMs (Automatic Teller Machines) have not been around for very long. However, their usage is expanding rapidly.
One of the greatest advantages of ATMs, as far as cryptocurrency purchasers are concerned, is their privacy, i.e., they are ideal for those who don't want anybody to know what they are doing. The ATM gives you a paper receipt which you can then use to transfer the bitcoin you bought to your e-wallet (electronic wallet).
It is highly convenient. However, this specialized type of ATM is not available in all areas. Bitcoin locators can help you find out where your nearest ATM is.
Use gift cards
You probably already know that cryptocurrencies are commonly used to purchase gift cards. But, did you know that you can also buy bitcoins with gift cards? If you want to remain completely anonymous during the whole transaction, you should consider using gift cards.
All you need to do is to buy a gift card and then find a bitcoin exchange that allows you to use that card to purchase your cryptocurrency. There are quite a few of them online today.
You need to give proof of the gift card, such as a picture of the code or the receipt, to the seller. As soon as the seller has verified everything, you can get them to transfer the bitcoin to your electronic wallet.
When you purchase bitcoins, it is held by the website, and once the verification process is completed, it gets transferred to your bitcoin wallet. Gift cards are available at a discounted price, which is great if your priority is to keep down costs.
Online exchanges
There is a wide range of bitcoin exchanges available on the Internet. People use them to buy bitcoins. There are several options available, which makes it a challenging task to choose the most reliable and efficient one. There are numerous factors you need to consider.
You need to find an exchange which complies with all the rules and regulations laid down by the authorities. Only in those places can you be sure that you will not become a victim of fraud or a con.
There are different types of bitcoin exchanges providing users with a wide range of trading options. You should compare all of them and choose the one that has exactly what you need.
Make sure that the exchange is compatible with your communication devices, including your smartphone, tablet, and laptop. You also need to check which payment options they accept.
Peer-to-peer exchange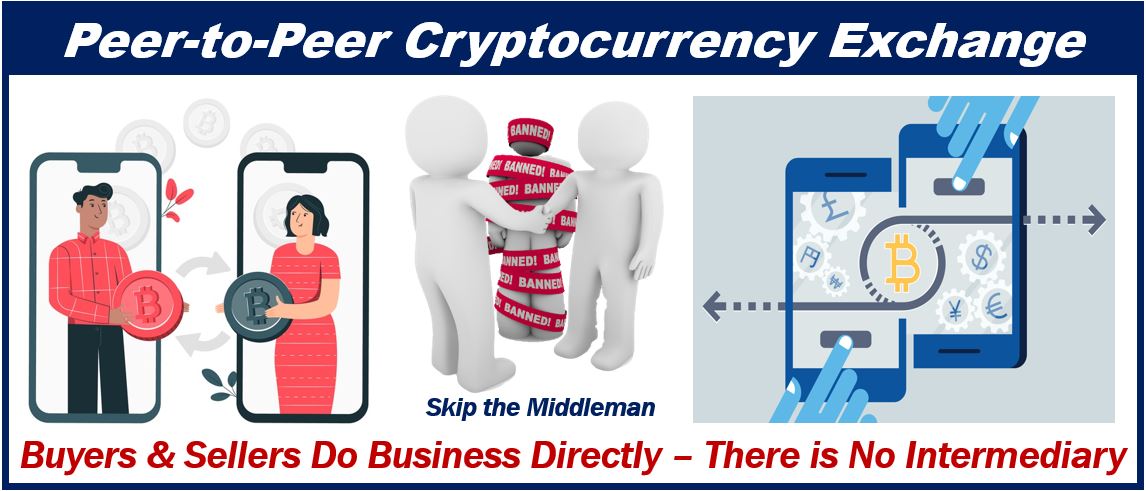 One of the simplest ways to buy bitcoin is to purchase them directly from the seller. P2P exchange refers to buying and selling bitcoin without any involvement of a third-party or intermediary – no middleman. There are a few P2P platforms that allow you to connect with sellers directly to buy bitcoins. You must be careful while choosing a P2P exchange. Select one that offers you the safest exchange and ensures that your funds and information are protected.
There are numerous cryptocurrency fraudsters offering fantastic deals. Stay away from them. If you get conned, there is nobody you can go to for help. Cryptocurrencies are decentralized, they have no central bank. Whatever happens during the exchange ends there. That is why it is so important to make sure that the exchange you are dealing with is a reputable one.
You will be charged a fee, which is typically a percentage of the total. Fees vary considerably.
---
Interesting related article: "What are cryptocurrencies?"