Many people including both children and adults like to bounce around and play games on trampolines and they are willing to pay for the experience. Jumping on trampolines is a great way to stay fit. NASA research confirms that 10 minutes of jumping on trampolines is far more efficient than 30 minutes of cardiovascular exercises. Since parents are looking for fun and healthy activities for their kids and adults are looking for fun ways to stay in shape, it is a good time to open a trampoline business. As the indoor park industry is growing, owning a trampoline park could be a profitable and rewarding experience.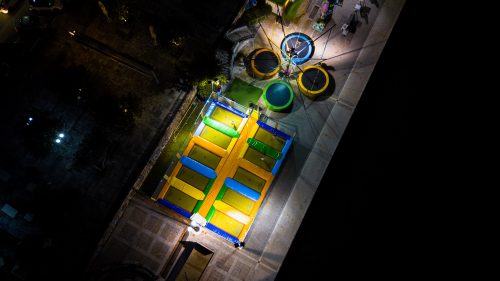 Before opening a trampoline park, you will need to consider a lot of things. Here is a guide you will need to start a trampoline business.
How does a trampoline park make money?
A trampoline business charges customers a certain amount of fee for jumping on trampolines for a certain period of time, for example 10-20 dollars an hour. The businesses also charge for gear such as special jumping socks. They also offer snacks and drinks to maximize their profit.
Who is the target market?
Trampoline parks offers fitness and is fun for all ages. That being said, trampoline parks mostly focus on kids as they provide the best solution for parents who want their kids to have fun and as well as stay fit. Trampoline parks also work as a venue for birthday parties. Kids just love having birthday parties and makes it easier for the parents. Overall, the target market is families with disposable income.
What location is the best?
Considering where to open up your business is important since you don't want fierce competition around you which may result in less profits. before deciding the location, do your research and check whether there are other trampoline parks near you or not. However, there are plenty of cities which don't have any indoor trampoline parks, which makes it easier for you to set up their and gain large amounts of revenue.
How much does it cost to open a trampoline park?
Building an indoor trampoline park requires a custom-build trampoline court which means high initial costs. According to husblog.dk, the initial costs of opening up a trampoline business requires 1.2 million to 1.8 million dollars. Other costs such as trampoline flooring, basketball hoops, toys, refreshments and trampoline socks. In order to save some money, contact different contractors and compare their price so you can get a basic idea.
What are the funding options?
A lot of entrepreneurs start their businesses with a little help and so can you. Here are some funding options you could opt for:
Use your savings
Use credit cards
Get a bank loan
Borrow from your family or friends
Get a micro loan
Apply for a small business administration (SBA) loan
Reach out to an angel investor
Use crowdfunding
Opening a trampoline business can be risky but the annual profits can be high too, making it worth it.
---
Interesting Related Article: "Safety precautions you need to take while starting a new business"