Website security is a necessity nowadays. Once your website is made, the next priority is its security. Most business owners believe that cyber-criminals always target large sites. Their notion is false because these fraudsters target websites that are easy to hack, be they big or small.
Google is very serious about web security, and hence almost 10000 sites are blacklisted by this search engine giant every day due to security reasons.
Many open-source CMS (Content Management Systems) platforms are available for making your websites. WordPress (WP) is one such popular CMS platform capturing 30% of the website market. A security survey was done by Sucuri, on various CMS platforms. Results show that WordPress has the maximum infected websites as compared to other platforms, and WP infections are increasing every year.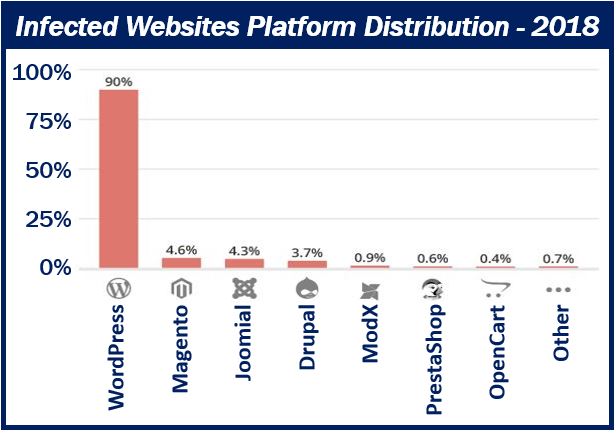 Hence hardening of WordPress website security for cyber-attacks and data protection becomes very important. In this article, I have some compiled some important factors which will help you to harden WP security.
Essential factors to harden WordPress Website Security
Choose the best WordPress Web Host
Web hosting is an integral part of the success of any website. Even SEO rankings and sales figures depend on a web host. There are many WP hosting options like free hosting, shared WP hosting and VPS server hosting etc.
Select your web host wisely by checking its reliability, speed, upgraded features, security options, quality of customer support etc. The main motive of a web host is to secure your sites and confidential data.
Tasks of a good Webhost:
Monitoring network for suspicious activities
Prevention of DDOS attacks
Updated hardware and software
Excellent recovery options
Complex Usernames and Passwords
Most of the security breaches happen due to easy to guess usernames and passwords. You can use Username Generator for some creative personalised usernames; which are difficult to guess.
Passwords are strong defensive walls that prevent hackers from gaining unauthorised access to your computers, servers, or your sites. A complex password with a combination of alphabets, numbers, special characters and symbols, makes it very difficult for hackers to penetrate your computers. Change passwords frequently for tighter security.
One step further towards strengthening web security is the introduction of Passwordless Login plugin by WordPress. A practical and modern way to secure your site without passwords is grabbing more attention for security lovers.
Regular Automatic Updates
Any non-updated or previous versions are prone to cyber-attacks easily. Though you turn on automatic updates for minor releases and run them daily, it is essential to initiate manual updates periodically for significant releases; especially updates of themes and plugins managed by third-party developers.
WordPress is an open-source CMS platform with lots of themes and plugins. Keeping them up to date will increase the security of your WP site and lessen your problems.
Limit Login Attempts
Multiple login attempts lead to various issues. You, being the user, are aware of your login id and password and can make a mistake in entering it once or twice or none; but a hacker's mind is working on guesswork. Hence, they require multiple login attempts to penetrate your computer for stealing information.
Since WP gives unlimited login attempts, restricting login attempts (maximum 3-4 attempts) will protect your site against brute-force attacks.
Install WP Limit Login Attempts Plugins to prevent hackers from breaching your site security.
Enable Two-Factor Authorisation (2FA)
Two-factor authorization means double authentication which leads to an additional layer of security.
The two steps for authentication are:
Entering login id and password
Sending a link or code to phone or email
Google Authenticator is a WordPress 2FA plugin which is free and easy to use. Install this plugin, enable the settings, and scan the QR code with this app on your mobile phone. Each login attempt will ask you for Google authenticator code, apart from your username and password.
Installing Strong WP Backup Plugin
Automatic backups are equally crucial as automatic updates. Your entire website and its data can be recovered if backups are done regularly. WordPress has many free and paid backup plugins which are very easy to use and can save your work in critical situations.
Some useful backup plugins of WP are UpdraftPlus, BackupBuddy, VaultPress which are popular and can be downloaded and installed for restoring your website. Always ensure to back up your full website and save it to cloud computing services like Apple iCloud, Google Cloud, DigitalOcean etc. instead of on a hosting account.
Install WP Security Plugins
Another way to secure your WordPress website is to install security plugins. They not only strengthen your security, but they also prevent MiTM attacks and brute force attacks made on your site.
WordPress platform comes with an entire list of free and paid security plugins; ready to be installed, depending on your needs. WordFence is one such powerful firewall and malware security scanner, which protects your site from malware, SEO spams, bad URLs, code injections etc.
Install SSL Security
Always SSL security: Always "HTTPS". One of the best options to protect your website and informative data from thieves is to install an SSL (Secure Socket Layers) certificate. SSL certificate security is also called TLS security; because this certificate encrypts data transmitted between the server and browsers.
E.g. if your data sent is abdc1234, then SSL certificate will encrypt it to <%8/#2*j. It keeps your data safe from fraudsters. Many SSL providers and hosting companies offer free SSL certificate. The best part of SSL security is that it also assures the visitors of your site, about the site security (green padlock in the address bar and HTTPS in URL).
Delete Unused Plugins & Themes
Many times, a user installs plugins which are not compatible or reliable. There may be some unused themes also. Always keep your website clean from such unused stuff which not only improves space efficiency but also improves site performance speed.
One best option is to disable the WordPress Plugin and Theme Editor. Since editors are open access to themes and plugins, they pave the way for hackers to execute malicious codes causing unnecessary damage. Disable this function to secure your site.
Disable PHP execution in WP directories
Since WordPress has specific open writeable directories, for users to upload images, videos, themes and plugins; there is a possibility that these directories can fall in the hands of hackers, who can misuse it. Hackers can find backdoor access and send malicious files (written in PHP) to gain unauthorised access to your website.
You should harden your WP security by disabling PHP execution in these unused directories, to prevent cyber-attacks, thus keeping your site safe.
Conclusion
Securing everything from the website to informative data, from hardware to software, is a continuous process. Regular updates, security audits and scans, strong passwords and SSL security; all work wonders in securing your WordPress website, making it impenetrable for hackers.
All the above measures will help you in hardening your WordPress website; giving a tough time to hackers for cracking your site. They know your site is hard rock; you know your site is secure. Stay protected; stay safe.
___________________________________________________________
Interesting related article: "What is Cyber Security?"