A lot of things happened in 2020, and people made a lot of allies to help themselves get through quarantine – one of the most loyal partners preferred by users is Netflix. It is now 2021, and there is no sign internet users will soon let go their obsession with this platform, so let's learn a little more about it.
A little bit about Netflix
Basically, this American company offers subscription-based streaming service with an amazing library of films, TV shows and documentaries that can be watched without commercials.
Over the past years, this platform has gained a lot of popularity, but the truth is that Netflix has been on the market since 1997. Even though at the beginning it was a subscription-based DVD service that would mail the DVDs to each client's house, Netflix then debuted as a streaming service becoming one of the biggest names in the entertainment industry. It is available worldwide and offers a wide range of content of diverse genres, allowing users to watch from the newest content to the classics.
Benefits of using Netflix
The fact that Netflix is one of the most popular and used streaming services in the market is because of all the good things this platform has to offer. Let's talk about few reasons why it is the favorite.
EASY AND SIMPLE – this platform is very friendly to use, since it only requires internet connection and an account – it is not necessary to set anything up.
NO COMMERCIALS – this service is commercial free, allowing users to enjoy the programming without any annoying interruptions.
VALUABLE AND ORIGINAL CONTENT – Netflix has a lot of content available, from the classics to original productions. As more movies and series are watched, the platform gets better as it recommends new content.
OFFLINE CONTENT – unlike other services, users are able to download content and then watch it at any moment without being connected.
MEMBERSHIP PLANS – Netflix offers three plans: the basic plan, the standard plan and the premium services. This way, customers can choose between all these membership options that adjust to their needs and budget.
How to enjoy Netflix?
To watch Netflix's content, it is necessary to have a device like a smartphone, laptop, game console, smart TV or basically any device with an internet connection. This service is available for iOS, Android and Windows 10 – it is even possible to watch Netflix using an internet browser.
As was said, Netflix is available worldwide and offers a fantastic experience, including to users that have never used the service, giving them a one-month free trial to watch all the content they want. Once this period of time is over, they can decide if they want to get a paid subscription and, more importantly, which membership plan suits them better.
To get started with Netflix is very easy. First, go to Netflix.com or download the app. Then, select the correct membership plan and create an account by entering an email address and providing a password. Finally, choose a payment method and it's done. Just like many online services, Netflix requires its users to verify and activate their account with a phone number it, in order to guarantee the safety of it.
Improve Netflix experience with Non VoIP numbers
If users want to enjoy of this platform but don't want to provide any private information like their personal number, they can safely use Non VoIP numbers instead. Basically, they are real phone numbers that come from legit SIM cards but aren't associated with a physical location and work with good internet connection – just like Netflix does.
Operated by Epsilon Technology LTD company, VerifyWithSMS is an SMS verification service that provides US Non VoIP numbers, allowing customers to validate their Netflix account through a code sent via text message.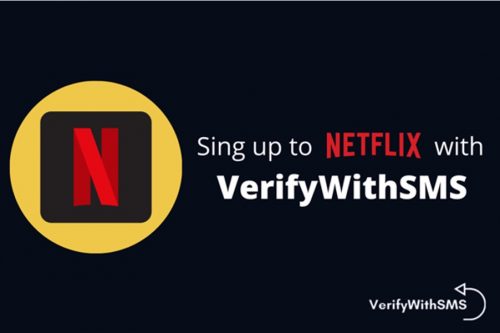 This company is one of the favorites because of its affordable and secure service. Its numbers come from the best major phone companies, which is why customers consider it an excellent service.
Without a doubt this service is simple, fast and reliable. Chill with Netflix and a secure Non VoIP service. Sign up to this streaming platform with VerifyWithSMS and don't miss out on your favorite shows and movies!
---
Interesting Related Article: "Nothing New to Watch on Netflix? Think Again"