Are you tired of sifting through countless CVs and cover letters? Hiring is a lengthy and costly process, and sometimes, you don't find the ideal solution. With so many individuals applying for positions these days, it's challenging to find the perfect candidate when there are one million other things on your plate and hundreds of applications to read.
In many cases, employers need specialized support with hiring strategies. You need leading industry recruitment specialists that you can count on for excellent, customized results. A trusted partner that always provides the perfect solution. The right recruitment agency identifies and attracts top talent, negotiate terms, and can relieve a lot of pressure on you and your team. Approaching the hiring process with an agency can help you find smart people to optimize your company's potential to succeed.
Find a recruitment agency that focuses on disciplined, thorough searches and one who brings years of experience to the table. An experienced and detailed-oriented team of recruiters will increase your chances of finding the right person for the job.
Let's explore two important advantages of working with a professional recruitment agency: how doing so will save you time and money.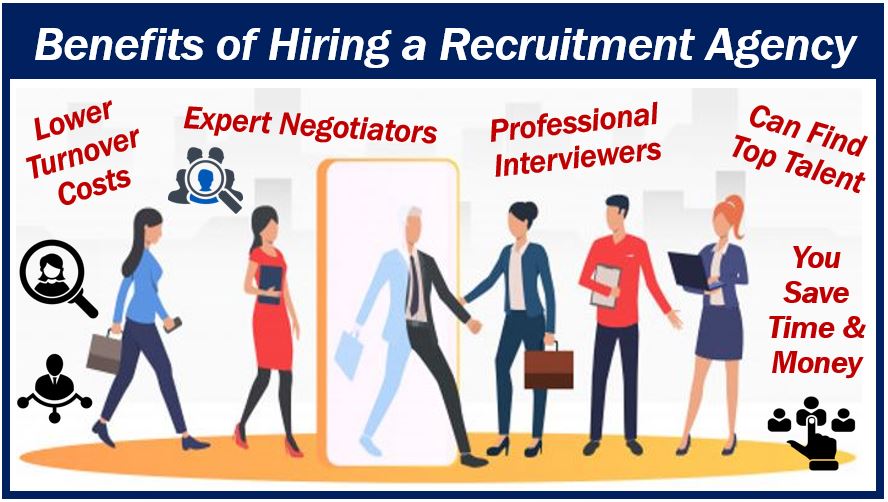 Decreases Turnover Costs
Did you know that business owners waste an estimated 52 hours on hiring and onboarding employees who end up leaving — either by termination or on their own account? The time it takes to replace and train a staff member accounts for additional lost hours.
A recruitment agency helps reduce turnover by vetting candidates before they even step through your company's door. Often, an agency has previously worked with a particular candidate on a temporary or consultative basis, giving staffing specialists a good idea of whether the candidate will be able to perform to your standards and blend in with the office culture.
Ability Identify Top Talent
The right recruitment agency will pull talent from a large pool of excellent resources that you may not typically have access to.
They'll look for people who share your company's core corporate values. A recruiter will find people who believe in your company and its goals. It's not enough to hire people based on skills alone. You need individuals who share the same long-term objectives as you and will work hard to achieve them.
Working with a highly-trained recruiter will also identify the general and technical skills in candidates needed for the position you're looking for. They'll watch out for "soft skills," that might not pop out on a resume, but will stand out in a professional interview. Soft skills include talents such as:
Resiliency
Communication
Problem-solving skills
And more
A recruiter will pay close attention to these skills during an interview because they can tell a lot about candidates and their suitability for a particular position.
Identifying technical skills is also an essential part of the hiring process, and gauging a candidate's ability to be successful at the job. The right agency will ensure that a potential employee fits the job description perfectly and fulfills the technical job requirements.
Hiring can be expensive and exhausting. Don't waste any more time or energy — work with a professional recruitment agency.
---
Interesting related article: "Definition: Human Resources."