Tenants who live in rented housing have a variety of duties to do. They are accountable for timely rent payments, upkeep, frequent cleanings, and other obligations. One of these duties is restoring the place to the same condition as it was when moving into that house. After the lease period is over and the tenant vacates the rented real estate, cleaning is required to recover the bond. To prepare the house for the last inspection, many individuals in Melbourne engage bond cleaners or end-of-tenancy cleaners. 
Any renter leaving a rental home for the first time may need clarification about bond and end-of-lease cleaning. 
Keeping up with the cleaning is crucial, whether you are a renter expecting to get your security deposit back or a property owner getting ready for the new occupants. You would like to leave an apartment looking better when you find it if you're preparing to vacate it at the end of your lease. The greatest way to ensure potential tenants are racing to send you their first month's rent is to make the space gleam. 
But if you are new to these terms, don't worry; luckily, you are at the right place because we are here to help you get the best end-of-lease cleaning, bond cleaning, and moving-out cleaning services in Melbourne.
End-of-lease cleaning: Things to keep in mind 
The leasing conditions oblige the occupant to return the property in a clear and well-kept condition until the lease expires. The term "end of lease sweeping" is used to describe this. It involves meticulously and methodically cleaning your rental home. 
It might be stressful to leave a leased house or apartment in Melbourne. From storing home items to maintaining the apartment until the completion of a lease term, you must be patient. You will not receive full repayment of your bond income if the doors or windows are filthy. You must keep the place in the best condition possible for the final check to collect the refundable security deposit from your property agent or landlord. 
The ideal cleaning service company can assist you in cleaning all the filth and living evidence off your old property so that it is as nice as new for the incoming tenants. However, you must first conduct some research to find the best services and what to anticipate from them before selecting the end-of-lease cleaners service provider. 
Services included in end-of-lease cleaning
Depending upon the size of your property and the team of cleaners, you can anticipate a regular clean from a bond cleaner to last between 5-8 hours and include the following services. 
Overall cleaning activities
Detailed window cleaning. 

Sanitizing cabinets and drawers. 

Cleaning the sliding door tracks of oil. 

Cleansing floors and

carpets

using a vacuum. 

Sweeping hard surfaces. 

Cleaning the walls of cobwebs, tiny nests, and insect stains. 

Cleaning air conditioners, exhaust fans, filters, and ceiling fans. 

Spot cleaning and fixations of walls and light switches. 

Cleaning window frames and doors of stains. 
Additional services you can ask for in end-of-lease cleaning. 
When ordering an end-of-lease sweep, you can also ask your cleaners to handle other cleaning tasks, such as: 
Deep cleaning of washing machine 

Maintaining a swimming pool 

Furniture cleaning like beds, couches, and mattresses 

Window cleansing 

Remove stains 

Steam cleaning of carpets 
What is a Bond cleaning service?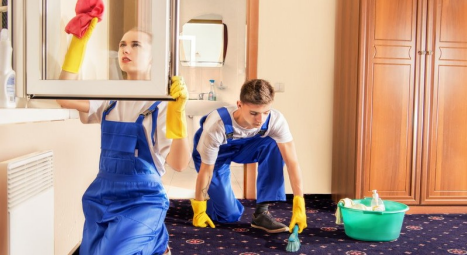 If you do not book services from a professional and experienced bond cleaning service provider in Melbourne, the end of your lease can rapidly become a terrible event. If your time-consuming efforts to recover the bond are in vain, you may feel shattered. 
Bond cleaning, as listed by the estate agent, is the cleaning activity of your apartment or home that is necessary by law for you to receive a refund of the bond security you deposited when you leased the property. 
If your departure cleaning is not done to a high degree after your lease, you could lose some or perhaps all of your bonds. 
A thorough cleaning of your property and unit is known as an exit, moving out, or bond clean. 
Estate condition form 
An estate condition document that lists the state of every room in your house will be available to you and your real estate agent. It includes the number of hooks or nails on the walls and any staining or damage present when you move into this house. 
After that, using this estate condition form to account for acceptable wear and tear, you will determine whether everything in the house is precisely the way it was when you initially moved into that house. 
Services included in bond cleaning
Typically, a bond cleaning or departure clean consists of the following: 
Cleaning and vacuuming each floor 

All window frames would be cleaned. 

Complete oven cleaning. 

Ensure all surfaces are clean and any fresh stains or marks are removed. Cleaning the extractor fans 

Ensuring that the surrounding boards are spotless and free of dust 

Both inside and outside windows 

Using steam cleaning, carpets 

All cabinets' interiors, and tops are cleaned. 

Clean, clutter-free, and groomed lawns in the garden 

If there is a swimming pool sparkling 

The walls would be thoroughly cleaned. 

Ensuring the cleanliness of all window finishings, including blinds and curtains

Cleaning and polishing all light fixtures to get rid of bugs and debris.
Moving out cleaning 
You signed the paperwork, hired the movers, cleaned out the garage, wrapped the carpets, and packed the dishes. What is next? The only thing left would be your last cleaning at your old place after packing up and moving on. 
The rooms have been cleared out, and it's time to prepare your house for the new residents to move in. A "broom-clean" is a common requirement in residential rental agreements, although others also demand a thorough cleaning that may encompass anything from the microwave to the baseboards. 
Even if it is unnecessary, doing a detailed cleaning before departing is favorable for all parties, particularly if you are waiting to get your security deposit back. With the help of a reputable move-out cleaning service, you can properly pack your belongings and leave your old residence cleaner than when you found it. 
Things to keep in mind for a move-out cleaning 
Once you have moved out and a new renter or buyer is moving in, the house needs to be thoroughly cleaned. Once you settle into your new home, visualize cleaning it as meticulously as you would like, plus a little more. Anyone who moves into your old house has the same right to expect that it is cleaned as you do with the cleaning of your new home. 
Cleaning of the dusty ceilings.

Clean the woodwork free of debris, moldings, gates, doors, window sills, cabinet doors, wardrobe doors, and free surfaces. Remember the door's upper edge as well.

Do not let stickers or other embellishments and take down picture hooks.

Ensure the back radiators are clean. 

Clean the outlets on your devices. 

Clean the recessed lighting. 

Pristine fixed mirrors. 

Closets, cabinets, and built-in bookcases should be vacuumed and cleaned.

Clean the stove and fireplace of any ash. 

Clean skirting boards.

Wipe the window frames and clean the inside of the windows and the space between the panes. 

Cleanin the patio. 

Clean the stair spindles and railing. 

Mop the floor after vacuuming. 
Why choose O2O cleaning services for your home
You will obtain guaranteed results with O2O cleaning services in Melbourne and the assurance that there are no plot holes when you decide to take care of the last cleaning at your old house.
While you attend to the last-minute arrangements and leave, our cleaning crew will sweep, mop, and dust. 
To completely clean your space of dust, debris, and grime, we go beyond simple cleaning and dusting and reach the corners. We will clean the interior of the stoves and get the odors from stale food out of the fridge. Please focus on the other aspects of moving while leaving the grunt work to our crew. 
If you are moving, you have a lot on your plate. Hiring one of our specialized crews to clean your property can save time or even days of cleaning. You can trust O2O cleaning with the bond, end of the lease, and move-out cleaning because we know we are best at what we have been doing for years since we utilize ecologically friendly cleaning materials, have the correct equipment to clean any surface, and are completely trained and insured. We are very committed to our services and keep these points in mind for your ultimate satisfaction. 
Verified and vetted

professionals

. 

24/7 friendly client service. 

Guaranteed to make you happy by O2O cleaning services. 

Cost-effective, upfront pricing. 

No time limits; reserve whenever you like. 
Therefore, if you require a Top to Bottom Clean, schedule end-of-lease, bond cleaning, and move-out cleaning for your home, rest we will take care of everything, and you will be happy with the outcome. It is simple to find O2O cleaning services in your area. To find a location near you, conduct an online search for "End-of-lease cleaning service near me" or visit our location page. Learn how O2O cleaning services might make your relocation easier in Melbourne.
---
You may be interested in: How Often Should You Have Your Business Cleaned?