An effective business meeting is an event where all participants provide important and up-to-date information in a comprehensive and accessible way. Such a meeting allows you to negotiate as informatively and confidentially as possible, using a face-to-face meeting of partners. However, there are times when reaching the conference site requires a long and tiring journey across a country or continent, wasting valuable time and money.
At the same time, the relevant information is needed now, and in a day, it may lose its value. The decision to use video conferencing software will get you closer to similar privacy and the maximum effect of the presence of all participants. Videoconferencing is a very convenient and fast type of communication that can be effectively used for educational purposes, medical needs, broadcasting of public events, and many other activities.
What Is Video Conferencing?
The design or development of a video conferencing system comes down to providing users with the full effect of the presence of negotiators by introducing the special technology.
A video conferencing system is a technical set of software and hardware tools for organizing audio-video communication between two or more users via the Internet. At the moment, there are two main types of home office setup video conferencing: software and hardware.
Software solution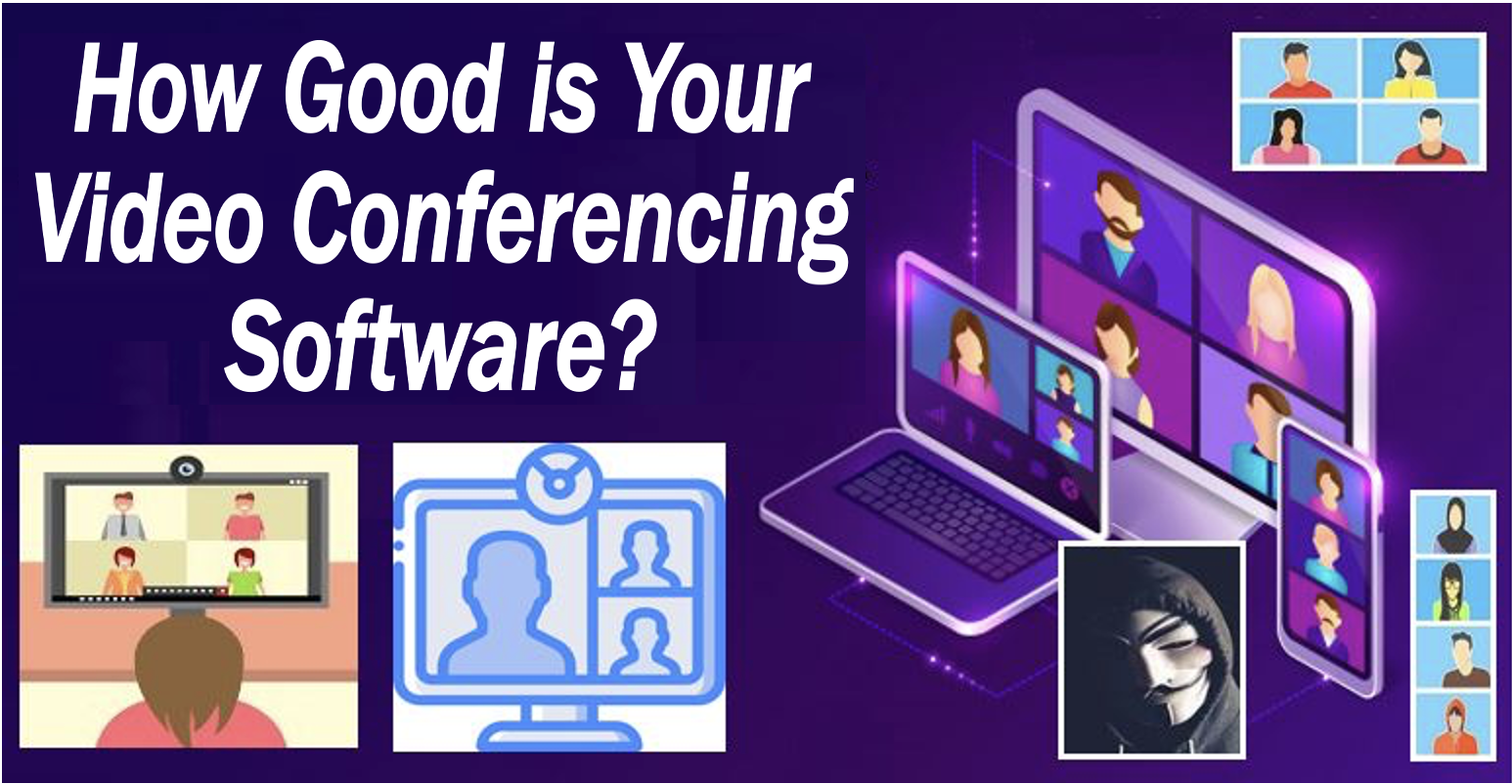 This one means equipping a computer or laptop with special software, with the help of which individual or group video communication in HD quality via some webinar platform will be organized.
Software solutions have several advantages:
Low cost of integration
Large-scale organization of audio-video communication of client equipment (laptop, smartphone)
Flexible interactive options
Hardware solution
This implies professional equipment (video terminal, audiovisual technologies) for building a full-fledged audio-video connection between subscribers via the Internet provider.
Features of a hardware option
A video terminal as special technical equipment has a great possibility to process and reproduce an image in HD quality at a stable connection speed (from 2-4 Mbps and more).
All recognized world video conferencing manufacturers implement the same compression codecs, which allows organizing deep compatibility between devices of different brands.
For organizing multipoint communication (up to 4-8 subscribers), there is no need for a server part, which is responsible for organizing a large number of connections.
High reliability of the system.
Easy integration into an existing audiovisual complex.
Types of Video Conferencing Equipment
Depending on the purpose, video conferencing providers divide equipment into two types: personal and group.
Installation and setup of video conferencing are simple and convenient, providing users with an intuitive settings interface with great functionality.
Personal videoconferencing devices are a customized solution for organizing and conducting videoconferencing in the workplace. Most personal video conferencing terminals are implemented based on software components due to their low cost compared to hardware devices. To organize an individual video connection with the help of a software package, it is enough to have a personal computer, a high-quality webcam, and a headset on the desktop.
Hardware terminals for individual videoconferencing consist of a special monitor with a built-in codec, a high-definition camera, a microphone, and a speaker system. The control takes place using a small remote control, unlike software products controlled by computer control interfaces.
Group videoconferencing devices are designed to organize video communication with two or more participants on one side. The equipment of this category is a monoblock with an external rotary Full HD camera, desktop, or integrated microphones.
If necessary, the videoconferencing system can be easily integrated into a ready-made audiovisual complex, replacing desktop-wired microphones with a radio, and a laptop with a professional switching system for various video signals.
Features of Video Conferencing
The main features of video conferencing technology are:
Minimizing travel expenses.
Interactive communication between participants.
Group communication or employee training.
Conducting operational meetings with visual control.
Ease of management.
Connection almost anywhere where there is access to the Internet or secure Wi-Fi connection.
Reliability and safety.
Possibilities of audio-video communication
Modern video conferencing has a lot of unique features, the most significant of which are:
Video conferencing control can be easily integrated into the automatic control technology of engineering equipment using an iPhone, iPad, laptop, and other devices.
Full HD camera and videoconferencing codec allow for processing and broadcasting high-quality images that are formed on specially located high-resolution displays, creating the effect of the presence of several participants from the opposite side of the communication line.
Provides the possibility to simultaneously hold a conference with a large number of software and hardware devices, creating a modern center for the exchange of operational information and collaboration.
Broadcasting of various audio-video materials provides a connection to the videoconferencing of any audio or video equipment for displaying documents, presentations, audio-video recordings, and much more.
Hardware video conferencing is easily integrated into any modern automation technology, uniting all systems into centralized control.
Videoconferencing hardware systems allow you to display an excellent and stable image in Full HD quality and lighting on the monitor screen.
When you utilize such a system, you step into a world of new possibilities where you can do everything faster, more efficiently, and with fewer resources.
---
Interesting related article: