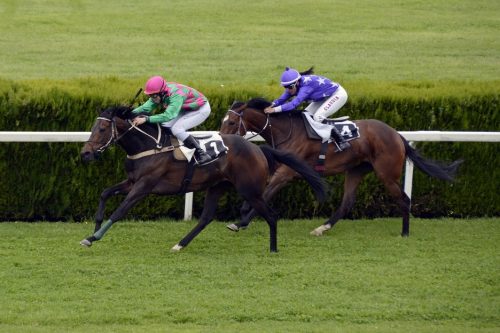 From the U.S. Triple Crown Series up to Derby trails, and now the Breeders' Cup Challenge, the world of horse racing competitions continues to revolve today. Although the health crisis has brought many setbacks to some of the world's biggest sporting events, horse racing continued to work out, featuring the best colts, fillies, and mares.
Not only has the culture of horse racing been celebrated, but bettors are gladly taking the chance to risk in betting games. Unlike common sports tournaments such as football, baseball, and basketball, horse racing is considered the "Sports King." It is the only game attended by animals, and the betting games are big and massive.
Betting in horse racing is not only knowing the race type but first, you need to know the odds. The bookies form these odds before the racing starts to state the possibility of an entry to win the tournament. But, as you learned what horse racing could bring and the betting game it offers, what does this sport make special? Why do you need to start betting on horse racing compared to other sports?
The Best and Oldest Sport
Horse racing is considered one of the oldest and best sporting events in the world. There are two main horse racing competitions; Standardbred and Thoroughbred.
Standardbred horse racing is where horses compete, pulling a carriage with an assigned driver. On the other hand, Thoroughbred racing is a more popular one where a jockey rides a specific horse.
Apart from that, there are hurdle races that take place in some countries like the United Kingdom. Every year, they highlight huge hurdle races where colts and fillies should complete a course, passing an obstacle along the way. Whatever type of horse racing games you'd like to bet on, all of them feature more than a million-dollar pot prize.
The Triple Crown and Breeders' Cup
In the U.S., two of the richest and most celebrated horse racing events happen annually. The Triple Crown Series is the most famous one, starting in the first week of May and ends in mid-June. The Kentucky Derby opens the Triple Crown challenge, succeeded by the Preakness Stakes, and then closed by the Belmont Stakes.
On the other hand, the Breeders' Cup carries more than nine racing fixtures every year. The Breeders' Cup Classic is the most anticipated one, which features a $6-million purse prize this year. The 2020 Breeders' Cup will occur this November 6 and 7 at Keeneland, so don't forget this event as the betting games will surely help you boost your bankroll.
Intense Atmosphere
Although all sporting events and its betting games offer you an intense atmosphere, horse racing can give you real suspense and goosebumps. Every year, a horse racing venue can spectate hundreds and thousands of audiences. Imagine yourself cheering on for your favorite horse to run as fast as he can. Sounds exciting, right?
Another thing is the tradition and culture that each horse racing competition celebrates. They do not only highlight the horses, but there are other activities you can experience to satisfy your horse racing escapade.
If you'd like to dress-up, then you can doll-up and wear those rodeo-inspired outfits and strut on the red carpet to win awesome prizes.
Comprehensive and Wide Betting Games
The broader betting games are one of the reasons why horse race betting is special. It can be a home of newbie and veteran punters. Besides, there is no reason to get intimidated by gambling games. Unlike other sports, horse racing offers both challenging and straightforward categories that do not let you calculate and do more maths.
Also, some horse racing categories allow you not to pick the fastest runner in the field. Remember that a minimum of ten entries attends a single horse racing show, and picking an entry that can reach the finish line first is hard. That said, there are horse race betting categories that help you win by selecting a horse that can finish in second, third, or even in fourth place.
Rewards and Promotions
Horse race betting games are both offered offline and online. When you go to the venue, you can buy betting tickets at the cashier and wager for an entry right away. However, if you want to experience and comfort, you can sit on your couch and bet online.
One of the best things that horse race betting online can bring are the big rewards and bonuses that every punter can get. Bookies make an effort to form betting categories that will help you double your earrings. The prizes they offer are overwhelming compared to other sports, so make sure to take advantage of these rewards and promotions.
Takeaway
There is a big thrill at the same time, a fun experience you can get when you bet on a horse. This spotting event saddles up the whole year, and there's always an event for you to bet on. Whether you are betting for a popular horse racing or a smaller one, there is no other sport that gives you optimum love for both the betting games and the participants it highlights.
---
Interesting Related Article: "5 Trends to Follow in the Sports Betting Industry"