If your website runs solely on WordPress, you might be considering Hostgator's WordPress plans instead of their regular shared hosting. Unfortunately, it's not very easy to tell the difference between them, especially since the two types of plans have some of the same restrictions.
In this article, I'll explain the primary differences between the Hostgator WordPress and shared hosting plans, starting with the price.
Pricing: Hostgator Hatchling vs Starter – Double the Cost
The first thing you'll notice is that the Hostgator WordPress plans are quite a bit more expensive than the shared hosting ones. 
Free Malware Removal and Security
We'd written an earlier post about securing WordPress from threats. However, WordPress hackers are constantly finding new ways to infiltrate your website. This can be through faulty plugins, old versions of themes, or exploiting social signals to trick your guest contributors into running unauthorized code.
What you need is a service that constantly monitors your website for malware and removes or quarantines it upon detection. Normally you'd have to pay quite a bit extra for these services in addition to the web hosting cost. But the Hostgator managed WordPress plans provide this for free.
It's worth noting that normal web hosting like the Hostgator Hatchling plan also has malware scanning. But it only scans the first five pages of your site and doesn't remove them. The advanced security features with managed WordPress hosting take care of all this for you. No more worrying about malware!
Cloud Architecture with SSD Drives
Unlike with their shared hosting plans, Hostgator WordPress runs on the cloud architecture. This includes the full suite of services including SSD drives, as shown on their specifications page here: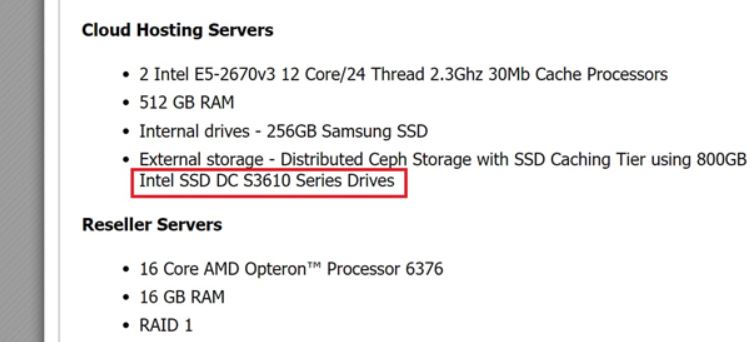 You can see in the screenshot, that they have SSD drives on both internal, as well as external storage. None of the shared hosting plans have this. The cloud architecture also means that your data is secured on more than one server. So if something were to happen to a single machine, the others are there to pick up the slack.
Dynamic Server Caching
If you were to run WordPress on the Hostgator Hatchling plan, you would need to install a 3rd party plugin for caching. Something like WP Super Cache or W3 Total Cache. This places a strain on your server, especially you use advanced features like crawling to "warm" or "prime" the pages.
The Hostgator managed WordPress plans on the other hand, implement caching at the server level – which means no additional strain on your website. In addition to caching, this is much faster than regular plugin-based caching. There are only a few web hosts that support server-based caching for all plans. Hostgator isn't one of them. But the presence of this feature on their WordPress plans beats out similarly priced plans on other hosts like Bluehost.
Customized WordPress Dashboard
On regular shared hosting, you get cPanel. While this is familiar, it can also be confusing for most people since the vast majority of its features go unused. Hostgator WordPress packages give the user a customized dashboard streamlined for WordPress as in this screenshot:
You can see that everything is in one place, including the settings for caching, FTP, SSL and managing the WordPress installations themselves. For a new user, this can be considerably less confusing than cPanel!
In-Build CDN
This is huge. Normally, you'd have to pay extra for a CDN to host your static files. Yes, you can always use Cloudflare, but it's not good enough. Cloudflare doesn't provide sufficient logs, and I suspect they don't always honor their cache. So you probably need a professional CDN service like KeyCDN, or BunnyCDN, or something else.
But the Hostgator WordPress plans come with an in-built CDN! For normal Hostgator plans like Hatchling, SiteLock is an additional add-on. But it comes free with the WordPress plans, and that includes a CDN. For me, this is a phenomenal value add that really speeds up your website.
Faster Hosting Due to Greater Resources
In addition to all the features above, Hostgator's WordPress plans are simply faster than their corresponding shared hosting packages. Because they have more resources and run on their cloud architecture. So while the Starter package may be twice the cost of the Hatchling package, you also get double the resources and speed.
Bottom Line: Are WordPress Plans Worth it?
In conclusion, I would say that if your site runs WordPress, and you have no other use for hosting other than to run WordPress sites, then the Hostgator WordPress plans are more than worth it. The benefits you get more than make up for the additional cost. Increased speed, free malware, free CDN and dynamic server caching? Sign me up!