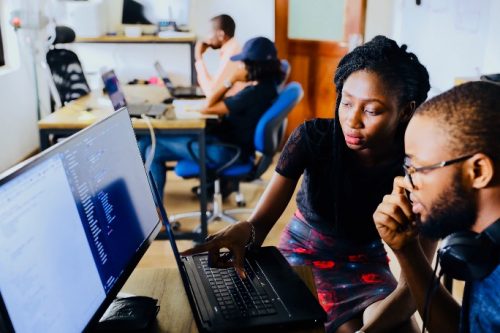 If a hybrid workspace is like a well-oiled machine needed to thrive in a post-Covid world, then desk booking software is the central cog ensuring it operates smoothly.
But choosing the right desk booking software for your company's unique needs? That is usually where the trouble arises. Should you settle for diverse scheduling features or a single one? Is Cloud storage safe enough for storing your company data? Perhaps having only the app version of the desk booking software will suffice?
Put simply, you are spoilt for the choice of features, so the selection process can get utterly confusing. But if there is one feature you must have in your desk booking software, it is hoteling. Before we get to the why part, let us reach a common ground first.
How Does the Hoteling Feature Work?
Workplace hoteling allows employees to reserve a desk in advance using the desk booking software. They can also check available desks and accessibility to office resources using the software. In fact, they can book a desk in the same way one books a hotel room. And likewise, follow a simple check-in process.
Once employees reach the workplace, all they need to do is perform a touchless check-in using the same desk booking software, and that is it. After that, they can use the desk for a specific period of time and check-out once they leave the premises.
No employee gets assigned a permanent desk or workstation. But every employee gets equal access to reserve the often-coveted corner office. Or one in a quiet corner.
But — is that all? Not really. Having a hoteling feature in your desk booking software can also:
Improve employee engagement
Optimize workspace usage
Increase cost savings
Boost positive ROI
Let us explore how.
Why Your Desk Booking Software Must Have a Hoteling Feature
In the light of hybrid work, many companies are shrinking their square footage. But while trimming the fat makes sense in this case, there is a different route that many workplace strategists advocate. That is real estate reimagining through dynamic office practices like hoteling.
This is why, if you are implementing desk booking software at work, having a hoteling feature is a must. Still not convinced? Just consider the benefits below.
Enhanced Flexibility
A hybrid work model is flexible in its own right. However, by introducing hoteling, you can give your employees more agency to decide when and where to work.
Employees can check desk availability using desk booking software and reserve a workspace well in advance. They won't have to worry about coming to work without knowing if they will find a vacant desk or not.
You can use desk booking software to automate hoteling, so there is no need for a dedicated manager to overlook desk reservations. Yet, at the same time, it can help you collect occupancy data and predict future workspace needs effectively.
Improved Collaboration
Many paint hoteling or desk booking software as a reservation tool only. But did you know office hoteling is a great way to promote easy and fluid collaborations as well? Yes!
When you implement hoteling through desk booking software, you get access to hyperlocal occupancy data. This includes data on seating arrangements and demand for company resources like conference rooms. You can use this data to reconfigure your workspace and make accommodations for Zoom rooms, collaborative zones, team neighbourhoods, and other spaces for team huddles and collaborations.
Not to mention, different teams and departments can use the desk booking software to reserve a specific neighbourhood in the office for the duration of a project. And have the entire project team in the same place.
Increased Productivity
Of course, office hoteling is a highly effective way to maximize workspace potential. But the feature can work a charm to boost employee experience as well. This is because desk booking software gives employees the power of choice. When they get full autonomy to choose where to to work, they are likely to feel more engaged and get the work done faster.
It's the same thing for team projects. If all the team members are occupying the same neighbourhood, collaborating becomes easy. Employees can just reach out to fellow members for ideas and feedback without relying on messages or emails. And they can do so easily with desk booking software.
A frictionless employee experience like this inevitably results in enhanced productivity and satisfaction.
Greater Efficiency
Desk booking software with a hoteling feature helps improve office space and employee management. Not because it makes desk bookings easier. But because you get a 360-degree understanding of office occupancy and employee work preferences. This can help you craft better hybrid workplace policies and take away the guesswork entirely. As a result, you can avoid overheads and keep the balance sheet optimal.
You also get complete visibility into how employees are using the available space and company resources. Having the usage data at hand can help you improve any inefficient practices and improve employee engagement. Moreover, the agency employees receive through desk booking software allows for fair and effective space utilization. In the long run, this can act as a great talent magnet for attracting millennial and Gen Z workers looking for flexible work opportunities.
So, all in all, desk booking software and hoteling are a winning combination.
The Bottom Line
Traditional work models were long due for a facelift. Unfortunately, the change came only after a hard blow from the pandemic. Now, as organizations struggle to come up with concrete action plans, adopting dynamic practices like hoteling is the only way forward.
From enforcing social distancing to lowering overheads, hoteling can help you reap various big benefits. Just make sure to choose desk booking software that aligns with the scale and needs of your company. Only then can you support a flexible work environment successfully.
WorkInSync offers robust desk booking software. From scheduling employees to finding out colleagues, it includes a variety of features. Opt for a demo today to learn more.
---
Interesting Related Article: "How to Use a Desk Booking System in Your Office"