Paraphrasing Tools have completely changed the way writers used to generate unique content.
With so many versions of the same topic on the internet, it gets quite hard for you to rewrite it again in your own words.
You just can't seem to find the unique words that are not already out there.
AI-Based paraphrasing tools are helping writers break these writing barriers by enabling them to create rewritten content in a fast and effective manner.
Let's go over some of the most prominent ways AI-Based paraphrasing tools are helping writers in 2021.
How AI-Based Paraphrasing Tools are Helping Writers?
Paraphrasing tools before the AI were not good at rewriting. These tools used a linear approach where they just used to change the words with their synonyms.
This rewriting approach is not good because it creates content that feels unnatural.
AI technologies and especially the NLP have taken the performance of Paraphrasing tools to a whole new level.
Paraphrasing tools are now much better at creating content that looks natural.
This content feels much closer to the way humans write a piece of writing for academic papers or web copies.
Meeting Deadlines
Writers often have to deal with tough deadlines where they have to deliver multiple articles each day.
Writing many articles every day is quite difficult. It is extremely hard to maintain the quality of the written content when you have to write in bulk every day.
This is where AI-Based paraphrasing tools prove to be useful. These tools help writers create unique and human-friendly content from an existing piece of writing with ease.
Rewriting Made Easy
Rewriting a piece of content sometimes is just as hard as coming up with fresh content. You are just not able to find the right words to restate the topic at hand.
With paraphrasing tools, the rewriting job becomes much easier and simpler. You can input the text in the tool and these tools use their AI algorithm to rewrite content automatically for you.
Online paraphrasing tools are easy to use which makes them a great choice for rewriting and rephrasing tasks.
Rewrite Bulk Content Fast
Writers often have to come with a lot of content in a short amount of time. You can either write the entire content manually or you can make use of the paraphrasing tools.
AI-Based paraphrasing tools process bulk content fast and generate new and fresh content from it in a short amount of time.
Manual paraphrasing is a difficult task that takes a lot of time. And if you have to rewrite content in bulk, writing manually can prove to be quite troublesome.
With AI-Based paraphrasing tools, you can rewrite as much content as you want in a much faster way.
Removing Plagiarism from Content
AI-Based paraphrasing tools are great for removing plagiarism from the content.
For writers, it is quite common to be faced with accidental plagiarism in their content.
This is because no matter how much you try to come up with unique content; there is always the risk of accidentally writing the content in the same way as a random source on the internet.
If you find plagiarism in your writing, you can put the content in a paraphrasing tool. It will rewrite the content for you to make it plagiarism-free.
Best Paraphrasing Tools for Writers
There are a lot of paraphrasing tools out there that you can check out. Below are your best options for AI-Based Paraphrasing tools that you can find online
1.  Paraphrasing Tool – Prepostseo
(https://www.prepostseo.com/paraphrasing-tool)
Paraphrasing Tool by Prepostseo is a valuable tool for writers that can help them rewrite content in a simple and easy way.
This free-to-use paraphrasing tool is great for academic writers as well as for people who write web content.
This tool offers four different paraphrasing modes.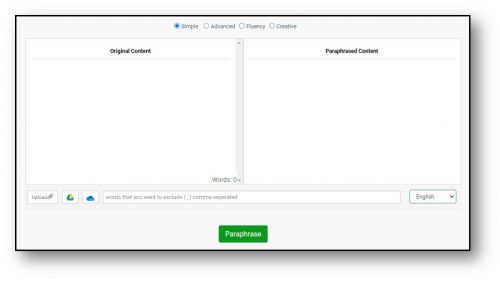 Simple
Advanced
Fluency
Creative
You can paraphrase using any of these modes based on your paraphrasing requirement.
This paraphrasing tool comes with an easy-to-use interface and its paraphrasing performance is amazing.
This AI-based paraphrasing tool delivers remarkable paraphrasing performance that takes the content quality to the next level.
Prepostseo Paraphrasing Tool is available for users 24/7. You can use this tool use the desktop as well as mobile web browsers.
2.  Paraphraser.io
Paraphraser.io is one of the best paraphrasing tools for writers as well as students.
You can rewrite web content as well as academic papers and assignments with this tool.
Paraphraser.io works using the latest AI algorithms to rephrase the content in a way that feels completely natural to humans.
This tool improves the quality of the input content by using a rich vocabulary while maintaining the natural tone and fluency of the content.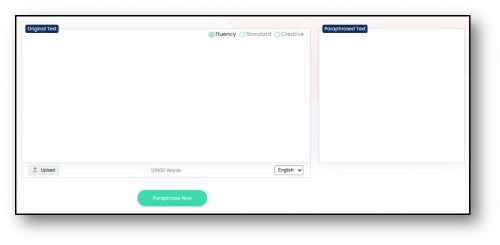 There are 3 paraphrasing modes with this tool that you can go for.
Fluency
Standard
Creative
You can rewrite using any of the 3 modes to find the one that works the best for you.
3.  Paraphrasing Tool by Check-Plagiarism
(https://www.check-plagiarism.com/paraphrasing-tool)
The user interface and the navigation approach of this paraphrasing tool are simple and interactive.
With its mobile-friendly design, you can use this tool on mobile web browsers to rephrase any piece of writing with ease.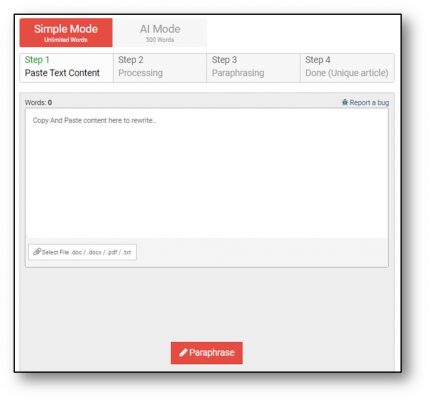 Paraphrasing Tool by Check-Plagiarism offers 2 different modes of paraphrasing for writers.
Simple Mode: This mode allows the user to paraphrase complete essays and articles of any length in one go.
AI Mode: This mode offers advanced, AI-Based paraphrasing. With this mode, you can only paraphrase about 500 words in one session.
This paraphrasing tool is quite great for writers because its rephrasing performance is quite fast and accurate as compared with most paraphrasing tools that you find out there.
Final Words
AI-Based paraphrasing tools have revolutionized the way writers used to generate unique and fresh content.
These tools have evolved a lot over the years to add the latest AI and NLP features that make content rewriting simple and easy for writers.
Whether you write academic content or you are a web content writer, AI-Based paraphrasing tools can help you rewrite and paraphrase with ease while maintaining the main idea and the quality of the content.
---
Interesting Related Article: "Apps to Boost Productivity for Writers"