The mix of cryptocurrency and online entertainment in Australia has changed the game – literally. By infusing gaming with heightened security, rapid transactions, and international accessibility, this partnership is reshaping the way consumers and creators experience virtual realms. From brick-and-mortar venues to online streaming and crypto casinos – the evolution of Aussie entertainment is following crypto. Australia's entertainment scene is already a party, but with crypto in the mix, it's a full-blown festival. Let's explore why.  
Cryptocurrency in Online Gambling
Online casinos are quite receptive to the crypto revolution. They are increasingly adapting to their use and transforming the gambling world as we know it. 
Gambling with crypto has several advantages both for players and casinos. First off, there's the increased privacy and security it offers. All crypto transactions are anonymous and encrypted, giving consumers stronger privacy and immunity against data breaches. For players who value privacy in their online activities, this can be very appealing.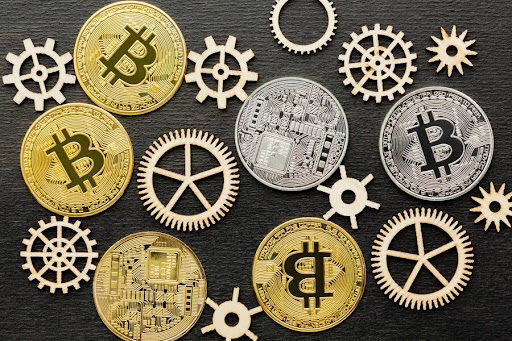 Crypto transactions blowing past the sluggishness of traditional transaction methods. Players don't have to wait around for deposits and withdrawals. Crypto provides speedy transactions that improve the whole gaming experience.
That said, there's a twist in the tale – cryptocurrencies are famous for their wild price swings. That can mean surprising wins or losses for players. It's pretty much like a game within the game – a game of crypto market roulette.
In the land Down Under, the crypto casino craze is just getting started. Aussie crypto casino platforms are giving a shoutout to players who dig for anonymity, speedy transactions, and the added thrill of using something futuristic for their gaming escapades.
Cryptocurrency and Online Gaming
Australia's gaming industry transformed as a result of blending cryptocurrencies into games. Ever since, the gaming experience has become a seamless, safe, and accessible adventure for many aspiring and avid gamers.
Cryptocurrencies are thriving on the Australian online gaming scene. What's more, they are one of the reasons why Aussies are turning into online players. The introduction of crypto payments is the smartest move as it galvanized the industry. 
With crypto, newcomers to the online gaming world can enjoy a money-safe start, and avid players can make in-game purchases smoothly and effortlessly.  The best part? – crypto-transactions are super-fast and safe. So, gamers don't have to wait around for ages to get their gaming fix. No more frustration!
Moreover, the transnational nature of cryptocurrencies makes them accessible on a global scale. Without the constraints of currency conversion or geographical boundaries, players from different parts of the world can easily interact in gaming ecosystems. The sense of community is strengthened by this inclusivity, making the gaming experience truly international.
The list of popular games that accept cryptocurrencies is growing rapidly. Games like "Fortnite," "Minecraft," and "Counter-Strike: Global Offensive" have paved the way by enabling in-game cryptocurrency transactions. In addition, new blockchain-based games are popping up that offer players special interactions where they can own and trade virtual goods with Bitcoin.
Cryptocurrency and Streaming Services
Cryptocurrencies are the real stars in the modern streaming platforms that feature them. At the moment, there aren't many of these on the Australian entertainment scene, but this can soon change. 
The mere emergence of Bitcoin, Ethereum, Litecoin, etc. transforms how Aussies consume digital content. No need to stress over privacy and payment methods with lengthy verification- cryptos streamlines the transactions.  
With cryptocurrencies, you can pay for your streaming service wherever you are. There are no more barriers between the consumers and the content they love.  
That's why music, film and other streaming services are joining the crypto community. They not only educate users on cryptocurrencies, but they encourage their use. The enhanced security and tools like a real-time conversion calculator streamline payments even further.
Service providers are also happy to join this crypto party. They're benefiting from lower transaction fees! – This way they can lower their subscription fee and attract more customers, that's the power of cryptocurrencies – a win-win for everyone. 
Cryptos provide streamlined transactions, but the best part is – these are as safe as they can be! With the blockchain as their digital wall, both the provider and the customer's money are safe.
The love story between crypto and streaming is far from over – it's just getting started, shaking up how we groove to our favourite tunes and flicks.
Cryptocurrency and Virtual Reality
Online entertainment that's immersive on a whole other level – this is the lovechild of the convergence of cryptocurrency and virtual reality (VR). you may have guessed – their possible collaboration may unlock worlds to digital worlds like we've never seen before.  
Virtual Reality, with its high-tech approach to merging the physical and digital worlds, can redefine online entertainment all on its own. But with crypto in the mix, players and consumers can get a genuine-like piece of the action. Yet, that's not all VR software and glasses can do. 
With crypto, VR visitors could purchase digital assets and even interact with dealers for crypto-powered casino games. The possibilities are endless! VR-unique digital assets and currencies can open the door for in-game purchases and trading. 
Future Prospects of Cryptocurrency in Online Entertainment
The future of cryptos relies on the everlasting reign of the internet. So, it's safe to say that there's more to come from the crypto-universe. With every change made, industries won't have a choice but to follow the trend. 
Looking forward, as we set sail into the uncharted waters of crypto-infused entertainment, thrilling developments lie ahead. 
For example, entertainment content may take an NFT turn as the non-fungible tokens plunge deeper into the scene. This means a whole other way for content creators to value their work. What's more, through NFTs, fans could directly finance their favourite shows and artists.
Audiences may also be empowered to support content creators through microtransactions and cryptocurrency-based rewards, democratizing the whole industry.
Also, entertainment platforms may choose to adopt blockchain technology. This can lead to a more immersive digital environment and a more secure distribution of movies, shows, music, and other digital content. In a way, cryptocurrencies can become the answer to content creators' prayers for acknowledgment in the entertainment scene.
But, crypto's revolution goes beyond traditional entertainment sectors. The use of cryptocurrencies can further boost gamification in the gamer's world. Game assets can become tokenized and tradable, thereby transforming virtual worlds into crypto-marketplaces.
That said, the advancement of crypto in Australia's entertainment industry is tightly linked to regulatory challenges that these currencies face. Like most governments around the globe, Australia has a hard time exerting control and power over these decentralized digital funds. 
Plus, efforts are made to establish a balance between encouraging innovation and guaranteeing consumer protection. Although the regulatory environment for cryptocurrencies is quite rudimentary, this can change soon, making or breaking these currencies. 
A new, crypto-taxation system worldwide and global agreement can be a turning point for crypto's upward popularity trend. One thing is sure – cryptos have the power to boost inclusive, transparent, and economically empowering online entertainment in the Land Down Under. 
Conclusion
Cryptocurrencies have forever changed Australia's online entertainment landscape. With their rock-solid security and borderless reach, they've empowered creators and consumers alike. Cryptos also boost the engagement, rewards, and accessibility of digital amusement.
In Australia's vibrant online entertainment scene, the prospects of cryptocurrency are particularly exciting. Blockchain monetization models could redefine how Australians engage with their favourite entertainment content. Luckily, Australia's crypto-revolution is far from being over and keeps evolving from one minute to another. So we better keep a vigilant eye on these payment marvels if we want to make the best of what they have to offer.
---
Author's Bio:
Lola holds a degree from the University of Tasmania (UTAS), post-graduation, she collaborated with gambling operators to innovate new bonus structures and enhance game features. She has consistently championed responsible gambling as a cornerstone of the affiliate industry. For now, she leads as the Chief Editor at Au Casinos List, setting the gold standard in online gambling journalism. Lola Henderson, an Australian online casino writer, has been in the business of writing about online gambling and casino games for years.
---
Disclaimer
This article is for informational purposes only and doesn't constitute gambling advice. Remember:
Risks: Gambling can be addictive and lead to financial loss.
Assistance: If facing gambling problems, seek professional help.
Legal Age: Ensure you're of legal age and follow local laws before gambling.
Accuracy: While we aim for accuracy, always conduct your own research before making decisions.
Liability: We aren't liable for decisions made based on this content.
Gamble responsibly and view it as entertainment, not a money-making strategy.