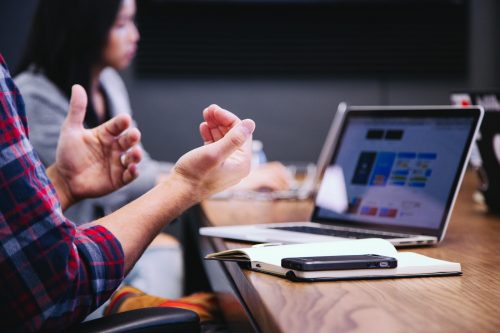 Employee engagement is a top priority for many organizations, it helps to improve employee productivity and efficiency, reduce employee turnover, retain customers, and ultimately make you more profitable whilst making your employees happier at work. With remote working looking like it is here to stay, a whole new dynamic has been added to employee engagement strategies, presenting a number of challenges to keeping a well-engaged and connected workforce.
For many organizations in the past, employee engagement included 'free pizza Fridays' and ping-pong tables, but with remote working becoming ever more commonplace, these tactics are no longer going to work. Alongside this without the face-to-face that occurs within the office, it's harder for managers to get a gauge of their employee's well-being and involvement in the day-to-day. This leaves us with the question: if remote working continues to be a staple in the modern workplace, how can we go about ensuring every employee is engaged in the future of the organization, whether they're frontline workers or office staff?
There are many ways you could begin to look at solving this challenge, but we think that democratizing your innovation process and using idea management is a fantastic way of not only engaging employees across the organization but also measuring their engagement. Let's take a closer look at how it can help.
How can innovation help employee engagement?
Next, let's take a look at how exactly idea management can impact employee engagement.
When people talk about innovation, they often think of small communities within an organization dedicated to coming up with new ideas. However, if you expand this to include your entire organization you unlock a new way to engage your employee. This is what we call democratizing innovation and means that all employees, including those on the front-line, have a voice.
Many organizations already do this through things like suggestion boxes in the office canteen, but these can actually have the opposite effect on employee engagement. Does any really know what happens to an idea once it enters that box? To properly democratize innovation, you have to use a central ideation software so that employees can actively see the progression of their ideas, making the process completely transparent. Transparency creates better engagement from your employees as they feel more confident about the work they are doing and why they're doing it.
During a study, Gallup found the impact of change communication on employees was: '65% of millennials who work remotely and 61% of nonremote millennial workers who strongly agree that their "immediate supervisor keeps me informed about what is going on in my organization" are engaged'[1]. What this shows is having a method in which to communicate upcoming change and a way to actively involve your employee base within it can help drive employee engagement.
Democratizing innovation with idea management
The concept of opening up your innovation process to everyone in your organization might sound a little daunting at first; having to sift through hundreds of suggestions can be very time-consuming. However, a robust idea management process underpinned by the right software eases this pressure. Your idea management tool can act like a centralized place for employees to contribute at any time. Employee engagement shouldn't be limited to point-in-time activity, it should be continuous.
Using idea management software as an employee engagement platform enables you to drive both top-down and bottom-up innovation. With top-down innovation, your senior team can review the organization's strategic drivers and communicate to the company the challenges it's facing and gather feedback and ideas to help overcome them. This ensures that the entire organization is aware of the overall strategy and feels involved in the process. With a bottom-up approach, you can gather insight from employees about the challenges they're facing on the day-to-day.
Along with giving you a centralized space for idea gathering, idea management covers the complete cycle of an idea. It can support you in creating feedback loops with your employees, keeping them engaged in the progression of their idea and aiding in the development of both the idea and the individual. When it comes to evaluating ideas, you have to have a 'Timeline'. The participants need to be aware of how long this challenge is open, when the evaluation will begin and when they can expect to hear back regarding the progression of their ideas. Creating a timeline not only manages expectations from your employees but also helps keep them engaged as they know their ideas haven't fallen into a black hole.
Finally, using software that integrates into the tools you're already using like Microsoft 365, means you can track and report on overall employee contributions. A bonus being that you don't have to worry about employee adoption and minimal training is required. You can also reward the most involved and keep track of those who aren't contributing. Alongside this, some idea management tools enable you to use gamification to help motivate your workforce.
Benefits of democratizing innovation to include employees
The benefits of an engaged workforce speak for themselves, but leveraging idea management to facilitate feedback and drive collaboration as part of your strategy to begin engaging your workforce in this new normal can offer you:
Greater variety of ideas
Greater collaboration between teams
Feedback loops between employees and decision-makers
Greater lines of communication
To summarize, idea management is a way to facilitate conversations between employees and decisions makers. Not only can it improve employee engagement, but it can enable you to build your own innovation culture and celebrate curiosity. Shifting your innovation process away from chasing the big ideas and focus more on using as a method of engaging employees means the organization can see the everyday brilliance that employees bring to the table. Some of our customers that have used idea management in such a way have found that not only were they inviting new ideas, but also they were inviting others to further develop and build on those ideas.
Discover more about innovation software here.
Author Bio:
Tad Haas
As a passionate innovation and technology evangelist, Tad is the Executive Vice President at edison365, working with some of the most innovative companies in the world, every day.  With years of experience in change management and business building, Tad has plenty of transformation stories to share in manufacturing, engineering, financial services plus health and life sciences. A long tenure at Microsoft, at the front-end of innovation and project management software delivery, helped him see what it means to transform and deliver at scale.
---
Interesting Related Article: "Employee Wellbeing and Why it Should Matter to HR"