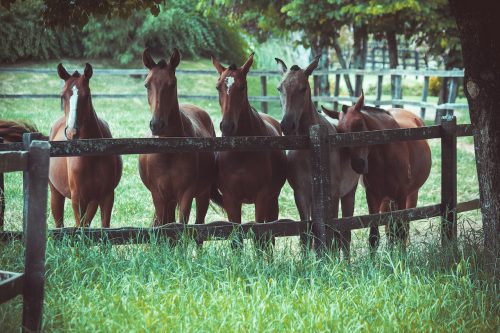 For those that follow horse racing, there are few bigger goals in life than being able to one day own their own superstar. Of course, owning the next American Pharoah or Flightline may be tricky, given that they are once-in-a-lifetime horses, but that doesn't stop owners from dreaming of following in their footsteps. 
However, for many, owning a racehorse can often be extremely expensive, and that starts from the initial costs of buying or sending a horse to stud. But, are these different membership packages available that ensure that fans can get closer to the action?
First Expenses
Before even looking for a potential trainer and route to one of TwinSpires biggest races on the calendar, all potential buyers must first pinpoint the horse that they wish to buy. 
Sole ownership is among the most popular ways to own a horse, and that means purchasing a young potential superstar at an auction. The initial price of a horse will ultimately be determined by their pedigree and past performances of offspring. However, an upfront cost could be as little as $2,500 or as big as $1 million, depending on the horse that you are looking at. 
Before settling on a potential horse to buy, all owners must first ask themselves what they are looking to get out of the experience. If they are looking for some fun on the side, then the cheaper options will probably appeal more, while those looking for a business venture will be targeting the more expensive horses. 
Horse Expenses
After buying a horse, the expenses then begin to increase. That includes a day rate to care for the horse, which could be as little as $40 per day, while training fees will also need to be taken care of to ensure that the horse stands the best chance of landing victories when they take to the track. Owners will also need to cover race fees to enter their runner into a race, which is a gamble in itself, as a positive result could return prize money.
One of the most important expenses that owners will need to cover is of insurance and vet bills. The latter could cost between $300 and $800 per month, while insurance for the runner is worked out as up to 8% of the purchasing cost of the horse. The expenses continue to increase, as owners will need to pay $125 for new shoes, as well as transportation fees, which could cost a significant amount if a runner is traveling from one side of the country to another.
Ownership Alternatives
Owning a racehorse can be extremely expensive, which means that there have been a number of alternative options pop up over the past decade to make it affordable. That includes joining a syndicate. 
This could be made up of 20 buyers, which will together cover all the expenses, including insurance, travel and vet bills. This has been an extremely popular option for many, as it enables fans to join together and enjoy racing with like-minded people. Meanwhile, day-to-day communications between the members and the yard will be run by a manager.
Meanwhile, a method of ownership that is growing in popularity quickly is that of the racing clubs. There are these types of ownership packages across the world now and ensures that all members can feel like an owner. 
However, unlike other ownership types, this doesn't necessarily mean that members will be granted ownership passes when their horse runs and prize money could be very little. However, it is an excellent way of feeling all the perks of ownership without paying the top dollar. 
---
Interesting Related Article: "Ten Belmont Stakes Finishers To Look Out For In The 2020 Kentucky Derby Horse Race"