Large manufacturers all over the world without a doubt have revolutionized many existing markets and helped start new ones. At the same time, some of these enterprises still haven't taken advantage of becoming an eCommerce business. According to PwC USA, about 70% of manufacturers have recently started their transformation toward digital marketing and sales.
Navigating the current landscape takes on added significance as the economic downturn and escalating inflation contribute to a deceleration in U.S. manufacturers' and distributors' sales. Under a Statista survey, the growth of U.S. manufacturing sales experienced a substantial surge of 13% from 2021 to 2022. However, this momentum waned in the subsequent period of 2022-2023, witnessing a decline in growth rate to a mere 1.8%. 
Despite these challenges, the world of digital commerce appears unfazed, defying the present financial constraints. The industry shows its resiliency by being a trustworthy channel even in difficult situations.
This article offers three strategies for maximizing the opportunities created by the expansion of the manufacturing sector. It also includes a detailed list of the essential components, followed by answers to the main obstacles a manufacturing business has while going online. In addition, the article provides two superb instances of industrial businesses moving digital.
3 recommendations for manufacturers to make the most of their eCommerce strategy
In the realm of B2B sales, various avenues like distributors, channel partners, online marketplaces, and resellers open up a multitude of sales channels to explore.
Manufacturers' first priority is to simplify the online buying experience for consumers. This involves:
establishing an eCommerce store;

integrating with well-known selling platforms;

designing and rebuilding business operations.
Build a B2B industrial eCommerce website
Transforming a static website into an interactive platform involves enhancing your online presence to cater to B2B customers with a B2C-like experience. B2B clients today demand a smooth and customized digital experience, echoing the norms established for B2C engagements.
Going beyond the fundamentals of online catalogs and pricing listings is required for this transition. Features like configuration flexibility, visual representation, customer-specific pricing and services, real-time inventory visibility, access to purchase history, and product tracking are all included in a full B2B experience.
Manufacturers must proactively strategize their eCommerce approach, encompassing not just digitizing their product catalog but also providing enriched content like industry-specific use cases and specifications. Beyond digitalization, the current challenge entails the use and automation of omnichannel eCommerce marketing, delivering a comprehensive and seamless consumer experience.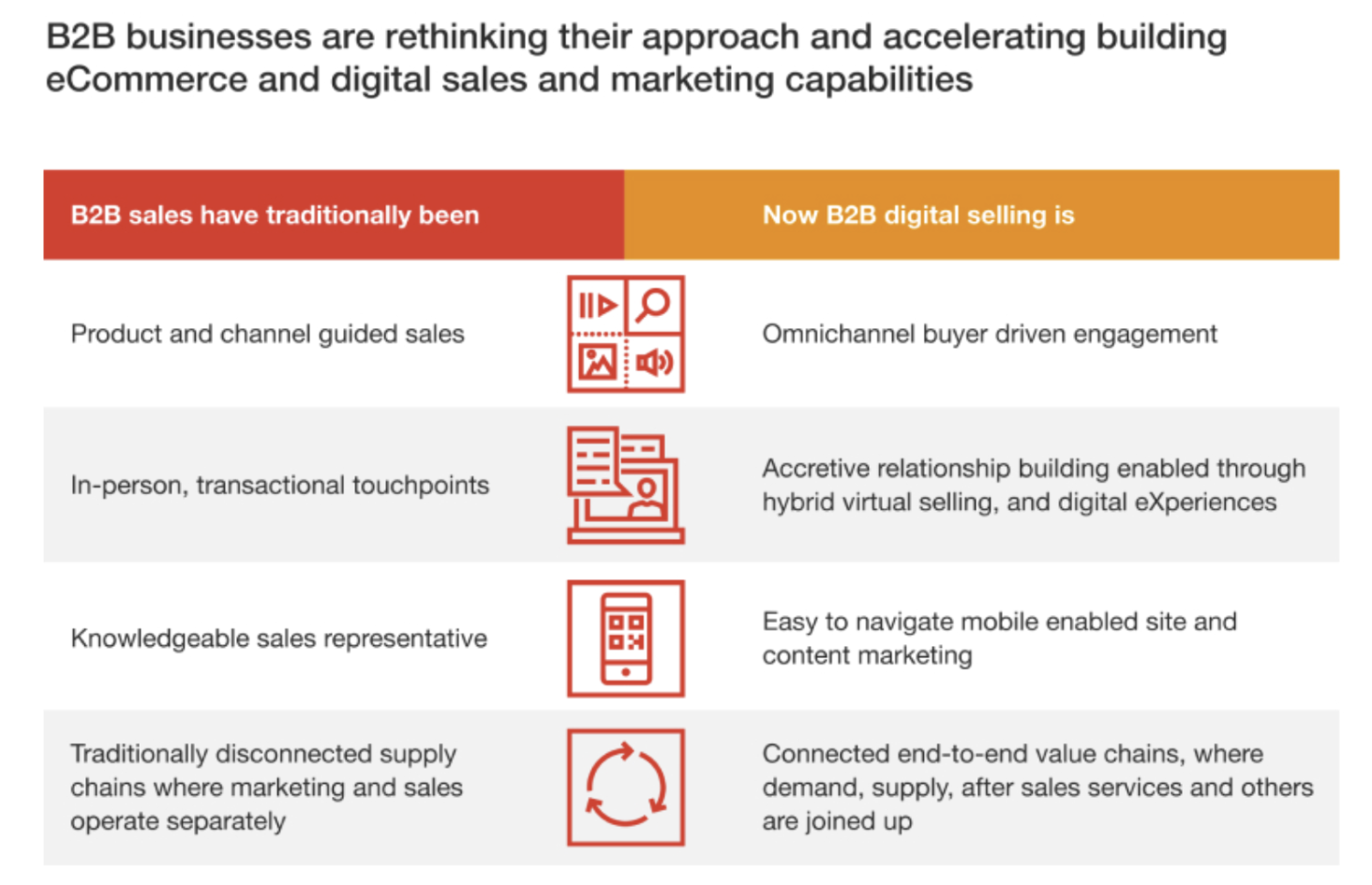 [Source]
By embracing the digital world and growing the percentage of eCommerce income within their entire operations, industrial firms stand to gain tremendously. This transition can yield various advantages:
harness the power of precisely targeted advertising through customer data collection;

establish a multi-vendor eCommerce platform, allowing manufacturers, distributors, and retailers to promote their offerings on your site while paying a commission;

leverage advanced eCommerce sales forecasting tools for enhanced online selling strategies;

simplify international expansion through built-in multilingual and multi-currency capabilities, along with seamless integration with global shipping and payment systems.
Use marketplaces for promotion and extra sales
Nowadays marketplaces play a significant role in B2B transactions, contributing to more than half of all purchases online. Leading the pack, Amazon Marketplace seized a lion's share, accounting for over a quarter of total U.S. eCommerce sales. Following closely are Walmart Marketplace and eBay.
Unquestionably, integrating a connection between your eCommerce platform and online marketplaces is an essential part of any sales strategy. The good news is that big international markets like Google Shopping, Amazon, Facebook, and eBay can easily connect product data with eCommerce systems like nopCommerce.
Improve your business operations
Adopting an eCommerce platform designed for your manufacturing company will improve customer service and provide your sales team with more control. Harness the potential of chatbots and enhanced product page guidance to effortlessly address queries and offer prompt support to your customers.
What's more, advanced eCommerce platforms like nopCommerce go beyond the norm, enabling your sales and customer support representatives to actively shop on behalf of customers by accessing their accounts. With this simplified process, your reps may provide tailored product suggestions, easily add goods to carts, and complete transactions with the utmost convenience.
The most helpful features a B2B eCommerce solution brings to a manufacturing business
Manufacturers have specific needs that differentiate them from retailers and wholesalers in the world of eCommerce services with customized functionalities. Therefore, it is crucial to choose a robust B2B eCommerce platform designed for manufacturers to handle these unique demands and complexity.
eCommerce software for a B2B business not only successfully handles current activities, but also develops in step with the needs of an expanding organization. Before selecting an industrial eCommerce software, have a deeper understanding of the following essential eCommerce features required by manufacturers.
A shopping experience that is tailored to each customer
Creating an industrial online shop gives retailers full access to insightful consumer data and the chance to use a variety of eCommerce analytics solutions. Through individualized product recommendations and pertinent cross-selling and upselling advice, this improves client happiness and propels sales growth.
To fuel sales expansion and broaden the customer base, numerous eCommerce platforms offer the advantage of enabling manufacturers with eCommerce stores to effortlessly incorporate an extensive range of SKUs into their product catalogs. Furthermore, advanced online store software facilitates hybrid businesses catering to both B2C and B2B clientele, allowing them to seamlessly manage multiple price lists or catalogs via the multi-store functionality.
Lastly, enhancing the shopping experience involves addressing the convenience of reordering. Recognizing that many B2B customers prefer efficiency in recurring purchases, some eCommerce platforms offer a recurring product and payment feature. This empowers customers to establish repeat orders, streamlining their purchasing process and optimizing their overall experience.
Extensive product information and inventory management
Crafting an optimal B2B eCommerce platform tailored to manufacturers necessitates the inclusion of advanced product configuration capabilities, permitting customers to finely tune products according to their distinct preferences.
A sophisticated B2B eCommerce solution empowers manufacturers to seamlessly synchronize their entire catalog with their website, achieved through seamless integration of ERP, PIM, WMS, and other crucial business systems.
A seamless data exchange between the eCommerce platform and manufacturing systems occurs through these integrations. It allows for accurate order processing, up-to-date inventory management, and straightforward production planning while obviating the need for human data entry and enhancing operational effectiveness.
Ultimately, a dedicated eCommerce platform catering to manufacturers must provide dynamic real-time inventory monitoring, seamless automated stock synchronization, and timely alerts for low stock levels. Manufacturers can also effortlessly track the progress of their orders, including production updates and order status notifications, ensuring precise and transparent communication with their customers.
Advanced pricing
Intricate pricing systems based on elements including production costs, materials utilized, and order amounts are necessary for products that are sold to wholesalers, distributors, and end users. Selecting an eCommerce platform that can easily support individualized pricing and quotation methods, such as contract-specific pricing and volume-related discounts targeted to different consumer segments, is essential.
Effective eCommerce SEO configuration
By incorporating eCommerce into your manufacturing company, you can handle orders online with astonishing ease and do away with the need for additional distributors or salespeople. According to Google statistics, 60% of B2B buyers prefer to conduct their research online rather than speak with salespeople in today's digital environment. 
As a result, building a strong online presence reinforced by improved SEO techniques becomes crucial for luring new customers and securing a competitive edge in the market. Additionally, an eCommerce store operated by a manufacturer can be used as a tactical weapon to raise brand recognition without the need for major marketing costs.
For those seeking to harness these benefits, robust eCommerce platforms offer a robust eCommerce SEO functionality:
encompassing optimized and localized URLs;

comprehensive sitemap management in both XML and HTML formats;

efficient Microdata handling;

intuitive breadcrumb navigation;

advanced integration with Google Analytics. 
This integrated set of tools is available in nopCommerce and empowers manufacturers to create a formidable online presence.
Proficient business analytics and reports
Harnessing data-driven insights has become crucial for manufacturers in today's shifting business environment, helping them to manage their operations intelligently and uncover chances for development. These insights include important topics such as sales success, customer relations, and inventory management. Manufacturers may fine-tune their eCommerce initiatives with thorough insights and sophisticated analytics, resulting in increased sales and enhanced client engagement.
Enterprises should use industrial eCommerce platforms, like nopCommerce for a swift and effective setup of an online store. This platform has all the capabilities listed above and even more. It is also open source, allowing businesses to customize it to match their own business needs.
Dealing with the challenges of starting eCommerce for manufacturing
Entering the world of eCommerce for a manufacturing company brings particular difficulties that can be avoided by implementing a sensitive approach and tenacious solutions. The vital tasks that manufacturers must complete as a part of their ongoing eCommerce operation are listed below.
Maintaining precise inventory levels through real-time updates:

Manufacturers must maintain accurate inventory data to prevent inventory imbalances while fulfilling sizeable B2B orders within specific timelines. Integrating inventory management systems with eCommerce platforms streamlines stock monitoring and ensures efficient order processing.

Ensuring precise inventory updates and synchronization:

Accurate real-time inventory management is crucial for preventing stock shortages or overages, particularly since B2B customers often place substantial orders with specific delivery timelines. Integrating inventory management systems with the eCommerce platform streamlines updates and guarantees the efficient processing of orders.

Navigating the intricacies of diverse stakeholders and resolving partner conflicts:

Manufacturers often interact with a variety of stakeholders, including procurement managers, engineers, and financial officers. This necessitates tailoring the sales approach to meet the distinct requirements of each group and proactively managing potential conflicts that may arise between direct-to-consumer customers and channel partners.

Staying at the front of technological shifts:

The eCommerce realm evolves alongside technological progress and shifts in consumer preferences. Manufacturers must embrace emerging technologies like mobile commerce, artificial intelligence, and personalized user experiences to provide a smooth and captivating purchasing journey.

Managing intricate pricing structures and facilitating custom negotiations:

Each client may have distinct pricing agreements, volume-based discounts, or contract-specific pricing models. Effectively handling these intricacies involves a flexible pricing framework, adept negotiation strategies, and the ability to offer customized pricing to different clients while safeguarding the confidentiality of partnership conditions.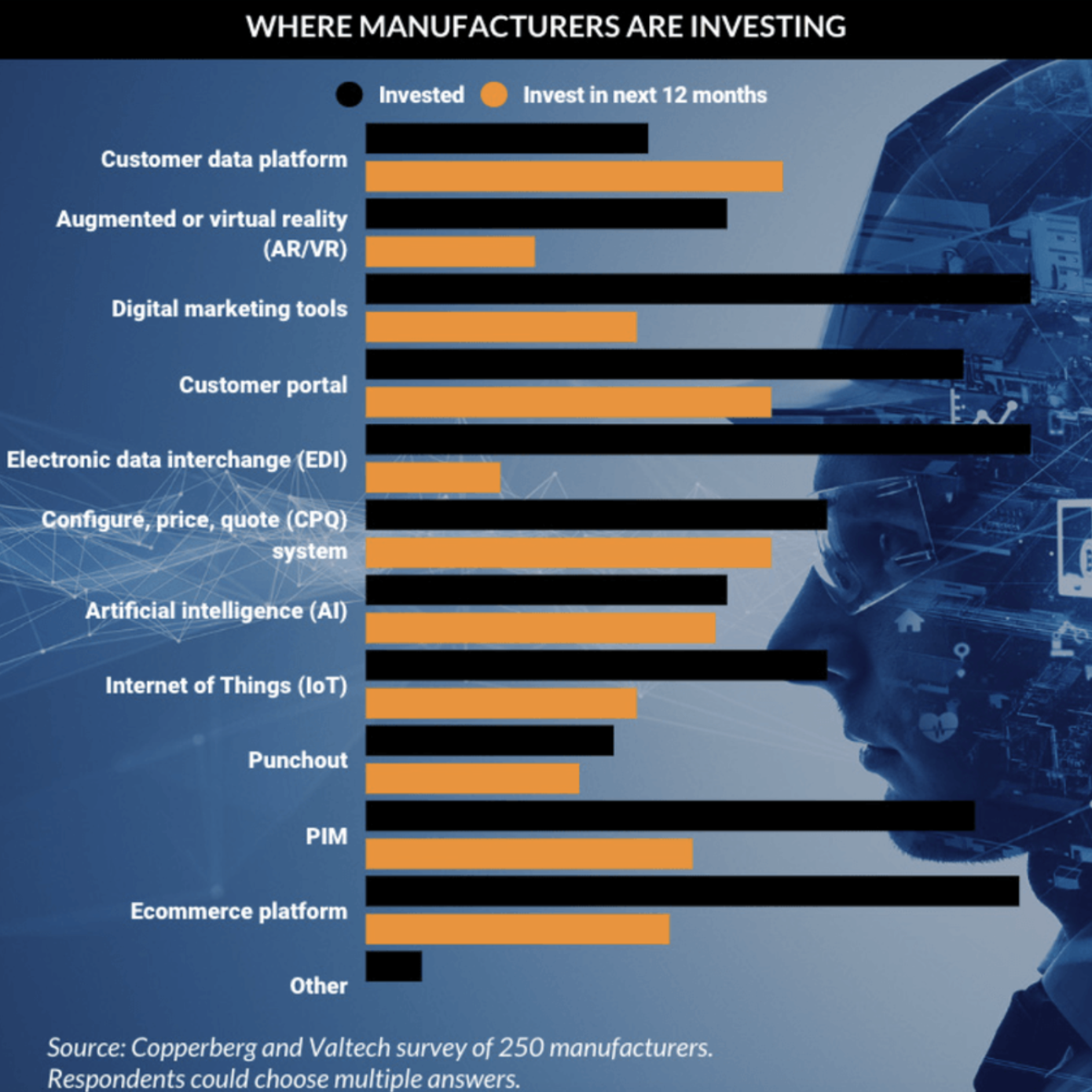 [Source]
Two real cases of effective B2B eCommerce employment by manufacturing companies
Global manufacturers require B2B eCommerce solutions to improve client experiences, optimize processes, and spur revenue development. We've formed two persuasive case studies that show the successful adoption of nopCommerce, an open-source eCommerce platform, by big manufacturing organizations.
These real-world examples demonstrate why nopCommerce is one of the best eCommerce platforms for manufacturers looking to overcome obstacles, broaden their market reach, and produce outstanding outcomes online.
A manufacturing online store that manages over 2M items
Back in 1984, the roots of Caster Technology took hold in California, birthing a family-run enterprise. Fast-forward to today, and it has transformed into a prominent force in manufacturing and supplying wheels, casters, and allied material-handling equipment.
Facing the challenge of managing a vast array of caster products across 12 stores on a single platform, Caster Technology sought a multi-store solution with the flexibility to accommodate distinct specifications for the same product across different stores.
To tackle this complexity head-on, the adept nopCommerce solution partner orchestrated a strategic approach. They constructed a middleware application bridging the gap between the nopCommerce platform and the ERP system. This seamless connection enabled smooth communication and facilitated the syncing of over 2 million SKUs stored within the ERP to the new store.
In addition, the partner undertook an array of enhancements. These included image resizing and watermarking on a mass scale, fine-tuning the product database, customizing the administrative panel, and incorporating an auto-store detection feature for precision adjustments. This collective effort resulted in a triumphant transformation for Caster Technology Corporation, providing them with a dynamic online ecosystem that supports multi-store functionality and extends its reach to a global audience.
B2B industrial eCommerce website that brings a B2C-like shopping experience
TACO Metals, a prominent player in the marine industry, began a transformational process to simplify its operations. In order to unify dealers, distributors, and end users into a unified framework, TACO Metals looked for an all-encompassing solution. Also, they needed to seamlessly connect several online and offline project management solutions in their current environment.
The strategic choice resulted in the development of a strong online presence using the nopCommerce platform. This strategy allowed TACO Metals to communicate directly with retail consumers while enabling wholesale distribution of their products through distributors.
As a result, TACO Metals experienced a remarkable 30% surge in online sales, effectively amplifying their return on investment. Time-to-market, a critical metric, was trimmed by a substantial 40%, empowering the company's agility. Moreover, astute adjustments and updates precipitated a remarkable 36% reduction in operating expenses.
Wrapping Up
B2B manufacturers must navigate the eCommerce landscape while attempting to take advantage of key factors that support success. The complexity of sales, precise inventory control, and maintaining flexibility in a volatile market environment are all challenges. Adopting the ideal eCommerce platform designed for manufacturers can be the game-changer that makes these complex processes simple.
The case examples we've mentioned above show the ground-breaking potential of nopCommerce for manufacturers in a sector where precision is essential. Manufacturers may build a smooth order processing system that enables prompt delivery, precise production tracking, and a fully tailored customer trip by utilizing the flexible functionalities of a chosen eCommerce platform.
The connection between obstacles and successes for manufacturers is made possible by the synergy between a customized eCommerce platform and its complex operational requirements.