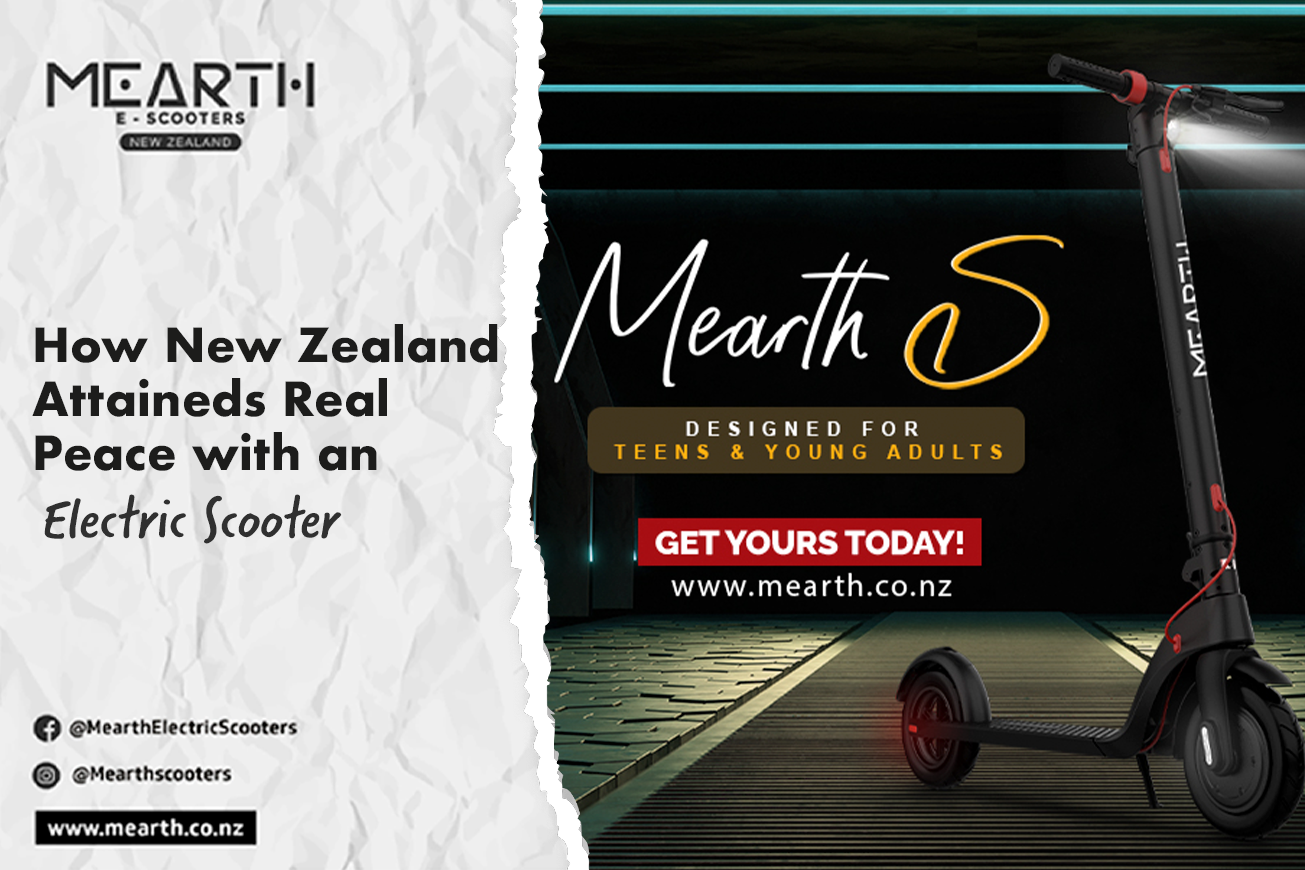 No matter where you are, life can be tough sometimes… even in one of the most beautiful countries like New Zealand. We all have days when we feel like we can't keep up with the demands of our daily lives. Whether it's work, school, or family obligations, it's important to take a break and recharge our so-called life batteries. If you're from New Zealand, with such beautiful scenery, one best way to do this is to go on a breather or getaway. And what better way to do it than on an electric scooter? 
But you're a beginner? Not to worry! This article is here to help New Zealanders like you find your way to your much needed R&R (Rest & Relaxation) with an entry-level electric scooter, the Mearth S, the beginner e-scooter from the Pioneer in Australian Electric Scooters, Mearth. 
Mearth Australia now in New Zealand
Just recently, well-loved Australian brand, Mearth landed in New Zealand in the goal to change the lives of the Kiwi's by providing comfort and convenience — and an eco-friendly way to get around the Land of the Long White Cloud. So give it a go, give it a chance, Mearth New Zealand is here to help you succeed at greater distances.
Spectacular Specs of the Mearth S
But of course you're interested to know the specs before getting yourself the highly demanded Mearth S e-scooter, so let's start with that. The Mearth S has a compact size of 1073*420*1176 mm when unfolded, and 1073*420*450 mm when folded. It weighs 12.5 kg, making it easy to carry around. It's equipped with a Li-ion battery with a capacity of 36V/5AH/180WH, which can be fully charged in 3-4 hours. 
One of the best features of the Mearth S was that it was given a 2023 upgrade. With its new connection pin design, linking the battery to the e-scooter is a breeze. Plus, the battery is swappable, so you can carry an extra one for longer rides. The charger has an input voltage of 100-240Vac, 50-60Hz, and an output of 42V, 1.5A / 2A. The battery can operate in temperatures ranging from -10°C to 35°C.
In terms of performance, the Mearth S has a range of 15-25 km on a single charge, with a top speed of 25-32 km/h. It can carry a maximum load of 120 kg and can climb up to 15° inclines. The powerful motor is a 350W brushless motor, with a burst output of 750W. Despite the increased power output, the motor is 8% more efficient, with the same power consumption. The wheels are 8.5 inches in diameter, with new red hot wheels for easy recognition.
Why the Mearth S is for YOU
Now that we've talked about the specs, let's focus on why the Mearth S can be a great breather or getaway companion. First of all, it's easy to use. You don't need a license to operate it, and you can easily navigate through traffic and narrow streets. Currently, the use of electric scooters in New Zealand is considered legal, but it is best to do your research before anything, unless something different comes up. For example, the laws on the use of e-scooter in different states and territories in Australia vary. Worry not, you may also visit the official website of  Mearth New Zealand and head to News for more information. 
Back to the Mearth S, with its compact size and lightweight design, you can carry it with you on public transportation or store it in your car trunk. It's a great way to explore new places in New Zealand or even old, familiar places but with a set of new fresh eyes. Whether it's a nearby park or a new city, the Mearth S can take you anywhere as long as it gives you a breather, an escape.
Riding your favorite electric scooter can also be a great way to get some exercise and fresh air, instead of sitting in a car or on a bus. Additionally, the Mearth S has a cruise control function, so you can enjoy a smooth ride without constantly pressing the throttle.
Why Kiwi's Choose Mearth
So take this as a sign and go get your Mearth S e-scooter and take a breather or getaway. This is essential for your mental health and well-being. We all need to take a break from our daily routine to recharge ourselves. Riding an electric scooter can be a great way to clear your mind and enjoy some alone time, or maybe ride with an e-scooter team and find peace together. Just remember to always wear the approved helmet and safety gear for maximum protection. So go ahead and have at it. The Mearth S is easy to use, compact, and lightweight, making it a great travel companion.
And don't forget — Mearth is truly committed to endless enhancements and improvements for its well-loved electric scooters. It is dedicated to innovation, ensuring its loyalty to its patrons.
Mearth Electric Scooters means Mobility + Earth, and has a strong commitment to sustainability and is the responsible way to ride. Additionally, Mearth e-scooters are made with environmentally-friendly materials and are designed to be energy-efficient, reducing their carbon footprint and helping to protect the planet. Save Mother Earth!
As citizens of this world, we are responsible for the welfare of mankind. Now, let's start making a change in New Zealand!