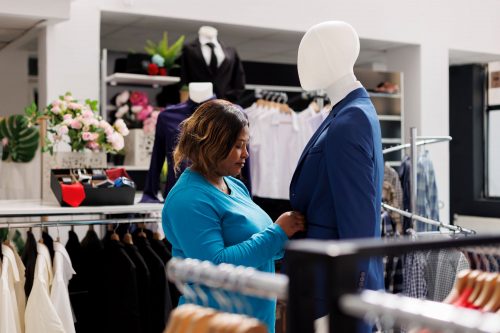 It's easy to get overwhelmed by the amount of work you have on your plate. However, no matter how tired or stretched thin you feel, it doesn't mean you should let yourself look like an undead character straight out of a horror movie. Instead, strive to appear as a sharp and polished team member by following these tips on cleaning yourself up and wearing the right outfit:
Workplaces and employers have unique preferences when it comes to the attire of their employees, which are typically outlined in their respective policies. As a valued team member, it becomes your responsibility to familiarize yourself with these regulations. By doing so, you ensure that you align with the expectations set by your organization and present yourself appropriately in the workplace.
Otherwise, you might stand out or, worse, face reprimands from your superiors, which can negatively impact your motivation. Therefore, prioritize checking the dress code before building your work wardrobe. 
First impressions often leave a lasting impact. Your outfit and how you carry yourself play a significant role in how others perceive you. It's only fair for people to assume you're careless or lazy if you show up to work poorly dressed.
When building your work wardrobe, consider the preferences of your employers and clients. Take good care of your clothes by using services such as the 8 Best Steam Iron or other establishments that offer appropriate cleaning methods. Review their selection of detergents to ensure your clothes are well taken care of. Having your clothes ironed will make your routine more efficient.
In addition to your clothes, ensure that the rest of your wardrobe is neat and tidy. Dedicate time to polish your footwear diligently, especially if they're made of leather. Neglecting them not only dulls their shine but also shortens their lifespan. 
While perfecting your outfit is essential for a stylish look, maintaining good hygiene is equally important for looking presentable. There's something sophisticated about starting your workday fresh-faced. Besides the visual appeal, grooming yourself in the morning can refresh your mindset and give you a pep in your step.
Different individuals have different hygienic practices based on their biology. For example, men should prioritize managing their facial hair, as not doing so might give the impression that they're not putting effort into neat shaving. Women can start by brushing their hair back or applying makeup as part of their grooming routine.
Ensure Clothes Fit Properly
Even if you've researched the most stylish outfits, wearing ill-fitting clothes can give off a different impression. Loose clothing often makes the wearer appear older than they are, and some may mistake them for experienced professionals, even if they're beginners.
Avoid excessively loose clothing, especially for business suits. For instance, wearing a blazer that's too big might create a different perception when meeting with clients. On the other hand, tight or fitted clothes, particularly for women, are also inappropriate. Hence, it's best to find the right size for your clothes to project a smart and professional image.
Consider Changing Hairstyles
Your sense of fashion extends beyond just your outfits, as your hairstyle is also a reflection of it. However, in a professional setting, it's generally recommended to steer clear of hairstyles that conceal your face. 
Keep your hair tucked behind your ears, or style it in a way that keeps it out of the way. A sleek ponytail or a high ballerina bun are popular choices for long-haired employees. While messy buns may appear effortlessly beautiful, they might not be suitable for business suits. Despite these limitations, regularly treat your hair to enhance its shine.
Once you have your outfit and hairstyle sorted, accessories can add the finishing touch. With the abundance of designs and styles available in the fashion industry, you have plenty of options. However, in a professional setting, avoid wearing eye-catching or over-the-top accessories. It's best to choose pieces that won't make noise with each step, replacing them with something more discreet.
Experiment With Different Pieces
While maintaining professionalism, there's no harm in mixing and matching different pieces. Expressing your unique fashion sense in a corporate office can make you stand out in a positive way. It showcases your enthusiasm for work and preparedness in front of clients and employers.
Takeaway
Making a first impression at your workplace is a great start to your career. That's why your appearance plays a significant role aside from your performance. Once you've found your work fashion sense, people will know you're prepared for anything at the office just by looking at you. 
---
Interesting Related Article: "Tips to Create an Effective Safety Culture at Work"