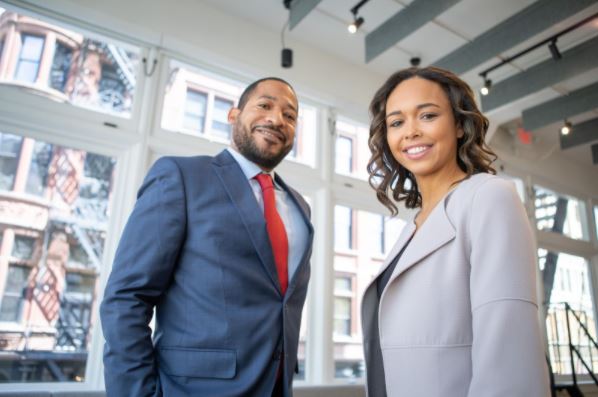 The jobs market is a competitive one at the moment, and not necessarily for job candidates. Indeed, for the last two years, it has been very much a seeker's market, as workers more accurately value their skills and experiences while looking for work that suits their individual needs. With businesses running the risk of losing out on quality staff to industry rivals, what can yours do to become truly competitive in the jobs market?
Prioritise Progression
Progression is absolutely essential to ascribing value to any role. Now more than ever, the working population of the UK are looking for growth opportunities, no longer content with toughing it out in roles with little progression. Indeed, this is one of the foundational aspects of the Great Resignation experienced in the UK last year.
As an employer, you might telegraph a strong internal culture for training and development, and maintain transparency about routes of progression in each department. If a candidate can clearly see the pathways ahead of them, they are more likely to give you their time and energy.
Development and Opportunities
Of course, internal progression alone is not necessarily enough to make a case for yourself as a strong, competitive employer. Other opportunities for development and growth should also be well-advertised. A sales role might include rare opportunities to visit exclusive conferences across the country, with paid accommodation and guaranteed networking opportunities.
Alternatively, your new executive staff might be given carte blanche to arrange their own working trips and outreach meetings. In signalling to candidates that they would have free and untrammelled access to serviced apartments in London whenever they travel there for work, you not only demonstrate trust but also value in your staff.
Offer Flexibility
Another crucial element of your offerings comes in the form of flexibility. Flexitime is a perk offered by a great majority of businesses today, but only scratches the surface of what is possible – and what today's workers rightfully demand. Hybrid working is also an increasingly common fixture, having been proven both popular and effective after the pandemic. Offering the opportunity to remote work can also expand your reach with regards to candidate pools, enabling you to build the best possible team.
Competitive Pay
Lastly, it cannot be ignored that pay is a major consideration for those seeking work – and a leading reason for which certain employers lose out on the highest-quality candidates. By properly addressing salaries for all positions within your business, you can ensure your pay is competitive for your industry, thus creating a compelling first impression with talented individuals. 
This has become particularly important in recent months, as the still-high rate of inflation continues to severely impact affordability for households up and down the country. High wages and generous benefits can be a powerful route to pitching yourself as a business that cares about its staff, and a great gateway to fostering a positive and skilled workforce.
---
You may be interested in: Understanding the Competitive Pricing Analysis