Digital marketing is that branch of marketing that includes all the activities carried out by a specific company through digital tools and channels. It is often used in conjunction with other traditional marketing tools, thus creating synergies for integrated, personalized, and interactive communication to develop and gain greater customer loyalty.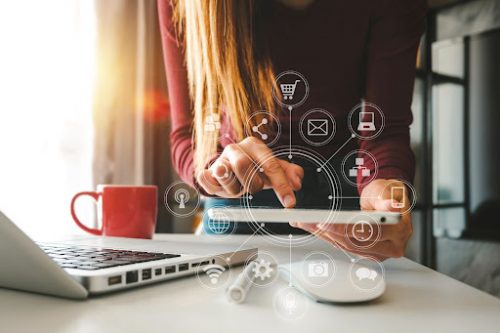 Digital marketing is the one that has undergone the fastest evolution given the rise of social giants such as Facebook, Instagram, Twitter, etc. It combines traditional marketing channels with the necessary adaptations to the peculiar characteristics of the online and, more specifically, the various social platforms on which you can sponsor your company, your brand, and your products and services.
Digital Marketing, the most popular techniques
Digital marketing includes all marketing activities that use an electronic device and the Internet. Businesses leverage digital channels like search engines, social media, emails, and other websites to connect with current and potential customers. Promoting a business by creating indexed content on search engines will be completely different than email marketing which has a more statistical approach.
In turn, digital marketing focused on promoting social networks will have to focus on creating specific content for the social network used (Facebook, Instagram, Snapchat, etc.) and for the type of audience expected to target on the social network itself.
SEO
SEO (Search Engine Optimization) is just one of the digital marketing tools. Nowadays, it is gaining more and more importance due to its ability to optimize the positioning of a website concerning the results list of different search engines. Using it correctly, your website will be displayed in the main results when a potential customer is looking for something to buy or information about a given product/service. SEO activities mainly concern:
the optimization of the website structure
the optimization of the HTML code
content optimization ( including images)
Having a good ranking on search engines such as Google allows many users and potential customers to engage without any acquisition cost.
Content Marketing
Content marketing refers to creating useful and valuable content and sharing it to acquire and retain the customer. Furthermore, it is crucial for a good digital strategy.
transform the purchasing process into an actual customer experience
attract potential customers with advertising techniques without interrupting the customer's navigation
be engaging without costing too much
Social Media Marketing
Social Media Marketing (SMM) is a branch of marketing that uses social platforms to generate interaction and sharing; tries to increase the visibility and notoriety of a brand, develop new contacts, identify potential customers, and build meaningful relationships with them.
Social platforms allow a great return concerning relatively low investments (in finance, it would be said a high ROI, with the same risk for alternative investments).
eye10.io is a fundamental tool for all companies promoting products and services through social networks.
Email Marketing
Email Marketing is one of the essential activities for digital strategy, as it is one of the tools necessary to establish and maintain contact with customers and potential customers. The content part of the email marketing campaign must be based on Content Marketing techniques to create value messages for the user.
The primary tool for email marketing is the newsletter, which has the function of informing customers about particular promotions and, thus, retaining users by constantly capturing their interest in the brand to transform them into regular customers. eye10 is also one of the best tool use for SEO purpose.
Another email marketing tool is Direct Email Marketing (DEM), which allows you to attract potential customers through advertising mails addressed to a target of new profiled users. The aim is to capture consumers' attention (once again, the skills of Content Marketing are used to create content). This tool mainly has three functions:
develop the conversation with the customer
recover a loyal customer
Retain a potential customer.
Paid advertising
The last method among the main ones of Digital Marketing is the paid advertising campaign. What to do? The most useful is Google Ads, which allows you to advertise directly on Google (main search engine), and all the campaigns offered by Mark Zuckerberg's applications (Facebook, Instagram, etc.). In the first case, Google allows you to profile better the type of customer you are targeting.
The specifications and filters that can be managed are much more specific than social networks (you talk about particular demographics, geographies, actions performed on the web, and more). Social media campaigns can be mainly profiled concerning the geographic area, age, and users' interests. In both cases, relying on a professional, the results are concrete.
Conclusion
By choosing these strategies, you benefit from digital or business marketing.
---
Interesting Related Article: "The Benefits of Digital Marketing"