Most photographers like to make pictures crisp and clear to enhance quality. But sometimes, we need to make a blurred picture to hide chaotic scenes, blur out somebody else's face, or make an unwanted part of a picture blurry. Well, how to blur a picture for free on different devices? Here you are at the right place! This article explains how to make a picture blur for free with three easy and practical solutions. Whether which device you are using, a Windows PC or an iPhone, you can fine-tune pictures with blurry effects in no time. Head further to learn more!
In this article, you will learn about:
How to blur a picture on Windows using WorkinTool Image Converter?
How to blur the whole image in PowerPoint?
How to blur the background of a picture on iPhone?
How to Blur a Picture with WorkinTool Image Converter
To process pictures, you need a handy and practical image editing tool. After testing a range of free picture editing software in the market, we finally found a versatile one based on free pricing, which is called WorkinTool Image Converter. This image editor is Windows-based but offers a part of its features online. You can head to this website to try its online version before downloading the desktop software to enjoy all the features.
WorkinTool Image Converter offers different filters to make images blurry. You can make the whole image obscure and blur a part of or the background of a picture easily in a few clicks. Other than that, other factors come into play. You can crop, flip, rotate, and superimpose pictures without any hassle. In addition, as the name shows, this image converter is able to convert images from or to any other format in bulk, with 100+ input and output image formats supported.
Here is how to blur a picture in WorkinTool all-in-one image processing tool.
Step 1: Open an image in WorkinTool Image Converter.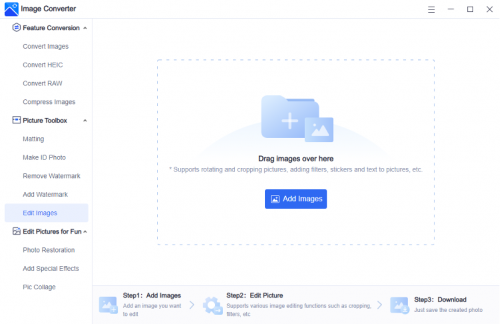 After downloading and opening this lightweight picture editing software, you'll see a clean interface with no ads. Find the Picture Toolbox section and click on Edit images to import a picture.
Step 2: Add blur effect to pictures.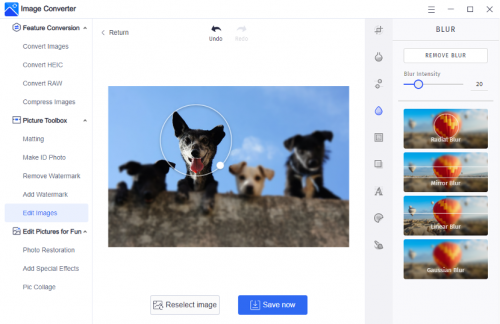 There are four blur filters to choose from. Whether to blur out the whole image, a part of an image, or the background of a picture, you can find an ideal filter in it.
Radial Blur: A gradual blur radiates from the center to highlight a strong focal point. This one is suitable for blurring the background of a picture.
Mirror Blur: Add blurry effects to the two sides of a picture but make the center subject stand out. You can apply this filter when you want to blur a certain part of an image.
Linear Blur: Make one side of a picture blurry but the other side clear, suitable for a part of a photo.
Gaussian Blur: Cover blurry and fuzzy filter on the whole image.
Step 3: Fine-tune the blur effect and save the blurred picture.
It is feasible to resize, reposition, and adjust the blur intensity. Or you can make further edits using this tool to create more stunning graphics. It is effortless to add text, stickers, drawings, etc., to a picture. Click on Save now to get the outcome when you are satisfied.
How to Blur the Whole Image in PowerPoint
If you don't want to install a third-party tool, Microsoft PowerPoint allows you to blur a picture directly. Different from WorkinTool Image Converter, PowerPoint is not that straightforward and only allows you to blur out a picture entirely. Although it is feasible to blur a part of a picture, it is too time-consuming and laborious. You need to make more manipulation of the other tools like inserting shapes. But creating an entirely-blurred picture is a breeze in it.
Here is how to blur the whole image in PowerPoint.
Step 1: Create a new presentation and insert a picture in Microsoft PowerPoint.
Step 2: Click on the picture, then navigate to the Picture Format
Step 3: Select the Blur effect in the dropdown menu of Artistic Effect.
Step 4: Press Artistic Effects Options to adjust the blur intensity by dragging the Radius
Step 5: Right-click the picture and hit Save as Picture to export the outcome.
How to Blur the Background of a Picture on iPhone
Another practical way solves your problem from the beginning. Your picture background can be blurred when you are shooting a photo. It is also available to adjust the blur gradient after shooting. To achieve that, we need to use the built-in Camera app on iPhone. With the Portrait mode, we can make the background of a picture blurry in a few clicks. The blur intensity is decided by the f value. The higher the f value, the lower the blur level. When we take a picture, it is better to set the f value as 2.8, which can give you a natural bokeh effect.
Here is how to blur the background of a picture using the Portrait mode in Camera.
Step 1: Open the Camera on your iPhone and switch to Portrait
Step 2: Move farther away your camera lens from the subject.
Step 3: Adjust the light condition and the f value as you like.
Step 4: Press the shutter button to take a blurred photo.
Wrapping Up
In conclusion, we have walked you through all the details on how to make a picture blurry, entirely or partially. All three solutions are free without limits. You can pick one that suits your situation. I can guarantee that you will get a fantastic outcome using any one of the three simple methods.
---
Interesting Related Article: "How To Watermark Photos to Protect Your Brand and Assets"