If there is one word that has created so much buzz over the past one year, it is Bitcoin. The rise in the price of Bitcoin towards the end of last year has led to more people knowing about cryptocurrencies, for instance, the Bank of Canada recently reported that 85% of Canadians are now aware of Bitcoin. And not only Canadians of course, dozens of countries all over the globe recording increase in cryptocurrency awareness. As cryptocurrency becomes more familiar,  people tend to invest and trade in cryptocurrencies more. Lots of folks now want to convert their money in digital currencies like Bitcoin or Ether but don't know where to start. This article will help to get a step-by-step guide on how to buy crypto via bank account.
Why it is Essential to Buy Crypto with a Bank Account
Purchasing cryptocurrencies using fiat continue to be challenging for crypto buyers. The simplest way to buy crypto was to purchase it via a debit card. But recently credit card companies Visa and Mastercard have made it harder for traders and investors to purchase cryptocurrencies due to the extra fees. Now an additional 5% fee is applicable when buying bitcoins or any other cryptocurrency with a credit card. With a usual credit card payment processing fee of typical 4% for crypto exchanges that result in a total 10% commission for a cryptocurrency investment. Which is already too much.
Besides that, it is still critical that credit cards have limits for daily or monthly spend operations. That makes it harder to make an appropriate one-time investment in digital assets using only a credit card to buy crypto. That's where bank accounts can help. With no additional % commision and no limits, a user can invest in digital currencies with up to 10% lower cost and buy them via one single transaction. You can now even buy bitcoins with SEPA transfer instantly.
Techcrunch on Visa and Mastercard strict to crypto policies.
Where to Buy Bitcoins (BTC) with a Bank Account
There are numerous ways to buy Bitcoin with a personal bank account, but WHERE to buy BTC with a bank account is a significant problem for lots of people because most of the banks are not friendly to new digital assets. You might often hear about phenomena called "bank rage" or "bank anger against cryptocurrencies". That's when banks refuse entirely to send or receive any transfer related to crypto exchange. So you might want to consider buying BTC via crypto exchange because that might be not that easy to withdraw crypto to a bank. Crypto exchanges are the first places to look when you want to purchase BTC with a wire transfer as a payment method.
Crypto Sore Point: Bitcoin vs Bank Transfers
Buy BTC From Exchanges
You can buy BTC via bank from some cryptocurrency exchanges. Coinbase is perhaps the most popular exchange when it comes to Bitcoin purchase using a bank account. Other exchanges allow you to buy BTC with a bank account and they include:
Coinbase,
Bitstamp,
Bitpanda,
CoinCorner,
io,
LocalBitcoins,
de,
24/7 exchange,
LakeBTC,
Exmo,
Paxful,
Kraken.
How to Buy Bitcoins via Bank Account Using Crypto Exchange
Coinbase is the most popular cryptocurrency exchange when it comes to purchasing Bitcoin using a bank account. You can also use GDAX, Kraken and other exchanges.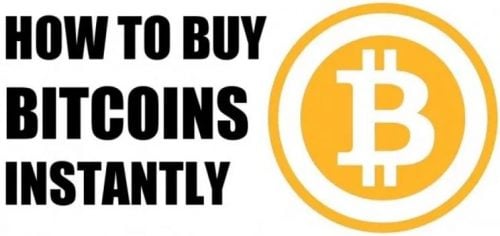 How to Purchase Bitcoins with Bank Transfer via Coinbase.
To buy BTC via bank transfer in the U.K, follow these steps;
You need to register an account and verify your email and phone number.
Pass verification process that involves ID verification, uploads of documents to confirmation of your payment address and identity.
The verification process may last for up to 7 days.
Once the verification process is over, you will need to link your bank account to a crypto exchange. That may last for 1-2 days.
Once you ready to go – login to your account and proceed to buy BTC.
The bank account payment option is SEPA, which is standard in the EU.
Enter the required field after confirming your buy request and click on Buy BTC after that.
Purchases made with SEPA take 5 days for the Bitcoin to be delivered. So the actual rate can be different of what was on the day the order was placed. Also, in times of huge market moves, an exchange can be overloaded with orders, and it might take additional days for your order to pass through the long queue.
Step-by-step Instruction on How to Buy Bitcoin with Bank Transfer via Cryptoexchange.
So, basically, to purchase Bitcoin from any of the crypto exchanges in Europe or any other part of the world, follow the steps below:
Create an account and verify email and phone number.
Pass the Identity verification process (up to 7 days).
Link your bank account and verify it (up to 2 days)
Locate the "buy Bitcoin" button or tab and select bank transfer as a payment method. It could be SWIFT, SEPA, Wire or any other method you see available on the site.
Your account Bitcoin wallet will be credited within a few days when the bank transaction will be processed (up to 5 days).
Using the method listed above, you can buy BTC with bank transfer from any of the listed crypto exchanges. So, a whole overall process for purchase Bitcoins through Coinbase or any other Bitcoin exchange can take up to 15 days.
Buy Bitcoins via Localbitcoin
You can buy Bitcoin from LocalBitcoin. This is a P2P cryptocurrency exchange platform that allows you to meet buyer and sellers in your country. Instead of purchasing Bitcoin or Ethereum from major cryptocurrency exchanges, you can decide to make use of this platform and send cash to the seller in exchange for BTC or ETH. You can also send your cryptocurrencies on this platform.
Login to your Local Bitcoin account and find a seller in your area who accepts cash.
Select the amount of BTC and place an order.
You will receive the seller's account number.
Transfer the funds into the seller's account.
Upload your receipt to prove you made the deposit/trade.
Finally, receive bitcoins in your LocalBitcoins wallet once the seller confirms the transfer of funds.
The catch is that any fiat transaction can be charged back but not Bitcoins. That works as a huge reason for the scam for all P2P cryptocurrency exchanges.
Buy Bitcoins Instantly and Securely via TRASTRA Current Account with a Personal IBAN
TRASTRA is a personal cryptocurrency banking solution, and it allows among other services to buy or sell cryptocurrency via banking account. So if 15 days seems a long time to wait for purchasing Bitcoins you may use TRASTRA to make things a little bit faster. Once you verified your identity at TRASTRA, you will be able to buy Bitcoins with TRASTRA current account with IBAN instantly in a matter of minutes. And ID verification only last for up to 2 days.
Create a TRASTRA account and get a free online multi-sig Bitcoin wallet.
Verify your identity and get a current account with a personal IBAN for free (takes 1-2 days). As soon as you get your TRASTRA current account – you will be able to buy Bitcoins with IBAN once and for all.
Your TRASTRA current account works the same as a regular bank account.
Send money to your TRASTRA current account from your local bank. From your local bank standpoint, you will be sending money between two of your own accounts.
You can use international wire transfer, SWIFT or SEPA (recommended). For SEPA transaction processing time will take only 10 minutes as TRASTRA supports Instant SEPA feature. So, you can buy bitcoins with SEPA immediately.
Send fiat money from your current account directly to your crypto wallet. An exchange will happen seamlessly. You would only need to confirm the actual EUR to Bitcoin exchange rate.
Transaction happens instantly so your TRASTRA crypto wallet will be credited with Bitcoins in no time.
How to Buy Ethereum with Bank Account
The Long Way – Go to Crypto Exchange
You can buy ETH with a bank on some cryptocurrency exchanges like Coinbase, Kraken and Gemini. To purchase your ethereum from Coinbase, follow the steps listed below;
Create a Coinbase account.
Verify your Identity and payment address (up to 7 days).
Link your bank account and verify it (up to 2 days).
At the dashboard, click on the buy/sell tab and select Ethereum.
Enter your payment method, which in this case is a bank transfer.
Next step will be to enter your weekly limit and click on buy.
You can decide if you want the payment to be processed immediately for an additional charge or in a few days.
Once this is done, your account would be credited with ETH within the payment stipulated time (in 5 days).
You can also buy ETH using your bank account from Gemini, Kraken or Bitstamp. Overall process could take up to 15 days. Also, in times of significant market shifts your exchange order can be queued for several days due to the system overload.
How to Buy ETH with Bank Transfer – The Easy Way
You can use TRASTRA  wallet to purchase your ETH using a bank transfer.
To start with, register a TRASTRA account. Get a current account with IBAN to buy Ether instantly. A current account with IBAN from TRASTRA works just the same as a regular bank account.
The first step is to sign up for TRASTRA.
Next, you will need to apply for a current account with IBAN and verify your Identity (1-2 days).
Once the ID verification is complete, send money from your local bank to your new TRASTRA current account. It is like making a bank transfer from one of your accounts to another one but in different bank.
In the SEPA zone, your transaction will be processed immediately so that you can buy ETH with SEPA instantly.
Once that is complete, you need to make an exchange from EUR to ETH, transfer happens immediately.
You can purchase or sell ETH instantly afterwards.
How to Buy Altcoins with Bank Account: XRP, LTC, BCH Buying with Wire Transfer
The long way to buy Ripple, Litecoin or Bitcoin cash with bank transfer is to go to any of the Crypto Exchanges listed above. But If you want to move fast and buy say Ripple with a bank payment you might like TRASTRA cryptocurrency banking services. With TRASTRA current account you can buy XRP/LTC/BCH almost instantly.
Looking for Bitcoin Banking? Trastra is here for you
You can buy Bitcoin and Ethereum using your bank account from the above-explained methods. Compared to credit cards, BTC and ETH purchase using a bank account is much cheaper. If you are viewing for a trusted banking platform for your cryptocurrency purchase and sales, then Trastra.com is perfect for you.
Purchasing Bitcoin or Ethereum using your bank account is so much better than other methods. However, you will need a trusted banking platform to help you do it swiftly and securely. This is where Trastra comes in.
Trastra is a trusted platform where cryptocurrency traders and investors purchase digital currencies using their bank accounts sell Bitcoins or altcoins and cash out fiat money to their bank accounts or Bitcoin debit cards. Using Trastra, you can buy cryptocurrency with bank transfer on market rates, top up Trastra Payment account with a bank transfer, and have instant SEPA EUR payment options in 34 countries.
In addition to that, you can get the Trastra payment card and link it to your Bitcoin, Ether, Litecoin, Bitcoin Cash and Ripple wallet, withdraw cryptocurrency in any ATM and make any online purchases. You will get our mobile apps, and If you aren't the geeky type, then Trastra is perfect for you as it is easy to get started and simple to use.
A Brief History of Well-Known Cryptocurrencies
The first and leading cryptocurrency in the world is Bitcoin (BTC). The first and most popular digital currency was invented by a developer or a group of developers with pseudo-name Satoshi Nakamoto. Bitcoin was designed in 2008 following the global financial meltdown with the aim of taking control away from central government and banks and handing them over to the people. The cryptocurrency has evolved and is now the leading cryptocurrency, trading above $6,000 per coin.
Ethereum (ETH) ranks second behind Bitcoin regarding market capitalisation and is the leader when it comes to smart contracts and DApps. It is a platform that supports decentralised applications and smart contracts and is the primary platform for ICOs.
The third and fourth largest cryptocurrencies are Ripple (XRP) and Bitcoin Cash (BCH). Ripple was developed to ensure that cross-border transactions are made more accessible while Bitcoin Cash is the hardfork of Bitcoin and is slowly working towards adoption as a payment option. Litecoin is another top altcoin that is considered as Bitcoin's sister and was developed to solve the flaws that Bitcoin has. Litecoin is a new cryptocurrency that is slowly becoming an option for micropayments.
Video – What are cryptocurrencies?
This Market Business News video explains using simple terms what cryptocurrencies are.