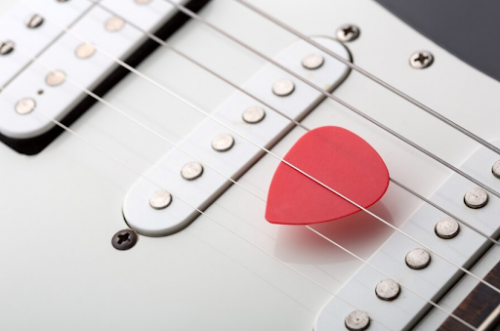 Are you looking for the best electric guitar picks?
One key aspect of playing any instrument is learning how to take proper care of it. And when it comes to electric guitars, guitar picks are well-known companions of electric guitarists such as Eric Clapton. But how can a pick help your guitar playing, and why is it such an essential addition to your kit? Read further to get the information about electric guitar picks. 
What Is a Guitar Pick?
A guitar pick, or plectrum, is a tool that is applied to strum chords by plucking it on the strings or scratching on one note on a guitar. Compared with playing by fingers, using a guitar pick can generate a brighter sound; what's more, you can create a greater tone contrast by using a guitar pick to pluck in different locations, such as on the bridge or close to the neck. It usually has a flat shape so that the guitarist can hold it and play. This magical tiny card is popularized by Nick Lucas, an American jazz guitarist.
Types of Guitar Picks:
Electric guitar picks come in various shapes, thicknesses, and materials. Read further to find out which one will work best for you before you head out to buy guitar picks.
Plastic:

Plastic guitar picks are most commonly used nowadays. Guitar accessory manufacturers offer plastic electric guitar picks with different densities to express different feelings.

Nylon:

Not only does nylon give a pleasant tone, but it also adds a very smooth feel when you are plucking the guitar strings with nylon picks.

Metal:

Metal electric guitar picks are featured with high density and hardness, which is good for producing a super-bright tone; however, they may hurt your strings or even the guitar when you don't have enough control over your hands.

Wood:

wood guitar picks can be used to generate a warm sound while strumming the strings.

Celluloid:

It is the most traditional material of electric guitar picks, and it still takes up a large place in the market for its moderate flexibility and smooth playing feel. But it is not durable to maintain its smooth surface.
The numerous unique laminated layers that make up a pick are known as "ply," and the thickness of these plied picks is typically between 0.38mm and 1.50mm.
Thin: 0.38mm–0.68mm:

The thin electric guitar picks are soft to produce a bright tone and avoid making low sounds. Its flexibility has placed a more even pressure on your strings so that they won't get hurt while strumming the strings too hard. Therefore, it is suitable for strumming. However, it is not suitable for solo because it has a slow and slight reaction to your playing force, resulting in an increased toughness on controlling the strings with high accuracy.

Medium: 0.69mm-1.00mm:

These electric guitar picks have moderate toughness so that they can meet the needs of both strumming and solo, winning the most fans among all the plectrums with different thicknesses.

Heavy: 1.00mm-1.50mm:

When plucking your strings with a heavy electric guitar pick, you will feel a powerful tone. As its increased thickness raises more requirements for the guitarist, this type of guitar pick is suitable for high-skilled guitarists who need to solo with high controlling accuracy. This heavy electric guitar pick is the best choice for playing rocks or jazz.

Extra Heavy: greater than 1.50mm:

This electric guitar pick is less flexible and offers more low sounds and powerful sense. As it is the thickest plectrum, only skillful guitarists will choose this type of electric guitar pick. So, for experienced bass players, it might be a good pick.
Waterdrop:

Waterdrop shapes electric guitar picks are the most standardized type, and they are among the most commonly adopted shapes for professional guitar players. 

Triangle:

The triangle pick allows precise strumming on the electric guitar strings.

Other shapes:

The other shapes of electric guitar picks include heart, oval, and shark fin.
Alice AP-E Glossy Nylon Guitar Picks
Electric guitar picks are a fashionable and useful addition for people who love to play the guitar. Although picks are an important addition to your guitar-playing regime, choosing the right pick for your guitar can take you a long way, and this is where Alice excels with its AP-E glossy nylon guitar picks. 
Not only are the Alice AP-E Glossy Nylon Guitar Picks manufactured by injection machines to create smooth edges for durability, but their vibrant hues will elevate your guitar game to the next level. 
Conclusion 
Alice® is a leading guitar accessories brand known across the globe for delivering high-quality professional music products. Their superior quality and use of high-tech material to produce guitar picks and other accessories make them a trusted name among artists and guitar fans worldwide. If you want to get your hand on the top-quality electric guitar picks that ensure superb performance, Alice's online web store is the way to go.
---
Interesting Related Article: "Market Share of Top Guitar Brands"