Product packaging is important for all businesses, but for eCommerce companies, it's absolutely crucial. Good packaging and labelling can be the difference between a happy customer and a dissatisfied one – so it's vital that eCommerce business owners invest in tools that make delivering your products a breeze.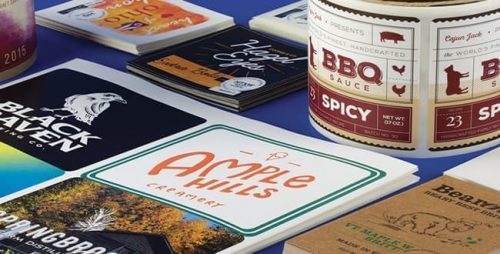 That's where labelling machines come in. While there are many different ways to print your delivery barcodes and product labels, labelling machines make the whole process much simpler. But when you're looking for the right labelling machine, there are a few things you need to consider.
What Do You Need To Consider When Choosing A Labelling Machine?
From the type of labels you need to print, to how often you need to print them, there's a lot to think about when choosing a labelling machine for your eCommerce company. But by taking all these factors into account, you can be sure you're making the most informed choice for your business.
Type Of Labels
First, you need to decide on the types of labels you need for your business. If you're looking to print barcodes, you'll need a labelling machine that can provide a crisp, clear print that's easy to scan. For printing delivery address labels, you don't necessarily need a high-resolution label maker, but you'll want one that works quickly and on-demand. It's also important to decide if you need a labelling machine that can print in multiple colours, and whether there are other elements of the machine you might want to customise.
Budget
Decide how much you have to spend on a labelling machine. There are machines available to suit a large range of budgets, so even smaller eCommerce companies can invest in tools to make the packaging and shipping process smoother. Remember to factor in the cost of consumables, such as ink, toner, and ribbons, and the potential maintenance costs. Depending on the regularity and volume of labels you need to print, it may be more cost effective to outsource your labelling requirements to a specialist company (although this isn't the speediest process).
Frequency
If you need your labels on-demand, you need a labelling machine that can print whenever you need them. For product labels, machines that offer the ability to print the same design in a continuous stream can be beneficial. If you prefer to print your labels in batches, outsourcing your labelling requirements or hiring a labelling machine may be an option. Print and apply label machines also allow you to adhere the labels to your product as they're printed, which can save you time and resources.
Versatility
You'll also need to decide how customisable you need your labelling machine to be. If you want to be able to print everything from branded stickers to delivery labels to barcodes, you'll probably need a more versatile labeller than the average machine. This is likely to mean colour variations, different label shapes and sizes, and changes to the resolution output. An alternative solution is to use different labelling machines that are designed to perform the specific tasks you need from them.
Type Of Product
If you're planning to apply your labels directly to your products, it's important to take this into account when you're considering which labelling machine to choose. There are many different types of print and apply processes you can choose from, each of which is suitable for different surface shapes and sizes. For example, tubular vials or bottles can benefit from specialist syringe labelling, which works by first applying the label to the product surface, then using a motorised wrap-around belt to secure the label to the rounded sides.
What Type Of Labelling Machines Are Available?
Now you know what kind of functionality you want from your labelling machine, you can review the various types of machines on the market and select the one that's best suited to your business.
Print And Apply Labelling Machines
Print and apply labelling machines are among the most practical, popular solutions for eCommerce businesses. They're easy to use, and come with a variety of functions to allow you to choose the best application method for your products and labels. Choose from application techniques including tamp, wipe-on, swing-on and more.
Industrial Label Printers
For larger scale eCommerce enterprises, industrial label printers offer a compact, practical choice that's perfect for delivery labels and barcodes. They're designed to print labels in a fast, reliable way, making for a smooth, smudge-free operation. These industrial label printers use thermal transfer printing, rather than ink-based print methods, to ensure the output is clear and crisp.
Custom Labelling Machines
Because there's so much to consider when choosing a labelling machine for your eCommerce business, a custom labelling machine may be the right solution for your products. This is particularly important if your products have a shape that's difficult to label with standard machines. Syringes, vials, EpiPens and other tubular products, for instance, are easiest to label with a syringe labelling machine that's specifically designed for these slim rounded products.
Ultra High Speed Labellers
If print speed is your top priority, or for fast-paced production environments, ultra high speed labelling machines are an excellent choice. This high speed labelling machine is touted as the fastest machine in the world, which makes it ideal for rapid production lines at large scale eCommerce businesses. It can also run continuously, meaning your business never has to stop.
Choosing The Best Labelling Machine For Your eCommerce Business
With the increasing importance of eCommerce for business, businesses are moving online as a route to sell their products. There are many labelling machine options out there – but by assessing your key requirements, and matching them to the machines that are currently on the market, you can find one that suits your needs perfectly. All business investments require careful consideration – especially when they're so central to your production line. So, if you still have questions about which labelling machine would best suit your business and product, make sure to contact your labelling machine supplier for more information.
---
Interesting Related Article:"Essential Things for Your E-commerce Business to Run Smoothly"