When searching for the proper dressmaking fabric, it is easy to become disoriented or lost. Due to the wide variety of available materials, the human eye is typically drawn to a familiar hue or pattern. However, this is only one of the numerous variables that must be considered while selecting the appropriate fabrics.
You will notice fabric on shelves and sometimes a sign stating the type of fabric you are viewing. However, you should not navigate the store based on these indicators. Allow Isa Fabrics to assist you in shopping like a fashion expert by advising you on how to choose the proper dressmaking fabric.
What to Consider When Selecting Dress Fabric
Particularly, while selecting fabric for dressmaking, it is essential to consider:
The feel of the fabric against the skin. Remember the itchy dresses you wore for your baptism or first communion? Avoid them and go for fabrics that feel soft against the skin and that you will like wearing for extended periods.

How the fabric will drape on your body. For a perfect fit, a drape is necessary. How a piece of clothing drapes on our body is mostly responsible for our reluctance to wear it. Anything can look nice on a hanger, but it's entirely another story when it's on your body.

How the fabric will perform when sewn. And we don't mean "behave" in the sense of "will it have a tantrum in the cereal aisle at Publix and embarrass you in front of other moms," but rather in the sense of "will it clump together" or "how well it retains its shape once sewed."

The fabric's sturdiness. Are there any rips or flaws in the print, loose fibers, strange dye spots, etc.? When sewn together, these flaws can sometimes become more evident.
Understanding Fiber Types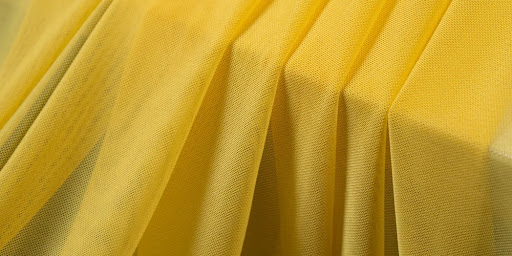 Plant-based, animal-derived, and synthetic fibers are the three fundamental types of fibers. Numerous features of a certain cloth are determined by its fiber makeup. Having a fundamental understanding of fibers will make it easier to choose cloth for any project.
1. Plant-Based
Cotton, linen, hemp, and ramie are all examples of plant-based fibers. They are durable when wet or dry, readily absorb the dye, and are simple to launder and iron.
2. Animal-Derived Fibers 
Animal-derived fibers consist of silk, wool, and hair fibers including angora, cashmere, and alpaca. These fibers produce fabrics that are often lightweight relative to their thickness. They are naturally elastic, resistant to wrinkling, and readily absorb dye.
3. Man-Made Fibers
Man-made fibers include rayon, Tencel, acetate, triacetate, acrylic, nylon, polyester, and spandex, which occasionally enhance the qualities of natural fibers. Synthetics, for instance, confer elasticity, durability, colorfastness, and insulation on fabrics. The majority of man-made textiles are simple to care for and comfortable to wear, but they come at a price to the environment.
4. Fabric Kinds/Structure
All fabric types are knit, woven, or nonwoven fibers and yarns. Some fabrics are composed of fibers that have been fused via heat, mechanical or chemical treatment. When you understand how various fabric kinds are made, you will be able to recognize them. This will allow you to accurately match fabric to a project, hence reducing hassles with sewing and fitting. It will also enhance the finished product's overall appearance, comfort, and fit.
What Material is Ideal for Your Project?
In the majority of cases, natural, synthetic, or a combination of both fiber types are preferred for producing clothing. Woven fabric is suitable for tailoring, whereas knit fabric is ideal for dresses, form-fitting garments, undergarments, and athletic wear.
Raw silk, satin, taffeta, velvet, lace, silk chiffon, or organza are the best dress fabrics for upscale and formal occasions. Medium-weight materials with extra spandex and elastane can be purchased to create bodycon dresses. Lightweight fabrics like jersey, crepe, challis, and charmeuse can be used to create gowns with drapes.
Our great dressmaking fabrics by the yard are perfect for creating fashionable and sophisticated garments. With a range of colors, prints, and textures, it's easy to find the perfect fabric for any project at OneYard online fabric store. Whether you're making a dress, skirt, blouse, or anything else, our dress fabrics are designed to be both durable and long-lasting and will help you achieve the look you want.
---
Interesting Related Article: "Cotton vs. Muslin Blankets and Fabric Need-to-Knows Before Buying"