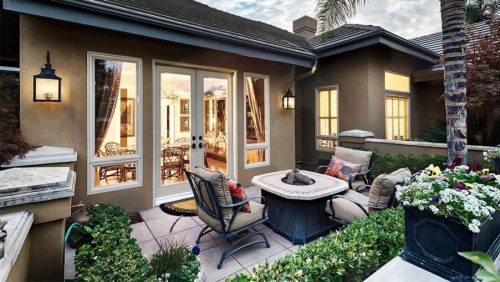 Having a living room with multiple doors and windows and striving to upgrade the interior and install new windows or doors can cause some stress in homeowners. Especially, if you've chosen the DIY path. In this case, you will need to take care of the purchase of windows or doors, make the required measurements, buy the necessary equipment in case you don't have all tools for competent installation. However, if you are not fully aware of the procedure, it is better to rely on dedicated and experienced experts. There are much more arguments why going professional way is much more beneficial.  Poor fixing of windows, for example, can lead to such negative outcomes as:
decreased energy-efficiency and bills rise;
accumulation and spreading of mold, mildew, fungus around the window area;
problems with opening or closing your doors/windows;
leakages and excessive moisture with drafts and foggy panes, as a result;
the loss of your home curb appeal and resale value.
If you have noticed some of these warning symptoms and are not sure that can cope with the task of a living room renovation, it's time to explore key tips on how to choose windows and doors professionals among a multitude of available options to avoid faulty remodeling but gain all the benefits, including superior quality interior and exterior improvements and long-lasting upgrade solutions.
A simple guide to picking doors and windows installers
Location as a top priority when it comes to selecting a home renovation company:
You need to start choosing a company based on its location, because, during the repairs or doors and windows replacement, it is imperative to constantly monitor the performance of work and manage every step. And the longer the distance from the company to your house or apartment, the more difficult it will be to control the job being done.
Evaluate communication style:
When executing the project, the ability to communicate clearly with each customer is of paramount importance for a reputable contractor. The contractor must skillfully explain all stages of the project, offer the highest quality materials, advise on every smallest detail that incompetent experts may overlook but which is pivotal for renovating, for example, how to deal with remodeling a living room with multiple doors and windows in order to provide an excellent result. Therefore, it is not recommended to order repairs from those organizations where you cannot get a clear answer to a question or have to endlessly wait for a response. If the approach is transparent, and all aspects are clarified, these are guarantees that the company's staff will not cause any issues.
A long track record of success:
Ask how long the experts have been in business, check portfolio, as well as investigate social proof on the Internet. Excellent online presence is one of the indicators of dependability and excellence.
The selection process of doors and windows installers must be approached responsibly. If you want to obtain outstanding results and a customized strategy based on the specifics of the room that should be upgraded, then contact the Best Exteriors team of dedicated, passionate, and committed to quality specialists. Integrated services and a customer-centric mindset allow professionals to understand the needs, desires, and preferences of every client and execute the project, exceeding expectations.
---
Interesting Related Article: "How to do Windows Installation at Home?"