Wondering how to create a strong visual identity for your brand?
In this article, you'll find six tips to help you build your brand identity and be consistent.
Let's get right into it. 
Tip #1: Start By Telling a Story
The first tip we have for you in terms of creating a strong visual brand identity is to start by telling a story. 
Storytelling can be a powerful tool that can help you connect with your audience and show what your brand is really all about.  
It might also help make the customer lifecycle process more engaging. 
Our example here comes from Tesla. 
Image Source: Tesla
Their website feels like a visual representation of a story that's unfolding in front of the visitor's eyes. 
The company narrates a visual story that's to do with the lifestyle Tesla products come with. 
It's as simple and straightforward as it can be.
Tip #2: Create a Branding Kit
The second tip we want to share with you is to create a branding kit. 
A branding kit should include all your brand elements, such as your logo and your company colors. 
In other words, a branding kit is a selection of elements that constitute your brand identity.  
Having one is important because it's the selection of such elements that makes your brand recognizable and consistent.
Here's an example of a branding kit that captures luxury fashion company Mulberry's visual identity. 
Image Source: Jordan Cotton
Tip #3: Be Consistent
A tip you should definitely be following when creating your visual brand identity is to be consistent. 
By being consistent I mean that your branding style should be visible and spread across all places your brand can be found. 
Such places include your website, your social media graphics, your presentations and pitch decks, brochures, online ads, and more.
One of the most successful companies in doing so is Nike.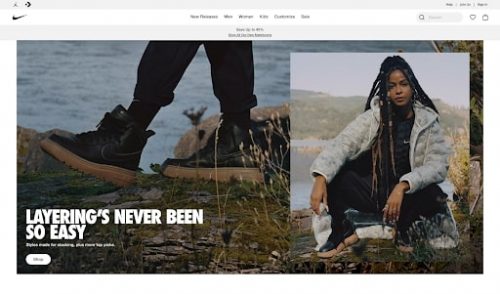 Image Source: Nike
Their use of color, imagery, fonts, aesthetics, even the way they present athletes' stories and promote diversity and inclusivity are visible in all the places, both physical and digital, that Nike products can be found. 
Another example of stylistic consistency comes from a post about the best VoIP routers. 
Image Source: RingCentral
The in-post prompts, like the one highlighted above, are the same color as the company's other buttons within their website, thus building towards a consistent website that enhances visual brand identity. 
The same applies to the following homepage by product roadmap software, Airfocus. 
Image Source: Airfocus
The same tone of blue is used in different parts of the website as well as for the company logo. 
This enhances the visual consistency aspect of the website. 
Tip #4: Research Your Audience
Researching your audience is another important step in the process of creating your visual brand identity. 
Knowing your audience can help you better understand their needs and taste, thus making it more likely for you to tailor a brand identity that'll keep them happy and engaged. 
ASOS is a successful example of how to research your audience in order to give them what they want. 
This can be seen in the visual elements as well as the content they choose to share with their audience. 
A style feed like the one you see right below has probably come as a result of a detailed marketing plan and extensive audience research of what their audience cares about and wants to know more about. 
Image Source: ASOS
Tip #5: Don't Forget the Basics
When working on building your brand identity you shouldn't forget the basics. 
As we've discussed already, there's a range of visual elements that should be included in your branding kit. 
These are elements you should always try to highlight in everything you're creating. 
An example here would be link building software, Respona. 
The company has some fixed branding visual elements, such as a specific font and a choice of three colors that are consistently used throughout their website. 
Even the little live chat icon on the right follows the style of the company's branding in terms of color!  
An additional example comes from B2B SEO agency, MINUTTIA.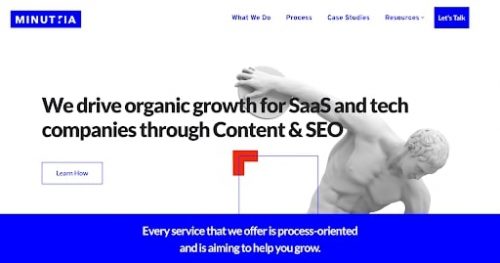 Image Source: MINUTTIA
Their use of the color blue – which in color psychology represents trust – is justified by the fact that agencies always want to establish trust with their clients. 
In other words, a visual element of MINUTTIA's branding is chosen based on the fundamentals of color psychology. 
After having established the importance of creating a visual brand identity based on the basics, let's move on to the final tip. 
Tip #6: Stay Up-to-Date With Current Trends
Our final tip would be to stay up-to-date with current trends.  
Some of the most popular ones would be animations, a wide range of graphs like infographics, as well as digital interpretations of products, to mention a few. 
Here's a nice example of an infographic that's used to present live streaming stats in an engaging way. 
Image Source: Uscreen
Current trends in design can be tricky to achieve, but using a modern graphic design software can basically help you stay up to date and maintain a strong brand identity. 
Author's Tip: What's great about graphic design softwares, like Visme, is that they can easily be used by non-designers and help you save valuable time and money. 
Wrapping Up
There you have it. 
You now have six tips to help you build a strong visual brand identity. 
Rest assured that this is a dynamic process. 
In other words, building a brand identity doesn't stop when you design your logo or choose your font. 
You have to constantly invest time and energy into building and maintaining your brand.
This way, you'll create an ever-lasting brand with loyal customers and a widespread set of followers. 
Good luck!
Authors Bio:  
Payman Taei is UI/UX designer and the founder of Visme, an all-in-one visual communication platform empowering everyone to create and share beautiful interactive presentations, infographics, and other forms of engaging content with no design skills. He is also the co-founder of Respona, the all-in-one PR, and link building tool that combines personalization with productivity.
Email: [email protected]
---
Interesting Related Article: "Top 5 Ways to Increase Brand Awareness"