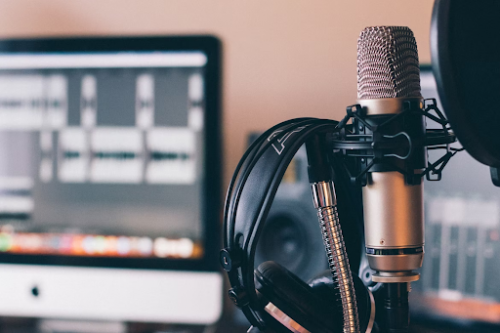 Creating top-quality content has become a priority in the current competitive environment. And one of the approaches you can take to improve your audio and video and even blogs (written form of content) is using AI voices. Computer-generated voices have come a long way since the robotic voices of the 2000s. Supported by better machine learning-based training models, speech neural networks, and better voice modulation capabilities, today's AI voices are often hard to distinguish from real human voices. Not to mention the benefits they have as compared to doing voiceovers the traditional voiceover recordings. AI Voiceovers give benefits like,
Huge savings on cost and time. You cut down the cost of hiring a voiceover artist, booking a studio, buying equipment, etc. AI Voiceovers are generated instantly, so no more waiting for days and weeks to get them created.

Easy access for last-minute changes. On the eleventh hour, right before publishing your video or audio, you realize that some data is not correct or updated or you have mispronounced something. With AI voiceover generators, you can go back to the editor, change it, and generate new audio in seconds. 

Create voiceovers in multiple languages at a fraction of the cost. With AI voices, you get an option for numerous language voiceover recreation on a single platform that can help you easily create content in multiple languages. 
AI voices are versatile and can be used in many different ways. Like voiceovers for Spotify ads, YouTube videos, E-learning courses, Audiobooks, Product demos, Explainer videos, Instagram, TikTok, PowerPoint Presentations, and much more.
To create these AI Voiceovers, we need to use tools that are commonly called AI voiceover generators to help you create professional human-like voiceovers. These platforms give an easy-to-use tool for just about anyone to create professional-sounding voiceovers. They leverage the latest technology in AI voiceover generation to create lifelike voiceovers as easy as just editing text.
Here is how you can create a professional lifelike voiceover using an AI voiceover generator for your content. 
Step 1: Create the right script 
We almost always start with the script, the text, or the article which we want to convert to a voiceover. Spend time creating the right script. A wrong script can create hard-to-comprehend audio, which won't serve any purpose. Here are a few tips for creating  a good voiceover script
Be grammatically correct. AI voices use grammar and punctuation to create voice effects, so the text must have correct grammar.

Use short sentences with easy words. Since you can visually see the text while listening, it's hard to comprehend complex language. 

Repeat the main message. You can't create headings boldly, or underline main points in audio. So it's best to repeat the message to ensure your audience understands.

Don't force fit the same text as used in the blog post or article. Reading and listening are different modes, and they sometimes require different texts.
Once you have the right script, entering it into an AI voice generator is mostly just typing or pasting the script into the voice editor they support. If you plan to use multiple voices, you might need to divide the content into speech blocks and configure voices accordingly.
Step 2: Select the AI voice
Selecting the right voice is an important step. You can generally select the voice from the voice editor itself. Most full-featured voiceover generators support multiple voices (dialogues) within the same script. You also get options to adjust the voice by making changes to pitch, speed of reading, etc.
Morden AI voices are also available with emotional styles. So you can adjust the speaking style of the voice to reflect emotions like sad, frightened, cheerfulness, anger, etc.
A few things to keep in mind when choosing your voice:
Try and pick a voice that connects to your audience. If you are targeting youth, then a youthful voice is best. 

Also, keep in mind your brand guidelines when choosing a voice. Audio is a big emerging part of brand identity.

Prefer voices that have emotional styles available to ensure the best output

Try to adjust settings like pitch, reading speed, etc to get the best output.
Step 3: Preview and Adjust
Always preview the voiceover before doing a final publish. Modern technology is very accurate, but it's not always perfect. You might need to make a few polishing changes to get the right output.
Specifically, check for pronunciation of names, abbreviations, dates, numbers, etc. If they are being read wrong, you should use the pronunciation features of the AI Voiceover tool to correct this. It's pretty easy in most cases.
I would highly recommend adding a few pauses before important points to get a bit of a "dramatic" effect. It's also a good practice to add emphasis to important points, this would make it more lifelike (just like our voice goes a little higher when we say the main point).
Step 4: Download and Export
You can preview it again to check the voiceover is complete. Once it's done, easily export or download the file. Mp3 is the most popular format for export. If you are going to use the voiceover in videos, we also recommend generating subtitles to go along with the voiceover.
Importance of using the right AI Voiceover Generator
Good quality content is a very powerful asset. But you need the right tools to create this asset. We highly recommend investing time to compare and select the right AI Voiceover generator. 
A few things to remember when evaluating AI voiceover generators:
Availability of voices and languages: Do you get multiple options for voices in your language? Do they have high-quality voices?

Voice Editor Functionality: This is the most important aspect of an AI Voiceover generator. Do they have a full-fledged voiceover editor? Does it allow you to modify voices (pitch, speed, etc)? Does it allow adding pauses, and emphasis? Does it allow modifying pronunciation? Does it allow multiple voices at the same time? Can you add background music?

Free Previews: You may end up previewing each voiceover multiple times. So we highly recommend picking one which offers free unlimited previews. So you only pay for voiceovers you use (and not the 100s of drafts you created)

Great Support: Are they easily reachable if you have issues? Do they have chat support?
Free isn't always worth it: Almost all of us, at some point, have used Windows Notepad to type text. But will you use it for creating professional documents? The same goes for free voiceover generators.
An excellent AI Voiceover Generator should be a full-suite voiceover tool. Providing multiple languages and voice options, customization, editing, background music API support, and much more.
Currently, the market is full of AI voiceover generators with various features. Hence choosing the best AI voiceover generator is essential. Some tools have the option of multiple languages in diverse voices and accents, while others provide editing options and prices for all of these tools depending on their offerings. Choose a text-to-speech generator that suits your needs and aligns with your budget. Many AI voiceover generators give demo options for a free trial; you can even book a call with them, and people can assist you too.
Generate realistic voiceovers with an AI voiceover generator effectively and efficiently.
---
Interesting Related Article: "How to change voice with different sound effects"