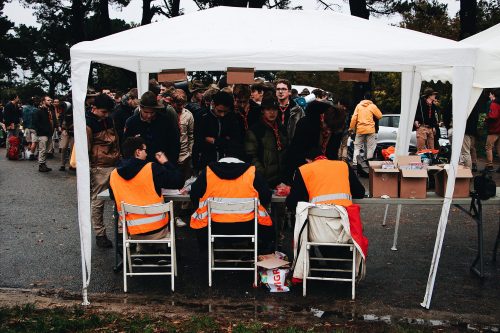 If you've attended industry trade shows, local festivals and fairs, and sporting events, chances are that you've noticed large pop up tents displayed. Tents are a go-to for all kinds of indoor and outdoor events because they provide a place for a business or organization to market their products and services and they also spread brand awareness. Custom tents have canopies that are personalized with a logo, slogan, or any other design that stands out. Sometimes you'll see stock color tent canopies, such as white or black tents, but most businesses will use customized canopies to catch the eye of passersby so that they notice their company name, brand, or mascot, which spreads brand recognition. How can you make a similar tent for your business or organization? Believe it or not, you don't need a big marketing budget to be able to afford a quality tent or to customize it with your unique design.
Look for the Best Materials and Printing Method
Many custom printing companies specialize in event tents, but how do you know which one to choose for your project? When selecting a tent company, you should make sure you choose one that has premium materials and printing. Going with a business that offers high-quality tents and printing will ensure that your tent lasts a long time. This is especially important if you do not have a large budget and can't afford to get a new tent for every occasion. While it seems like getting a well-made tent would cost a lot, that's not necessarily true. The best tent material you can get is polyester, which isn't very expensive. Nylon is a cheaper fabric, but it tears easily. Polyester, on the other hand, is easy to print on and is knitted so that it can withstand different types of weather and long-term use. Dye-sublimation printing is normally done on polyester material, because that's the best fabric suited for the state-of-the-art printing method. Sublimated printing infuses the ink into the fabric so that it will not scratch, peel, or wash off like lesser printing techniques. Because tents are often setup outdoors and stored for long stretches of time, getting the best fabric and printing method is important.
What to Print on Your Tent
How do you know what to print on your tent? One of the best ways to figure out what you want on your tent canopy is by seeing what your competition has done. What other business or organization tents catch your eye? What do they have on the tent that caught your attention? Businesses ordinarily get their brand logo, name, and sometimes contact information printed on their tent so that they inform customers who they are and where they can be reached. This can be done by getting the logo printed on specified areas of the canopy rather than using up the whole space. If you are on a tight budget, getting your graphics printed on certain sections of a canopy often costs less compared to printing the whole thing. Getting the entire canopy printed in a custom design costs more but is a great way to get noticed by more people. If you need more advertising space, many companies also add walls and banners to their tent.
Designing Custom Tents
Finally, how do you get your design printed onto the tent? It might seem complicated but giving your design to a custom printing company to use on your tent is simple. Most printing businesses offer more than one way to personalize their product templates. When you find a tent that you want to customize, look on the site to see what options they have for designing the template. Many sites include a design suite online where you can upload logo and artwork files you have to their design tool. There's also usually an option for downloading their tent artwork templates. This allows you to upload the template onto your computer so you can use a software program to customize the template. If you are having trouble coming up with a design or need help with the whole process, try to find a site that offers design services. This is where professional designers customize a template for you based on your suggestions. Keep in mind, this option isn't always free. If you are on a slim budget, look for a printing site that offers free design services because some do.
Custom printed tents help you promote your business, big and small, when you attend craft fairs, town festivals, business trade shows and conferences, and any other major event. Even if people don't stop and visit your tent, you want to create a design that they will remember and that is on-brand for your company or organization. Think of creative graphics to get your name "out there" and get it printed on your very own promotional tent.
---
Interesting Related Article: "How to design a poster for an event"