The streaming platform Netflix has offered a lot of movie as well as TV show resources for us to enjoy at home even without going to cinemas. To help audiences have a smooth and fluent playback experience, Netflix also offers the download function for subscribers to save the videos and play them offline. But a pity is that Netflix downloads can only be played within Netflix app. 
This should be a trouble for Mac users – because Netflix hasn't released an app for Mac! So, many Netflix users are wondering if there also a way for them to download Netflix videos to watch offline on Mac. Fortunately, instead of the official download function, you can still find other alternative ways to save movies from Netflix to Mac and play them without network connection. Now, get the 4 methods and choose the one to try.
Content
Method 1. Download Netflix Movies on Mac With Professional Tool – MovPilot Netflix Video Downloader

Method 2. Record Netflix Movies on Mac Using FonePaw Screen Recorder

Method 3. Install Windows System on Mac to Download Netflix Movies Offline

Method 4. Run Netflix for iOS on Mac to Download Movies from Netflix

Conclusion
Method 1. Download Netflix Movies on Mac With Professional Tool – MovPilot Netflix Video Downloader
When Netflix lacks the Mac version to process Netflix movies download directly, the first recommended method for you to download Netflix movies without quality loss should be using a professional Netflix video downloader. Here would like to recommend MovPilot Netflix Video Downloader to you.
MovPilot Netflix Video Downloader is a powerful software developed for Windows and Mac users to remove DRM protection from Netflix movies, and then download them in common MP4 or MKV format to play outside Netflix app offline. It will keep up to HD 1080P and also the original audios as well as subtitles to save the Netflix downloads. With MovPilot Netflix Video Downloader, you can enjoy the same high-quality movie playback offline just like streaming them on Netflix platform.
Key Features:
Keeps up to HD 1080P quality to download Netflix movies offline
Offers the most widely-used MP4 and MKV formats to save the video files offline
Saves audio tracks and subtitles in foreign languages as you need
Keeps Dolby Digital 5.1 surround sound to make sure you have the best playback experience offline
Provides 5X faster speed to download Netflix videos quickly
Offers 3 types of subtitle options to download with Netflix movies for more convenient playback
Saves original metadata information for you to easily manage all Netflix downloads offline
Now, see how to download Netflix movies on Mac using MovPilot Netflix Video Downloader with very simple operations.
Step 1. Sign in In-built Netflix Browser
When you have installed MovPilot Netflix Video Downloader on your computer, open the software. Then it will ask you to sign in your Netflix account. Follow to complete the process and then you can access the in-built web browser.
Step 2. Search Netflix Movies
Then using the search function in the software, you can access any Netflix movie you want to download directly even without installing Netflix app. You can also paste the movie URL to find it quickly.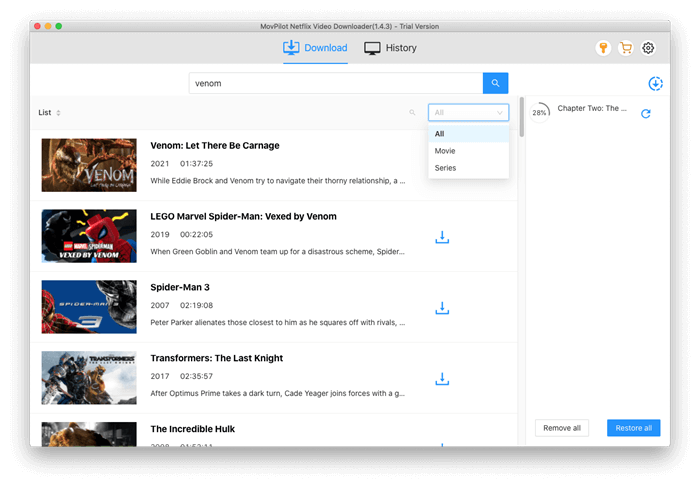 Step 3. Set Up Output Settings
Before downloading Netflix movies, you can click the "Setting" icon in the top-right corner to do some output settings. For example, you can select "Video format", "Video codec", "Audio language", "Subtle language", and also the subtitle type based on your own needs.
Step 4. Download Netflix Movies on Mac
When all the settings are finished above, you just need to click the download icon next to the Netflix movies in search results to download them on Mac immediately. When the download is done, you can quickly access them under "History" and enjoy offline using any player you have installed on Mac without Netflix app! 
Method 2. Record Netflix Movies on Mac Using FonePaw Screen Recorder
Instead of using a video downloader, another method to save Netflix movies offline on Mac is by using a powerful screen recorder which supports capturing Netflix movies while they are streaming on Netflix platform. 
FonePaw Screen Recorder is the tool you should not miss. It can be compatible with different video streaming platforms, including Netflix, to help you easily record Netflix movies and save them as common video files to play offline on Mac. The quality of the output recordings will be kept at the best quality as its original sources. Also, to process a long-time recording, FonePaw Screen Recorder is also equipped with some advanced features such as scheduled recording, lock window recording, and so on to help you save Netflix movies more conveniently.
In the following, you can see how to do it using FonePaw Screen Recorder on Mac.
Step 1. Open FonePaw Screen Recorder on your computer and then select "Video Recorder".
Step 2. In "Video Recorder", you can set the recording area and adjust system volume before starting to record the Netflix movie. By turning off the microphone sound, you can avoid recording noise to affect the audio quality.
Step 3. By clicking the "Setting" option above the microphone box, you can open the "Preferences" window and also adjust the quality settings in the "Output" module based on your needs. The format and quality can both be selected here.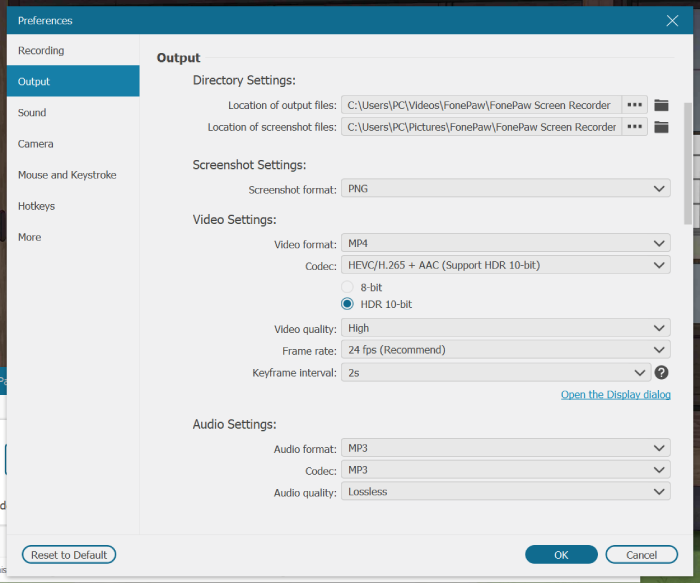 Step 4. Then play Netflix movies and also press the "REC" button to start recording it. When the movie stops playing, click the "Stop" button and the recording will end. 
Step 5. Finally, in the preview window, check the recorded Netflix movie. Then just press the "Save" button, the movie can be kept offline on Mac for playback later without Netflix app.
Method 3. Install Windows System on Mac to Download Netflix Movies Offline
If you have subscribed to Netflix plans and want to use the official download service provided by the official, you will need to install Windows on your Mac and then use the Netflix app for Windows to do it. So firstly, here will show you how to install Windows 11 on Mac with Boot Camp so that you can download Netflix app to use directly.
Step 1. Firstly, you need to download 64-bit Windows 11 ISO from the Microsoft store. Then use a Usb stick to save the downloaded file.
Step 2. Now insert the USB stick to Mac. Then you will need to go to "Applications" then "Utilities" to open the "Boot Camp Assistant".
Step 3. Choose "Continue" and select both "Create a Windows 10 or later install disc" and "Install Windows 10 or later version" options.
Step 4. Next, open the Windows 11 ISO file in USB stick and choose to install it on Mac immediately.
Step 5. Once the installation finishes, restart your Mac then Boot Camp will begin to install Windows 11 for you.
When the Windows 11 system is now installed on Mac, you can get the Netflix app installed too. Once it finishes, you can sign in your Netflix account and directly download Netflix movies to enjoy offline on Mac without using third-party downloaders or screen recorders anymore!
Method 4. Run Netflix for iOS on Mac to Download Movies from Netflix
If you are using the Mac computers with M1 or M2 system, it is also possible for you to directly install Netflix iOS app to download Netflix movies for playback offline. To process this, just follow the simple steps below.
Step 1. Open the App Store on your Mac, and then search for the Netflix app.
Step 2. Choose the "iPhone & iPad Apps" tab and then the App Store will show the Netflix app for iOS to you.
Step 3. Directly install Netflix iOS app. Then you can use it to download Netflix movies with your premium account signed in.
Conclusion
Don't worry if you find Netflix app is not compatible on Mac –  because you get 4 ways to download Netflix movies on Mac now! Just choose the method that is the most convenient for you to save movies to play offline immediately!