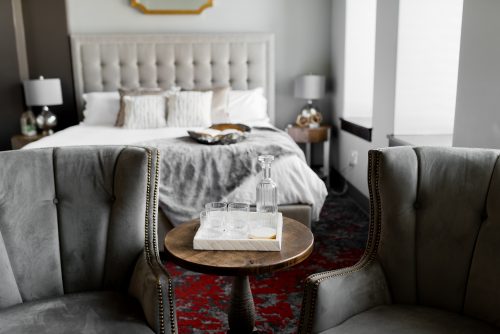 Your home should be the most comfortable and safe space for escaping the hustle and bustle of your busy schedule. But even more, your bedroom should be a sanctuary of rest because that's where you relax and recharge your batteries.
Styling your bedroom may be difficult if it's cluttered and uninviting. But such an environment may make you uncomfortable. To increase your functionality, you need to decorate it in a way that reflects your personality. That starts with buying the right beddings at The Sheet Society.
Here are some ways to decorate it:
Develop A Color Scheme
To make the room reflect who you are, you need to develop a color scheme. Everyone's taste of color is different, and nobody can help you select the right one. Your family members can only suggest some colors, but it's upon you to make the decision.
There are various color designs that you can choose from. You can go for the monochromatic or colorful design. Also, you can pick dark colors such as deep purple or navy blue, or opt for lighter ones like pink, blue and yellow. When decorating the room, it's advisable to be moderate. If you use so many colors, you may end up being overwhelmed.
Select A Suitable Mattress
The type of mattress you select will affect your physical wellbeing and quality of sleep. An unsuitable mattress won't support your body correctly and may lead to problems like joint aches, back pain, and restlessness.
It's vital to invest in a high-quality mattress if you want to get a good night's rest. That may be expensive, but it'll prevent your body from experiencing problems.
Create Storage Solutions
Your bedroom's main purpose is to offer you a conducive environment to sleep and relax. But it can give you such an environment if it's clutter-free. Creating storage solutions can help to declutter your space so it doesn't look like a dumping ground. If you're working on a tight budget, you can opt for blanket boxes, open shelving, and under-the-bed storage. On the other hand, if you have enough cash, buy wardrobes and drawers to store away things neatly.
Regulate Your Room's Temperature
For you to sleep well, your room needs to have the correct temperature. Scientists estimate that the right temperature for sleeping should be between 16ºC to 18ºC. You can achieve this temperature by switching out your bedding during different seasons.
Better still, selecting beddings made from natural fibers and duvets can help you have better breathability throughout the year. However, it's important to select the right duvet tog. Higher togs are ideal for winter, while lower togs are best for summer.
Utilize Wall Space
Accessories can help to highlight your personality in the bedroom. However, you should be selective about the ones you display. Having your accessories all over the wall may make the room look cluttered. To prevent this from happening, install hooks on your wall to hang jewelry. Shelves can also help you to hang mirrors and pictures and store books.
The Bottom Line
Your bedroom can reflect your personality if you style it correctly. These tips can help you to make it represent who you are.
---
Interesting Related Article: "5 Ways to Save Money While Sprucing Up Your Bedroom"