Elevating your professional image is a multifaceted task that requires attention to numerous details. One such element, often overlooked but significantly impactful, is your business briefcase. A well-chosen briefcase can serve as a silent testimonial to your business acumen, keen attention to detail, and knack for choosing the best.  
Whether in the boardroom or the airport, a high-quality briefcase can command respect and set you apart from the crowd. So, how do you select a companion that effortlessly amplifies your professional persona?  
In this guide, you'll examine how your business briefcase can help you elevate your professional image. But before that, discussed below is why a leather bag is essential.  
No.1 Men's Leather Briefcase  
The Leather Briefcase from Von Baer is more than just an accessory; it's a statement piece. This classic item exudes an air of understated elegance, effectively serving as a silent ambassador of your professional image.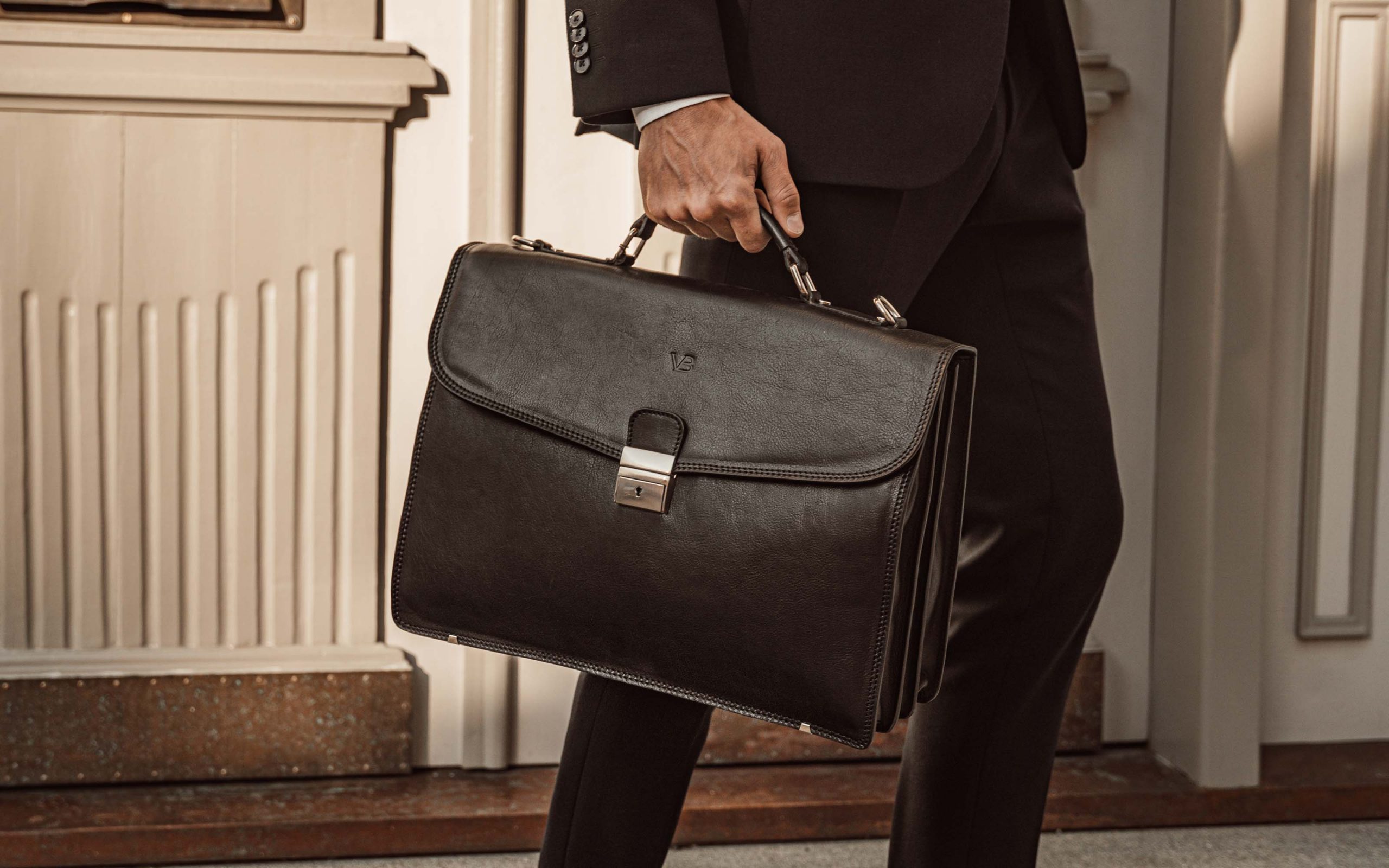 "No.1 Locking Briefcase from Vonbaer.com"
The main thing you'll notice about the Von Baer's No.1 Briefcase is the leather quality, and you can tell as soon as you get it out of the box that it's real leather, with that authentic leather scent. It features a main locking compartment, as well as a detachable shoulder strap. The more structured appearance is ideal for a business setting.  
This briefcase's robust construction and attention to detail symbolize professional style and substance.  
But leather is not a must. If you like the style of a leather briefcase, but you don't want to contribute to animal cruelty, there are plenty of alternatives out there. This vegan leather briefcase does not only look like real animal leather, bus is also just as durable. This vegan leather briefcase is made of the highest quality vegan leather available at the market today. It has a microfiber backing, that doesn't crack, break or peel as ordinary vegan leather might. This way you can enjoy the beauty and durability of leather, without the animal cruelty!
Elevating Your Professional Image  
Here are the specific tips and recommendations that you can consider:  
Seek Out a Multipurpose Bag
If you're someone who's often traveling between cities for work, then practicality should be one of your main concerns. Multipurpose travel bags bring the best of both worlds by combining the sophistication of a briefcase and the functionality of a travel bag.  
Look for a bag that not only exudes professionalism but also has enough room to hold your laptop, files, and other work-related items. It allows you to remain organized even on the go. Furthermore, they usually come with features like secure locks and reinforced edges, providing extra protection for your valuable items.  
More than that, a multipurpose bag tells the world that you're a professional who values efficiency and functionality. In the business world, this can speak volumes about your commitment and seriousness toward your work.  
The second tip in this guide to a professional image is to value durability when selecting your briefcase. The material of your briefcase can say a lot about your taste and personality. Consider materials like leather and ballistic nylon that look sophisticated and stand the test of time.  
Leather, in particular, ages beautifully. With time, it develops a unique patina that enhances its aesthetic appeal. It indicates that you appreciate quality and are willing to invest in items that last.  
In addition, a durable briefcase ensures you're not constantly replacing worn-out bags. It shows your thoughtful planning and financial acumen, traits appreciated in any professional environment.  
While a briefcase is a significant aspect of your professional image, it should also be comfortable to carry around. Prioritize comfort in your selection process. Look for a briefcase with padded shoulder straps and ergonomic handles.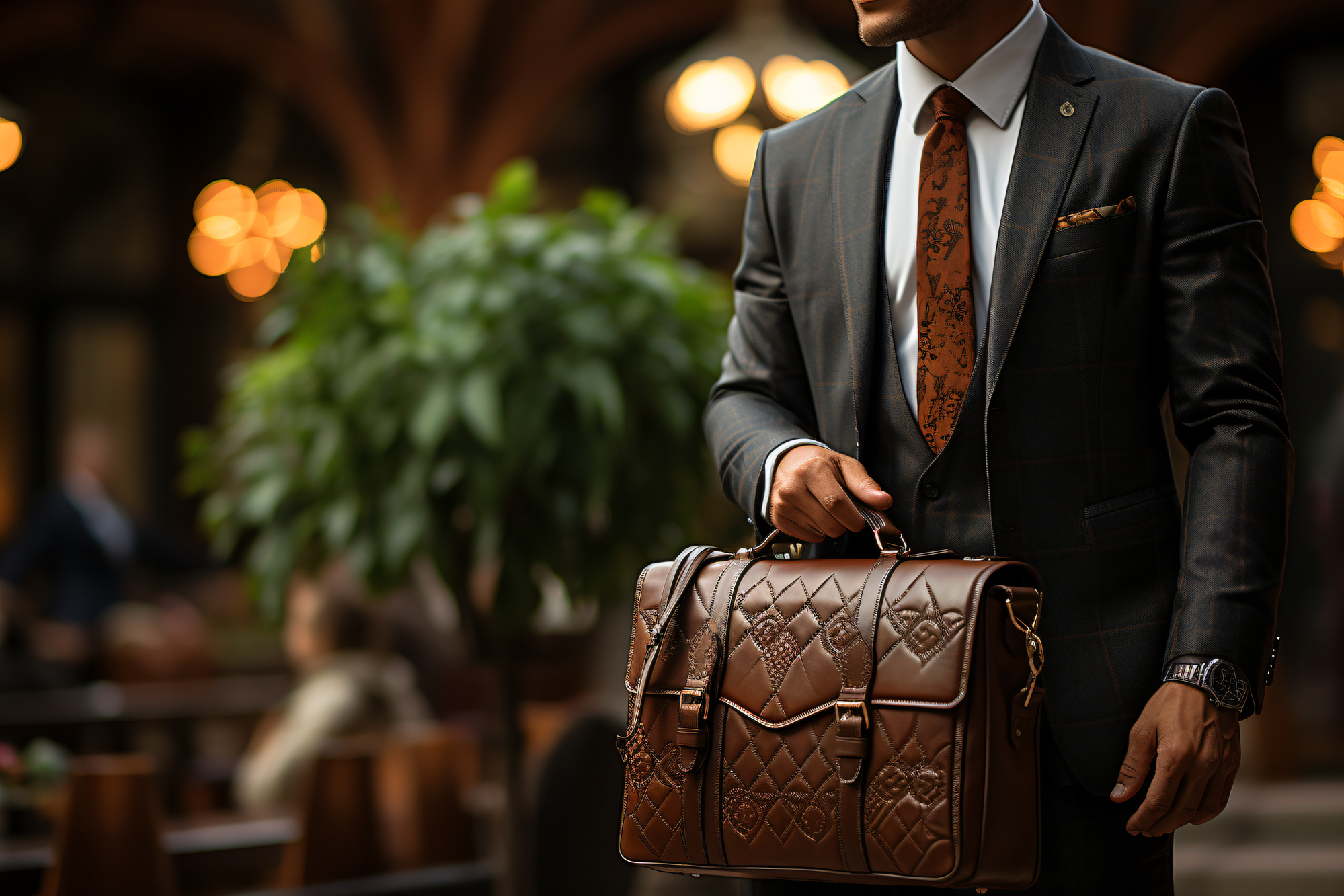 Remember, an uncomfortable briefcase can cause physical discomfort and make you look uneasy. On the other hand, a comfortable briefcase allows you to move with ease, adding to your confidence and overall professional demeanor.  
Moreover, it speaks volumes about your thoughtfulness and consideration for your health and well-being. It says you understand the importance of comfort, an essential quality in today's dynamic work environment.  
The next tip is to emphasize organization when choosing your briefcase. A well-organized briefcase helps you keep track of your belongings and signifies a well-organized mind.  
Consider briefcases with various compartments and pockets. These will allow you to categorize your items and keep them neatly arranged. It will save you the embarrassment of rummaging through your briefcase during a meeting or public event.  
Security is another important consideration when selecting a business briefcase. Your briefcase often contains valuable items, including important documents, laptops, and other electronic devices. Ensuring these items are secure is crucial for their protection and portrays your keen sense of responsibility.  
Look for briefcases with secure locking systems. A briefcase that can be locked gives you peace of mind, especially when you're traveling. It shows you're meticulous and cautious, qualities that can set you apart professionally.  
Moreover, a briefcase that guarantees security can demonstrate your commitment to safeguarding your work-related resources. This commitment to security can mirror your dedication to protecting company assets and enhancing your professional image.  
Conclusion  
Your choice of a business briefcase can significantly impact your professional image. Whether it's the classic leather of the No.1 Men's Leather Briefcase, the practicality of a multipurpose travel bag, or the durability of a well-crafted briefcase, the right choice can boost your image significantly. Remember, your briefcase is more than just a bag; it's a statement about who you are as a professional.
---
Interesting Related Article: "How to dress in business"