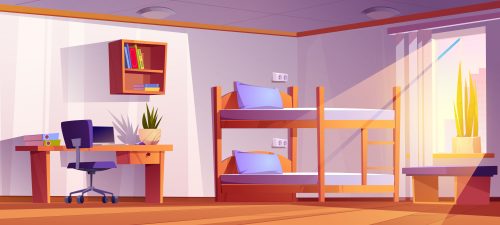 Moving to a new place for further studies is an exciting new chapter in every student's life. And if you are planning to move to London, home to some of the best universities in the world, there is a lot to look forward to. But one of the most common challenges that students face is finding the right accommodation when they move to a new place. It is a daunting task as you want to find affordable accommodation and comfortable and safe. So, if you are wondering how to begin your search, this guide will help you choose the best student accommodation in London.
Tips before starting the search
Before you finalize a suitable accommodation, there are several factors that you should consider.
Keep your budget in mind: Budget is the most important factor you should consider before narrowing down the kind of accommodation you are looking at. Identify how much you can realistically spend every month. Also, consider all other additional costs before you make a decision.
Which area do you prefer: Which neighbourhood you wish to stay in is something that will determine the cost, the kind of space you get for that amount of money, etc. It is advised to remain in student-dominated areas as they are more affordable. You can also choose to stay close to your institute as it will make commuting a lot easy.
Will you share your accommodation, and if so, with whom? You are most likely to share your house with someone, as that is the most affordable option for a student. But sharing a living space with someone is not easy. So, be extra cautious with whom you choose to stay. If you have close friends, it is best to make them your room partners rather than joining hands with mere acquaintances or random strangers.
Work out the responsibilities: Student life means you must do most of your work yourself. So, it is good to clarify who takes what responsibilities to avoid issues later.
Types of student accommodation
London, being one of the global hubs of quality education, provides ample options to choose from.
Student halls in London
Renting a room in a student hall is considered to be the best option for student accommodation in London. These are designed to fulfil all student needs where you can socialize with your peers, have shared facilities, common rooms within the building, etc. This is a good option if you arrive in London all alone. There are two types of student halls available:
University student halls: These facilities are usually within or near the university campus, making it an ideal option for many. Living close to the campus has obvious reasons but ensures enrollment early as the rooms at university student halls are limited.
Private student halls: These are privately owned facilities, making them slightly more expensive than university student halls. But they also provide better conditions. Another positive is that students from different universities stay in the same facility, making it extra vibrant.
House or flats on sharing basis
Sharing a room in a rented apartment is one of the most common types of international student accommodation in London. The prices are slightly higher, especially if you rent a flat in a posh area. Choose an area that fits your budget, is close to your university, and provides ample transportation options. You can contact the student accommodation provider through website. Ensure that you have all your documents ready before going for a rented flat facility. This is especially required if you go through an agent. You might have to give documents like enrolment documents from the university, UK guarantor, band statement, signed rental contract, etc.
The essential questions you must ask
The more important an issue, the more questions you must ask to ascertain that you are making the right decision. Here are a few things you must look into before finalizing your accommodation in London:
What are the exclusions in the total rent you have to pay
The minimum term of the contract
What furniture, fixtures, fittings, etc are included in the agreement
How much money do you need to pay as a deposit
What is the notice period, what if you terminate the contract mid-way
What is the agency fee if you go through an agent
Is the agency a part of a recognized body
Ensure that you have all the right information before you sign a contract or take a flat on rent so that there are unpleasant surprises later on.
Mark your budget checklist
To ensure that you don't run out of money at the end of the month and save up enough to pay your rent regularly, you must work out your monthly expenses. So, factor in the following:
Food – either canteen/caterer provided by the student halls or if you purchase your own food
Gas and electricity bills
Internet connection and phone bills
Laundry services, if you use any
Insurance and mediclaims
Study material – books, equipment, printouts
Social activities and other miscellaneous expenses
It is a whole new chapter that you will start in your life, and one of the most exciting and memorable ones. Finding the right accommodation is a big part of your student life, especially when you study away from home. So, do your research, ensure you tick all the right boxes in your checklist, and enjoy the most fulfilling phase of your life.
---
Interesting Related Article: "Best Apartment Hunting Tips You Must Know"