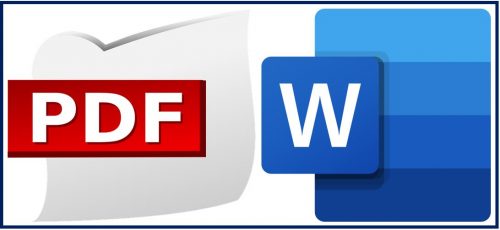 Whether you're a student, a small business owner, or just someone who wants to make your life easier, having access to the right PDF converter can be incredibly helpful. 
Converting PDFs into editable Word documents makes it easy to make quick changes and share your documents with others. 
But with so many different converters available, how do you know which one is right for you? Read on to learn more about how to find the perfect PDF converter for your needs. 
How to find a PDF to word converter for your needs?
Understand Your Requirements 
The most important step in finding the right PDF to Word converter is understanding your requirements. 
Do you need something that will quickly and easily convert multiple files at once? Are you looking for an online tool or a desktop software solution? Knowing exactly what you need will help narrow down your search and make it easier for you to find the best converter for your needs. 
Compare Features and Prices 
Once you have an idea of what type of converter you need, it's time to compare features and prices. Look at each of the converters that meet your criteria and compare them side-by-side. 
Think about things like security features, conversion speed, ease of use, customer support options, and cost. This will help ensure that you get the best possible value for your money. 
Check Reviews from Real Users 
Another great way to find out if a particular PDF is right for you is by reading reviews from real users. Look for reviews written by people who have actually used the product and pay attention to both positive and negative comments. This can tell you a lot about how well a product performs in real-world scenarios and can help guide your decision-making process. 
Element Checks  
Make sure that any potential candidate meets all necessary security standards before making a purchase or downloading any software onto your computer or mobile device. 
You should also look out for additional features such as OCR support (Optical Character Recognition) which allows documents with scanned images or handwriting in them converted into word format as well as password protection if needed by some confidential files in question..  
Test Out Different Options  
If possible, try out different options before settling on one particular converter. Many of them offer free trials or demo versions so take advantage of these opportunities whenever possible—it can save you time and money in the long run! 
Trying out different converters will also give you a better idea of which ones work best with your workflow so that when it comes time to pick one, you'll be confident in your decision. 
With these tips in mind, you should be able to find the perfect PDF converter for your needs. Just make sure that you take the time to research and compare options before making a purchase so that you get the best value for your money.
Remember, the right converter can make all the difference in how quickly and easily you are able to get your work done. So take some time to find the perfect PDF converter for you today!  
In the end
Finding the perfect PDF for Word-converter doesn't have to be difficult—all it takes is some research and careful consideration of all available options. 
Take time to understand what type of converter is best suited for your needs; then compare features, prices, and reviews from real users before testing out different options yourself if possible. 
Doing this will ensure that whatever converter you choose will work perfectly with your unique workflow—and make converting documents faster than ever before! With these tips in mind, finding the perfect PDF converter has never been easier!
---
Interesting Related Article: "10 Reasons to Use an Online PDF Editor"