Fostering a safe work environment is one of the best things that you can do for the overall health of your employees and your company. If you have a foster an enjoyable and safe work environment, this will be positively reflected in the capability and productivity of your staff. Especially with the coronavirus pandemic, it is of utmost importance that you look out for the wellbeing of your team. Creating a great work environment doesn't only entail safety, it also encompasses emotional wellbeing, support policies, and team building.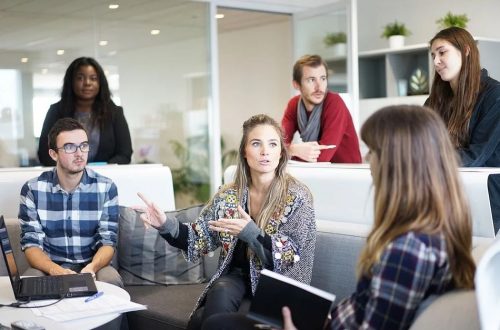 If you show your employees that you truly care for their well-being, they will be more inclined to come into work with a smile on their face. Boosting the morale of your employees will inherently increase productivity and efficiency in the office. Creating a positive workplace culture is a great way to ensure that your company and your employees grow in skills and efficiency. There are several ways in which you can foster this type of environment.
Promote a Healthy Work-Life Balance
Promoting a healthy work-life balance is an excellent way to avoid employees from burning out. Stress in the workplace will only cause more problems for both the employees and the employer. If your staff feels like they have truly had time to disconnect during their free time, they will feel more energized and replenished when coming into work. Not only this, but employees will be less likely to quit if they are happy with their work-life balance. This means lower turnover rates and higher levels of productivity. As an employer, you can promote this balance by educating staff, promoting regular communication, or embracing flexible hours and teleworking.
Create an Enjoyable Office Space 
Whether you have a virtual or physical office, having a positive workplace will work wonders for your employee's overall wellbeing. In order to promote positivity in the workplace, you should outline common goals and ethics associated with the company. For example, don't encourage employees to work through their lunchtime. Instead, try to conduct regular check-ins with staff and prioritize values like respect and diversity. This also includes things like educating your employees about their rights under state labor laws with Resourceful Compliance posters. It also means adhering to covid-19 safety regulations and ensuring there is a safe distance between workers in the office. In a more physical sense, you can make the office a more visually appealing or enjoyable space by adding plants or purchasing a ping pong table.
Invest in Team Building
As we have repeatedly emphasized, the most important thing about running a successful business is having a great team of people helping you along the way. For this reason, it is very wise to invest in team-building exercises. This can motivate your staff to bond with one another and bring them closer. Team building exercises come in all shapes and forms. They can be scheduled in the office for an hour every two weeks, or as a yearly company retreat, it can even be held online as a virtual exercise. This is a great way to improve communication, encourage creativity, and foster collaboration between employees.
Provide Support
You can create a great work environment in many ways, however, unless you provide substantial support to your employees, this environment will fall short. This includes being able to provide a solution when a member of staff is confronted with an issue. It can include things like emotional, psychological, or financial support. The best way to ensure that things are running smoothly is to embrace regular communication with all of your employees. Show compassion and let them know that you are there to help. Offer them flexibility in hours and work location is a great way to provide support in the workplace and relieve stress.
Without a dynamic and efficient group of employees, it is unlikely that your company will succeed. An excellent team of people is the foundation block of any great business. Make sure you hire capable individuals and that you do everything in your power to boost their morale. An employee who is happy to come into work and put in the effort will make all the difference to the company. You want your staff to be and feel safe in their workplace, especially given the current health climate. Let them know that you truly care about their wellbeing and that their efforts are appreciated. A small bit of encouragement, responsibility, and positivity can go a long way.
---
Interesting Related Article: "Developing a safety-focused working environment for SMBs"