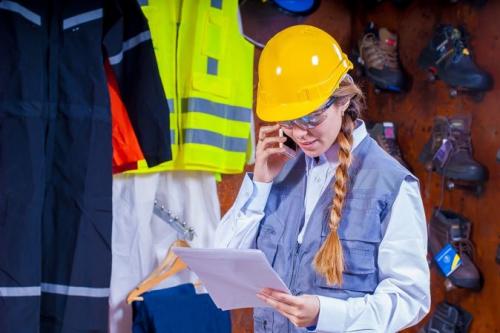 Implementing and maintaining a safety management program is recommended for all workplaces from those involving relatively 'safe' office work to riskier industrial settings. A safety management program is crucial in protecting your employees, customers, and the public from your business process, so your team can confidently perform their tasks without fearing any potential risks of injuries or even fatalities. 
Obviously, we can't put a price tag on losing human lives, but according to OSHA's latest report, businesses spend hundreds of billions per year on costs associated with workplace injuries and accidents. Only by implementing proper safety and health management programs can we effectively cut these costs while also getting the benefits of higher morale, improved reputation, and better overall productivity. 
Important Components of a Safety Management Program
While your organization is obviously unique and you might need a totally unique safety management system, all safety management programs should include the following elements. 
2-way collaboration:

safety management programs aren't solely about policies that must be followed by your staff, but executives and management should also lead by example. Your managers should also communicate that your organization does embrace a safety culture. 
Clear communications:

a very important key to ensuring a safety management system's success is clear communication. Your policies must be easily accessible by all employees, and implement a system for timely and effective updates and reminders. Allow employees to contribute their suggestions and feedback to improve the safety management program further.
Training:

comprehensive and well-monitored training should begin during the onboarding process of new employees, and regular ongoing training is also essential in creating a safety culture.

Safety training software like iReportSource

can significantly help in implementing and monitoring a comprehensive safety training program. 
Standardized:

Standardized policies should be implemented to ensure employees at all levels are involved. These policies should properly outline roles, responsibilities, and accountability for all employees, and you should properly define safety goals for each role. Safety management PIC and/or committee should ensure that safety practices are properly reinforced throughout the company. 
Monitoring and control cycle:

a safety management program should be dynamic and continuously improving. You should set up a monitoring system to properly evaluate the management program and to make adjustments according to what you've evaluated. An effective safety program should be flexible and dynamic to adjust to changes faced by the organization. 
Accident and near-miss investigations:

you should assign and train someone with experience in analysis, evidence collection, and investigation and they should conduct an investigation process as soon as possible after an accident occurs, as well as generating comprehensive reports within 24 hours. 
Injury management:

even with a perfect safety management program in place, injuries and accidents can still occur. It's important to set up policies regarding how your team should react as soon as possible when staff is injured on the job. 
Implementing a Safety Management Program: Step-By-Step
Step 1: Defining Roles and Responsibilities
Your organization's safety management system can only work when management and staff work together to achieve the same objective. 
It's crucial that your employees at the worksite see and understand how management is contributing to the safety policies. At the same time, management should be open to feedback and suggestions, so the staff can feel that their voice is heard. 
Health and safety obligations according to the safety policies should be properly integrated into job descriptions and HR policies, and each role should properly understand their responsibilities and authorities related to safety management. 
Another key consideration in this step is to properly define the objectives of your safety management program. By having clear, measurable objectives in place, we can properly monitor the performance of individual safety policies. 
Step 2: Risk Assessment and Policy Implementation
Once you've properly defined the framework of the health and safety program, you'll need to analyze your worksite's safety hazards to decide on the best practices. The more data you can gather regarding the specific hazards your staff will face, the more comprehensive your safety management program will be.  
Regular site inspections should be scheduled to identify new potential hazards and should involve both employees and management. If possible, a complete inspection of the worksite should be completed once each week and fully documented. 
Step 3: Monitor and Hazards Prevention
One of the key implementations of any health and safety management program is ongoing hazard prevention and is often the most challenging work. Management should maintain accountability in workplace safety, and the program should be regularly monitored. Throughout the program's implementation, clear two-way communications must be maintained. 
For example, management should monitor and listen to employees' feedback when they feel they are over-scheduled, so management can make the necessary adjustments for these affected personnel. 
Ongoing hazard control should also encompass how first aid and emergency medical care are always available in the worksite, in case of accidents. 
Step 4: Regular Training
Regularly train your staff to stay in compliance with your safety policies.
You can use tools like iReport Source to automatically assign training, reminders, and due dates while also tracking each staff's usage on each training material. 
New employees should go through your training program, while tenured personnel should also undergo regular re-training. 
Conclusion 
Your priority in implementing a safety management program should be to ensure a functional safety management system that can keep your employees, customers, vendors, and even the public safe as you perform your business activities. 
Having a health and safety management program is a crucial aspect of any business of any size and in any field, but it's also important to remember that each company is unique and thus might also require a unique safety management implementation. 
---
Interesting Related Article: "Promoting Worker Safety at Construction Sites to Reduce Liability"